SEVA 2015 Picnic Photos < New
The 2015 Field Day will be held June 27th and 28th at the Northampton Church of Christ, 1409 Todd's Lane, 23666.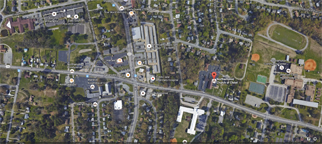 According to Robert Uiterwyk, W3AF, preliminary setup was completed Friday June 26th, and will finish setting up starting 0800 on Saturday. At 1300 Saturday there will be a preparation meeting and operation will start at 1400 Saturday, finishing at 1400 Sunday, with 2 hours of teardown thereafter....


PARC Meetings are normally held on the first Wednesday of each month at 7:30 p.m. Each meeting is a combination of program and business sessions.
The July 1, 2015 Meeting will not be held at the Police Station. Phil, the Restaurant Manager, has reserved space for us at Sam and Steve's Restaurant. Dinner will continue into the meeting in the same location. See the Notices Link for any possible change.
Our Regular meeting location remains the Community Room at the Newport News Police Department Headquarters located at 9710 Jefferson Avenue, Newport News, VA 23605.
So for now, don't forget dinner prior to the meeting (Dutch Treat) at 6:00 pm at Sam and Steve's House of Beef, located just south of Dresden Drive on Jefferson Avenue.
The SouthEastern Amateur Radio Picnic was a big success. Many thanks to:
Charlie, WB4PVT, who got the ball rolling and stayed on top of it till the coals were out,
Darryl, KF4HJW, who was responsible for the appearance of the Emergency Trailer,
Rick, KG4TAX, who assisted with food acquisition, location selection and logistic support, and to
Rob, KE4JDY, who not only kept Field Day in mind to reuse the remnants of the picnic, but was also the GrillMaster Extraordinaire. Click here to see a few photos.