WELCOME TO
SOUTHERN MIDDLE TN
COMMUNITY PREPAREDNESS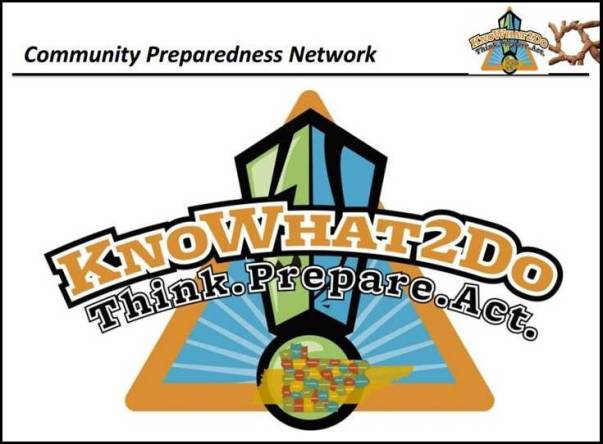 We are a multi-county Community Preparedness Group
with goals of preparedness & mutual support at the community
level. Should a disaster/emergency situation develop, we
recognize that the local community members will be the
most effective tools in the disaster response "tool box"
FOR QUESTIONS & COMMENTS
CONTACT:
Larry Bowers W4LQB
931-762-7522
W4LQB@qsl.net
File & Chart For Feb. 13th Meeting at LaFuente

~ ~ ~ ~ ~ ~
View or Download
Files & Charts Used at Club Meetings

COMMUNITY PREPAREDNESS MEETINGS
On The FIRST MONDAY Of Each Month @ 6:30 PM At
67 Hudson Road, Ethridge, TN
EVERYONE IS WELCOME !
Direct All Questions To Larry Bowers W4LQB
W4LQB@qsl.net
COMMUNITY PREPAREDNESS NET
Thursday Nights Before The MARC Net
6:30 PM Early Check-In On The
Lawrenceburg Repeaters
(See FYI Below)
ALL COUNTIES WITHIN REPEATER RANGE
7:00 PM Regular Net On The MARC Repeater
147.12 MHz (Tone 127.3)
MARC WEBSITE

~ ~ ~ ~ ~ ~
FYI
Lawrence County Repeater Info
Up until recently, the multiple Lawrence County HAM-band VHF repeaters were linked in a single system. Recently Shelton Barnett (Lawrence Co EMA) de-linked the system and returned each of 6 repeaters to independent operation. The TX/RX frequencies for these repeaters (in your radio program) remain the same, however, there is a separate tone code for access to each repeater. In your radio program, the RX/TX frequencies for the repeaters are:
RX = 146.655 MHz
TX = 146.055 MHz
Locations And Tone Codes For The Repeaters Are:
Lawrenceburg 100 Hz
St Joseph 107.2 Hz
Leoma 114.8 Hz
Summertown 123 Hz
West End 131.8 Hz
Collinwood 141.3 Hz
Everyone should reprogram their radio(s) for these 6 repeaters. The first one remains the same so you will only need to add the other 5. If you need help with the programming, and you have a ANYTONE radio or Yaesu 8800, call Larry W4LQB at 931-762-7522 and arrange a time for him to help you. Make sure you bring your radio(s) !
INTERESTING LINKS
.
QUESTIONS OR COMMENTS ?
CONTACT:
Larry Bowers W4LQB
931-762-7522
W4LQB@qsl.net