---
W2WDX - Former Additions
Here are some details of station additions and gear acquisitions.
---
SSB Position Proposed Layout
Below is a diagram of the SSB operating position layout. The "hutch" is 48" wide and constructed of solid 1" "pickled" red oak, and it will be positioned on the left side of the existing 80" table. (For table contruction details and drawings, click here). This will accommodate the radio not shown on the station description page.
Image not to scale
---
Clegg Zeus
One of my interests is AM operation. Being a Technician class, I cannot yet operate HF, so my choices on VHF gear is somewhat limited for AM operation without having to homebrew. I happen to prefer high-level plate modulation, and that narrows the field even more. Add power issues (we all want more) the choice basically is one transmitter. The infamous Clegg Zeus. The search was on, and thanks to eBay I got one in really great shape.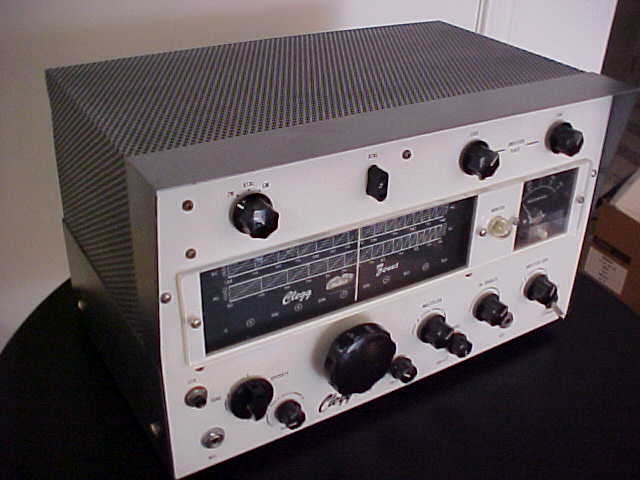 The Clegg Zeus
The Clegg Zeus was designed as a high power, high-level plate modulated AM/CW 2 and 6 meter transmitter. It utilizes a 4X150 ceramic final tube modulated by two 811-A's in a Class B push-pull modulator configuration, delivering about 100-120 watts AM output. It utilizes Class B high level plate and screen modulation, with a frequency response of 200Hz to 3,600Hz (-10dB).
One of the cool things that was designed into the Zeus was the use of the Phase Inverter in the driver. This circuit section employs a 12AT7 as a cathode-coupled phase inverter and a 6BX7 as a push-pull direct coupled cathode follower driver. Direct coupling between the driver and the modulator stage greatly minimizes the two major disadvantages of a Class B modulator system. Low frequency distortion is eliminated and grid current clipping is virtually eliminated. A resistor is used to establishes the operating point of the driver system to set zero signal conditions on the modulator tubes. At the time, this was a very elegant system for a radio of this type.

Close-up of the Dial
This Clegg is in very good condition and was maintained very well. I was very lucky to find one in this shape, especially for the price I paid. You can see on the image below the separate output connectors, with the associated internal output circuitry, for each band. The transmitter is also capable of CW, but I doubt I will ever use it.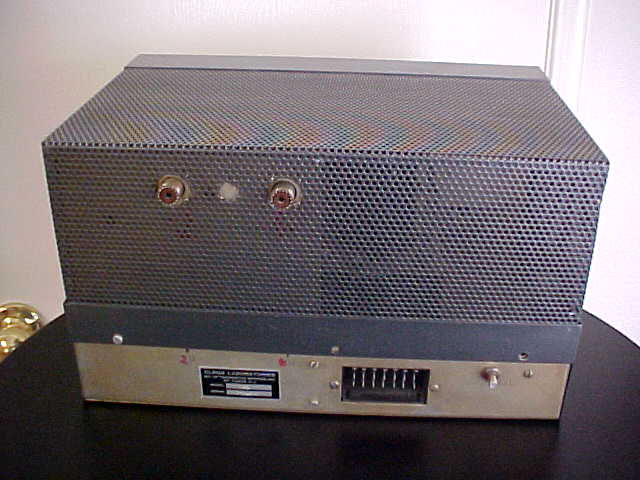 A View from the Rear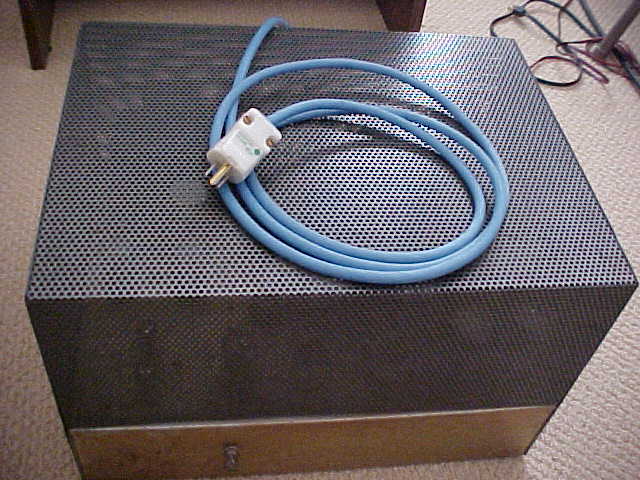 The Power Supply/Modulator
Dedicated to Ed Clegg, W8LOY, Silent Key
---
Hammarlund SP-600
Following my pursuit of AM, the SP-600 was the obvious choice for a high-performance receiver covering from broadcast through 6 meters. This is actually not a recent acquisition since I have owned it for over 15 years. I just didn't know I had it.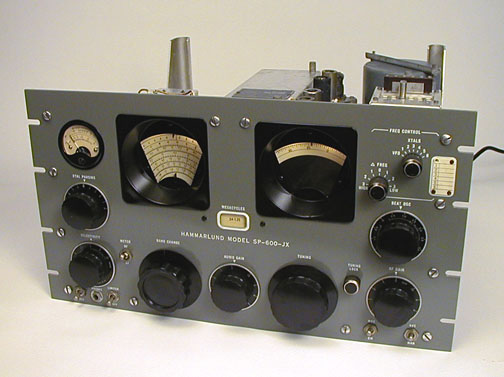 Actually this is not mine, but mine looks this good now!
Like the image caption says, this is not my SP-600. Instead I borrowed a image from a restoration by Jay Miller, KK5IM and I hope he doesn't mind. He did a fine job with his. Didn't he? Mine looks as good. My dials, meters and labels are not as yellowed and the knobs are all correct. (Jay finally got all the knobs right on his though). I was lucky; they came that way. I promise to have images soon!
I was given my SP-600 (I believe it is a JX-35) by my next door neighbor when I was a teen living at home with my parents. I was into the dreaded CB at the time and my neighbor next door was moving. He must have been a collector of Boatanchors and didn't want to haul them to his new home. He gave me this SP-600, a Globe King 400, a Nems-Clarke 1301A VHF receiver, a Hammarlund HQ-100, some HAL Communications stuff, and literally thousands of new Mil-Spec components. Mica caps, resistors, transistors, tubes, coils, etc. I had no idea at the time what this stuff was. I kept it at my parents house, lived my life and forgot about them. It wasn't until I got back into radio and started listening to AM on 80m that I discovered I had all this great stuff!!!!
I am nearly finished with the restoration of the SP-600 (pictures soon, I promise), and I will begin the WRL Globe King 400B next.
---
---
Amateur Radio, CALLBOOKS & QSL ROUTES, TECHNICAL REFERENCE, ANTENNA PROJECTS, HOMEBREW PROJECTS, SHORTWAVE/AM/FM/TV, ANTIQUE RADIO, SOFTWARE, OPERATING AIDS, OPERATING MODES, PROPAGATION, MORSE CODE, QSL, CLUBS, PREFIXES, ZONES, FAQ's, RADIO FREQUENCIES, QRP, MODS, NEWSLETTERS, REFLECTORS, NEWS GROUPS, HUMOR, ANTENNAS, DEALERS, MANUFACTURERS, APRS, PACKET, DIGITAL, AWARDS, BUREAUS, CB, CW, JARGON, GLOSSARIES, EXAMS, BANDPLANS, CALLING FREQUENCIES, REPEATERS, GRID SQUARES, IOTA, DXPEDITIONS, DX, MODULATION, QRP, Q SIGNALS, RTTY, PSK31, VHF, HF, Yaesu, Boatachors, AM, Globe King, WRL, Ham radio, Amateur radio, radio, VHF, FT-221r, w2wdx