Software used by W2RJJ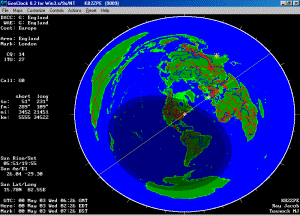 Geoclock is used to view long/short path to distant stations.
Geoclock used to show local times throughout the world, and to show areas of light, darkness and greyline.
.
Spectrogram being used to zerobeat a cw signal. The IC-765 is tuned until the incoming signal equals a 700hz audio tone.
Wxsat decoding a wefax NOAA satellite retransmission from USCG station NMF in BOSTON, MA. Freq is 6340.5 kHz. Requires receiver audio to be fed to computer's sound card. Wxsat will decode ground-based transmisions as well as directly from polar orbiting and geostaionary satellites.
Homebrew logging program built using MS Access.
Digipan is used to work psk31. The lower panoramic display shows about 3 kHz of spectrum. This shot shows six strong psk31 signals and several weaker ones.