W2RJJ Radios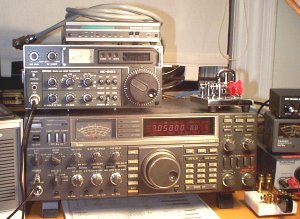 Top: Icom IC-551 all mode 6 Meter transceiver. Range is 50 - 54Mhz. Has a built-in power supply and will produce 10-15 watts rf out. Vintage ca. 1984.
Bottom: Icom IC-765 all mode HF transceiver. 100W and all the bells and whistles. General coverage receiver...it hears everything. Predates DSP. Vintage ca. 1991. Used for CW, HF digi modes, and short wave listening.
Hammarlund HQ-170A amateur band receiver. Triple conversion with 16 tubes. This model was manufactured between 1963 and 1967. Nice for listening to SSB and pretty good for copying CW as well. Not so great with AM. A real pleasure to operate.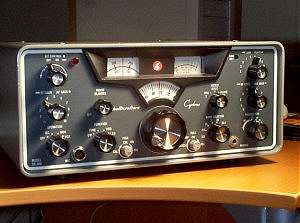 Hallicrafters Cyclone (SR-400). This was an advanced transceiver built from 1965 thru 1969. It will do 200 watts output SSB & CW. Some of the features that I appreciate are the notch filter, RIT, variable noise blanker and CW sidetone. I think this is one of the most beautiful radios built by the company.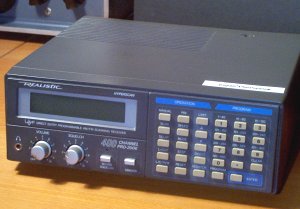 I was very fortunate to obtain this Realistic Pro-2006 from my good friend Gary, KA2FBO. The scanner has not been available on the retail market since the early 1990's. Its top-shelf performance, versatility, and coverage from 25 to 1300mhz make this one of the most sought after scanners on the used market. Used for local NJ and NYC public service monitoring.
The Realistic DX-160 is a solid state single conversion design that's nice to keep around for casual short wave listening. It does not tune SSB or CW well despite a variable BFO and mode switch. Most of the tuning is done with the bandspread dial on the left and it is precise enough to comfortably tune in the big DX AM broadcasters. Vintage 1975 thru 1980.
Two-meter phone & packet are operated on this Radio Shack HTX-242 FM transceiver. RF out is 10/45 watts. Used for FM phone, packet, APRS weather reporting.