W2RJJ Keys Gallery 2
All the keys in my collection work well and are rotated for on-the-air use. My wife, Ming, took the photos on this page.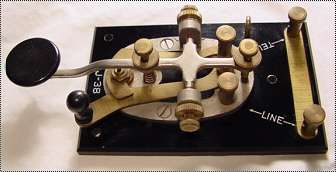 This is the well known J-38 military straight key. Numerous manufacturers were contracted to produce this key, and it exists today in large quantities. It is a WW2-era key. The J-38 is modeled after the Bunnell "Triumph" key, which introduced the single-piece steel lever and trunnion.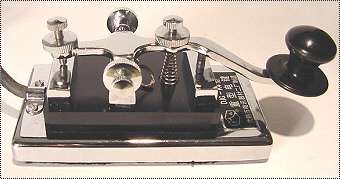 This Chinese K4 is manufactured by the Second Electric Signal Company in Chang Shu City, People's Republic of China. As its label says, it is a "Heavy Duty Electric Key." This was purchased from the only ham shop in Shanghai, China. The shop is run by Xu Ru, BA4AA.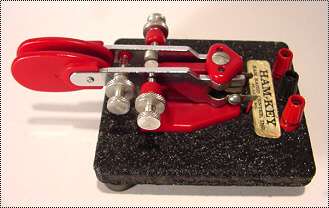 The person who sold this HAM-KEY paddle wanted only $20- I couldn't resist. Despite the abundance of plastic, this is a rugged key with a smooth, clean feel.
The Kent staight key. It's big...lot's of brass. It makes the loudest click-clack I've ever heard. Super smooth (believe it or not)! This key is in current production in England. It may be purchased in kit form or assembled.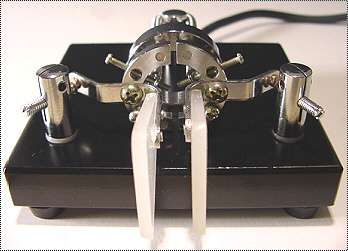 I purchased this Chinese paddle from the ham shop in Shanghai. The design is based on the Bencher paddle. Naturally, the feel is light and smooth. The base is very heavy and there's no desk walking. The contacts are much smaller than the Bencher's.
Two keys from China. On the left, a K4 style key, with the inscription "Nanjing Army Athletic School." On the right is a K5 key. Both were manufactured in Chang Shu City. These were given to me by Bony Dai, BA4EE, Station Master of BY4BNS, Shanghai, China.