BY4CYL - Amateur Radio Station of the Shanghai No. 3 Girl's Middle School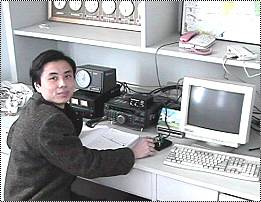 This is Zhang Min (Jack),the Station Master for BY4CYL. He is a math teacher at the school. He also teaches electronics thru amateur radio.
Txcvr: Kenwood TS690S; Ant: HyGain TH7DX yagi up 90 mtrs; Modes: Phone, CW, PSK31, RTTY, SSTV; Bands: 20m, 15m, 10m.
The BY4CYL station is on a beautiful and spacious campus. The shack is located on the top floor of the coverted water tower shown in the picture. The antenna is mounted on a mast on the tower's roof. To the left of the water tower is one of the classroom buildings.