BY4AA - Shanghai Radio Sports Association
The operating room of the Shanghai Radio Sports Association. The well-appointed station is the 3rd ever built in the Peoples Republic of China.
Bands: HF, 6m/2m & 70cm. Modes: SSB, SSTV, CW, FM Phone. Antenna: 7 el yagi on 20/15/10m; 3 el yagi on 40/15/10m; 2m/70cm yagi. Kilowatt amplifiers are available.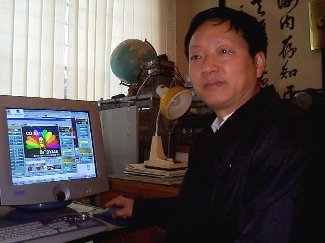 This is Chen Yuan Chang, BA4EH. He is the Secretary of SRSA, and Station Master for BY4AA. He's pictured demonstrating SSTV operation.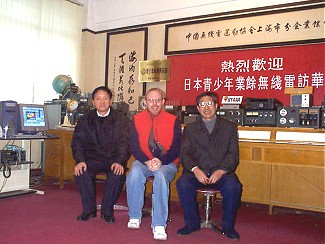 BA4EH, KB2ZPE, and BA4AA in front of the BY4AA station. Contesting and Amateur Radio training take place here. The station is available to guests, and the large console will accommodate several operators at the same time.