LAB ROVER DOT COM
PROUDLY PRESENTS:
RUFUS & CLEO'S AMATEUR RADIO
SPECIAL EVENTS STATION
"Whiskey 2 Rover"
Trans Canada Rover Trek-2001
Due to the tragic events of September 11th., Andrew and Jim decided to postpone their scheduled trip North of the Border. Hopefully they will reschedule for 2002.
Instead, they ventured on a shorter trip that took them across the New England states and into the wild of the Central Adirondack Mountains.
The photo shows Andrew's Land Rover Defender 110 fully equipped with all the many portable ham radio antennas Jim used enroute. In addition to the High Sierra 1500 mobile hf antenna mounted off the rear for use when on the road, a portable 2 meter beam was erected on top of the back roof and W3FF's "Walking Dipole" was mounted on a 10' mast off the right front when they were camping. Jim is shown holding his QRP radio, a Yaesu FT-817 and Z-11 antenna tuner.
A cousin of Jim's, Watson Webb, maintains a wonderful camp near Little Tupper Lake and Lake Lila. On the shore of Partlow Lake, "Nehasane" Camp is located in a beautiful tranquil area encompassing 4,000+ acres of wilderness. 30 miles from NY State Rt. 28N, Watson spends a good bit of time maintaining his portion of a dirt access road which alternates with New York State lands access. During the snow season, Watson often spends two days on his front loader plowing out access to the property. Needless to say his heavy duty snowmobile get much usage!
The Camp is fully self-sufficient with a propane generator providing light, refrigeration, and power. With comfortable accommodations for 6-8, Watson offers the Camp year-round as a "remote wilderness retreat" for small groups and families providing opportunities for hunting, fishing and a variety of outdoor activities.
TEAM LAB-ROVER"S MOBILE COMMUNICATIONS EQUIPMENT:
TRANSCEIVERS: Yaesu FT- 817 HF 5 watt Transceiver - LDG Electronics Z-11 QRP Auto Tuner - Icom TM-G707A 144/440 50 watt Transceiver - Yaesu FT11 VHF 5 watt Handie Talkie
ANTENNAS: 12-17-15-20m Hamsticks - Maxrad 144/440 & 6 meter Mobile Antennas w/ MNO mount - High Sierra 1500S HF multiband antenna - W3FF Design portable walking dipole - DWM YO-YO-Tenna portable dipole - ATX Walkabout HF portable multi-band whip antenna.
COMPUTERS & DATA: Dell Inspiron 700 & IBM 600x PC Laptops
MISC: Mini-M Satellite Telephone - Cellular Telephone - CB Radio - FSR Radios - Astron 20 amp. AC power supply - Cherokee 1500 watt AC/DC Inverter - Garmin III+ GPS w/Maxrad external antenna...and of course plenty of music CD's (from Willie to Grateful Dead!!)
We were fortunate to continue have support from a great group of corporate sponsors for all our trips - Please take a moment to learn about them and their products on the Sponsor Page at Lab-Rover.com. Without this kind of participation these kinds of operations would not have been possible. THANK YOU!!!
--------------------------------------------------------------------------------------------------------------------------
To learn more about this Awesome hobby, check out the ARRL link and other links: click here
To return to Special Events Station "W2R" CLICK HERE
HOW TO CONTACT "W2R" CLICK HERE
FOR OPERATING UPDATES: CLICK HERE
To return to main Team Lab Rover page click here
Expedition E-Mail: w1emt@arrl.net

last updated: Monday, September 29, 2003 15:28
by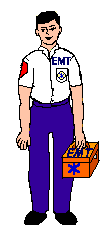 Jim Wilmerding M.Ed., EMT-P
Andrew Wilmerding, BS