WELCOME TO THE HOME PAGE
MINUTEMAN CHAPTER'S
OLD IRONSIDES CERTIFICATE


Special thanks to KC1FV, & N1STE for all their help in developing these pages, & K3TKJ for making the Web Site available.

OLD IRONSIDES, officially known as the U.S.S. CONSTITUTION, is the oldest commissioned vessel in the United States Navy. She is presently preserved at the Charlestown Navy Yard, Boston, and available for tours. The following picture was taken off Boston the summer of 1997, when she was under sail for the first time in 116 years. As you will note in the picture, she got underway with a limited number of sails, namely (from bow to stern), Flying Jib, Jib, Fore Topsail, Main Topsail, Mizzen Topsail, and Spanker. These were the sails normally set when combat, a battle, was eminent. Under full sail, she carried a total of thirty one.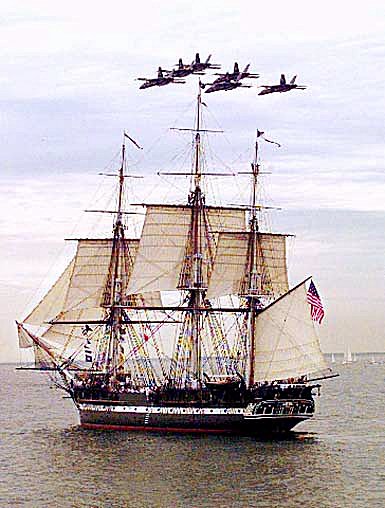 CONSTITUTION, one of six frigates authorized by act of Congress, approved 27 March 1794, was designed by Joshua Humphreys, and built at Hartt's shipyard, Boston, Mass., and launched 21 October 1797. Into the trim frigate's construction went timbers from States ranging from Maine to Georgia, as well as copper bolts and spikes supplied by Paul Revere. A ship of beauty, power, and speed was fashioned as a national expression of growing naval interest, and a symbol auguring the dedication, courage, and achievement of American fighting men and ships.


Favorite Links

O.I. Cert Mgr.
Mail Box
---
You are visitor number
since 06/07/98
---
Additional Page Under Construction