2 Meter Repeater at the Firehouse
We have a repeater installed at the Firehouse. Bill, W7YY and Jon, WA1PEI installed the former Monroe Repeater. The frequency is 146.835 with a negative offset. The PL Tone is 100.0.
!!! FIELD DAY 2013 INITIAL RESULTS !!!
Score: 1216 QSO points + 250 Bonus points = 1466 points total. 602 phone contacts and 3 CW contacts. With 11 participants W1LAS worked 49 states, Puerto Rico, and the U.S. Virgin Islands. Contacts were made on bands from 80 meters to 6 meters. Thanks to W7YY for his overwhelming support and generosity to the Field Day effort. Thanks to N1ABY for collating and submitting the results. WA1SSB brought a terrific chile. Finally many thanks to the operators who generated the contacts that made this score, and the visitors who brought both questions and new perspectives this event.
WATERBURY AMATEUR RADIO CLUB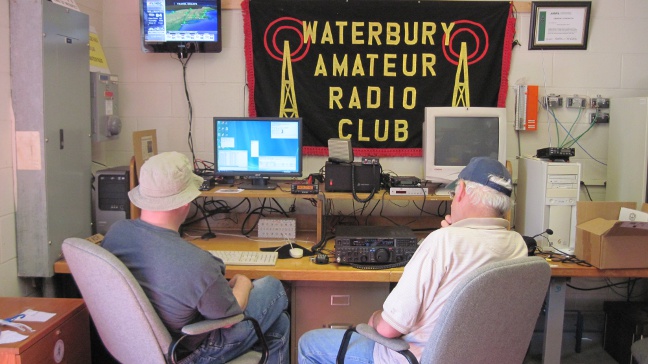 Photo courtesy WA1SSB (c) 2012 WA1SSB
MEETING LOCATION!
The Waterbury Amateur Radio Club meets at the Firehouse in Prospect. The Firehouse is located on Route 69 1/8th of a mile south of Route 68 in Prospect.