2 Meter Repeater at the Firehouse
We have a repeater installed at the Firehouse. Bill, W7YY and Jon, WA1PEI installed the former Monroe Repeater. The frequency is 146.835 with a negative offset. The PL Tone is 100.0.
!!! FIELD DAY 2012 REPORT !!!
2011 Results : 682 QSO's / 1346 points + 550 Bonus Points = Total Score 1916 points
2012 Results : 661 QSO's / 1322 points + 450 Bonus Points = Total Score 1772 points
In total we worked 47 states, 7 Canadian provinces and a couple of DX stations. We even made 4 CW QSO's (Thanks to W1AMJ,WA1CRS, and KD1XH) !!!
Thanks to N1ABY, KB1HLK, WA1SSB, KD1XH, W7YY, W1AMJ, and WA1CRS for all the help with setup, operating, and takedown. An extra thanks to W7YY for the grilled goodies and all the other things he brought, KB1HLK for the great home made bread, and WA1SSB for the fantastic home made chili.Thanks to KA1ZCC for his contacts. Finally, thanks to N1ABY for compiling and submitting the results to the ARRL!!!

WATERBURY AMATEUR RADIO CLUB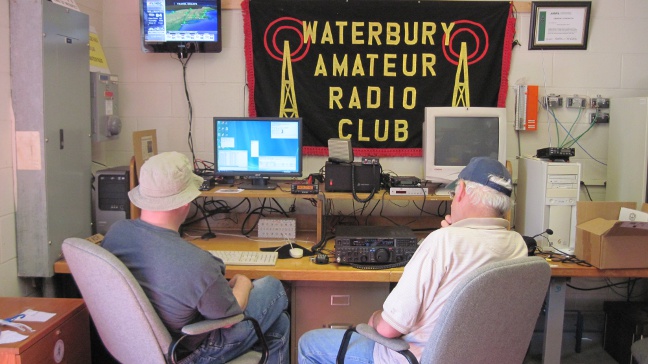 Photo courtesy WA1SSB (c) 2012 WA1SSB
MEETING LOCATION!
The Waterbury Amateur Radio Club meets at the Firehouse in Prospect. The Firehouse is located on Route 69 1/8th of a mile south of Route 68 in Prospect.