W1FIF in the Early Days was KN3KAD
QTH IN NORTH FORK, PA.
"40 MILES FROM NOWHERE AND PLUMB BACK IN THE STICKS"


New York State
Pennsylvania
New York City is about a 270 miles to the East
Erie, Pa is about 160 miles to the West
---
Uncle Chet's and Dad's help in the early days before coming a Ham.
Before I passed my Novice, my first receiver was a Knight Kit Space Spanner that I bought from my Uncle Chet Beach when I was about 13 years old. I still have this receiver today and listen to it from time to time. Below is a picture my Borther Dave found of Uncle Chet with the old Space Spanner. Notice the Telephone on the wall over the Space Spanner. Yes it had a Crank and one Long turn of the crank would get you the Operator. To get our house it would take one long and three short Cranks or rings . I think our telephone number 29R13 back then. Dial phones were to come to North Fork later on along with things like Color TV and Microwave Ovens. The O scope is an old EICO that Dad built for use in the TV service. In the lower left hand corner is the top of a picture tube and yoke of a set in for repair.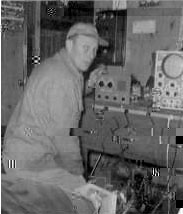 Uncle Chet Bringing the Space Spanner to life after he built it.
This Picture was taken in My Dad's TV repair shop located at the my first QTH.
_____________________________________________________________________________________________________________________________________________________
Below is a picture of my second receiver (also from my Uncle Chet) a Heath Kit AR-3.
The picture of the AT-1 was the matching Transmitter for the AR-3 that I found at a Ham Fest about 2 years ago and is now part of my collection.
Heath Kit AR-3 (4 tube) Heath Kit AT-1 (30 watts on a good day)
Although Uncle Chet never got a Ham ticket he sure was an active SWL and a great help to me.


In the fall of 1959 I passed the novice test from a local Ham (W3ODP John Robbins) and got the call KN3KAD.
My first on the air station was a Knight R-100 with a T-50 that my father and I built. During the year as a Novice I found out that a transmitter could put out a signal on twice the intended operating frequency and TVI was a real thing. One of my first QSL card came from the FCC with a RST of 589 for a signal just above 40 meters when I only used 80 meters. As for TVI, I was not allowed to use the transmitter while others in the family wanted to watch television because every time I pressed the telegraph key the old CBS TV picture would go black. It wasn't long before I learned the correct way to tune up the old T-50 so harmonics and TVI were supressed and then I had a lot of QSO's with this tramsmitter. The R-100 was a different story because the frequency stability was so poor I had to keep one hand on the Bandspread or the BFO while I was copying code to keep the cw tone close to the same frequency and be very careful about bumping the operating table because this would cause the CW signals to move outside of the passband. But with all the technology advancement of today's rigs, I still like to operate the old Knight Kits and maybe you can find me using them on the low end of 40 or 80 meters.
Pictures of the old Knight Kits are being taken and soon will be put up here for others to see.


Click on the Knight Kit logo to go back to home page