A 1976 Style Tuna Tin 2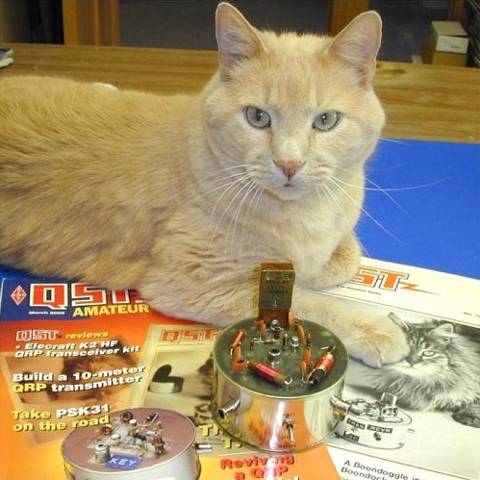 I was somewhat fascinated with the Tuna Tin 2 when I first saw it in QST back in 1976. It was just another of the many projects that caught my eye but I never built. In March 2000 Ed Hare did an article about the TT2 new and old. This re-ignited my interest in the little 40 meter transmitter and I decided to build one.
I decided that if I was going to build a Tuna Tin 2 it had to look like it would have looked if I had built it in 1976. That meant it had to have carbon comp. resistors, disk ceramic capacitors, and an FT-243 Xtal. Not that other components weren't available back then, but those were the kind of things I had available to me. Of course it also had to be built on the 1976 style circuit board, use solenoidal inductors, and be mounted on a 1976 style tuna can. Finding the can proved to be the most difficult part of the whole project
When I got it all finished I thought it would be fun to snap a picture of it sitting on the 2000 QST and the 1976 QST. My cat Socrates cooperated for the picture as well. I sent a copy to Ed Hare and he put it in a later issue of QST in the Up-Front section. Unfortunately Socrates is now SK (silent kitty). He was a really cool cat and I miss him a lot.