Matching Crystals for use in Crystal Filters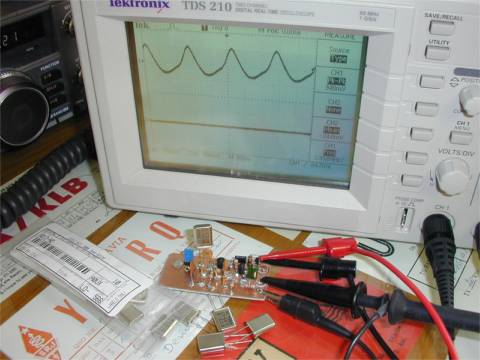 On the Norcal Web Page is an excellent description of how to select and match crystals for use in Crystal Filters. It is part of Jim Kortge's series on building the IA-QRP-10 rig. In that article Jim describes the equipment and procedure required to really do the job right. He also mentions an alternative approach that yields resonably good results and requires less test equipment. This approach uses a Colpitts oscillator with large feedback capacitors.
The photo above shows the test oscillator I built for this purpose. It is based on an article by W7ZOI that appeared in the June 1995 issue of QEX. That article was also re-printed in the current edition of "QRP POWER". It is a 2N3904 based Colpitts oscillator with an emitter follower for isolation. I used pins from a machined pin IC socket as sockets for the crystal and for the two feedback capacitors.
When matching crystals I first determine the largest feedback capacitors that will support oscillation. This is done by monitoring the output with a scope and plugging in larger and larger values until the circuit no longer oscillates. I then drop back the the next highest value and test all the crystals to make sure they all oscillate in that circuit configuration. The output from the circuit is then connected to a frequency counter and the crystals are individually tested. It seems to work best to handle the crystals with tweezers so as to not warm them up in the process.