Manhattan Pads for Integrated Circuits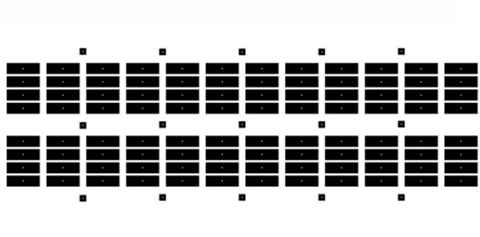 On my first Manhattan style project I used individual rectangular pads cut from a nibbler tool under each IC pin. Those proved to be difficult to align and work with. On my next project I cut a strip of pads off an old PC board that had a 0.1 inch edge connector. Then I could use one strip under each side of the IC socket and it worked better. Finally I decided to lay out and etch a set of 8 pin IC pads so that I no longer had to fight with mounting the ICs and connecting to them. The photo above shows the artwork I created using CAD software. Click this link for a FULL SIZE .GIF drawing.
The board at the bottom left was produced by printing the artwork to a product called DynaArt. The DynaArt patern is then transferred to the copper clad board with a household iron, and the board is etched. I then clean the DynaArt off with steel wool, tin the pads, and cut them out. The pattern above will produce twelve 8 pin IC pads, enough for several typical homebrew projects.
| | |
| --- | --- |
| Etched and Ready to Cut | An IC Pad In Use |