Using Super Glue and How to Get Your Fingers Apart Again!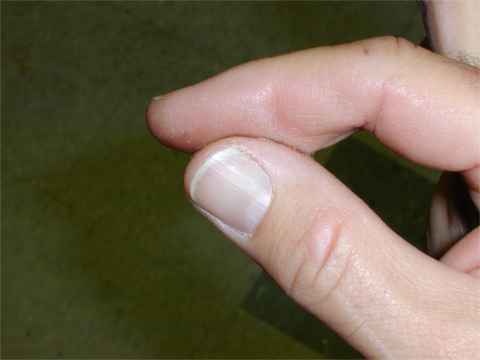 I can't believe I glued my fingers together like that! I have used many many bottles of CA superglue in the process of building radio controlled airplanes and I have never done that. I was poking a pin in the end of a brand new bottle of thin CA glue when it shot out as if it was under pressure. Instantly my fingers were joined and there was no pulling them apart. Fortunately, because of my experience with the model airplanes I had a bottle of DEBONDER on the shelf. By repeatedly putting a little Debonder on the joint, working it in, and pulling gently apart, I eventually separated my fingers with no torn skin. A little Debonder on a paper towel cleaned the whole mess up and I was able to continue building.
In my opinion there are two rules that must be followed when building Manhattan style: The first is don't use consumer brand bottles of superglue. They are often beyond their shelf life and they do not adhere as well as the good stuff you can buy at your local hobby shop. At the hobby shop they will probably call it CA or Cyanoacrylate and you can buy a 1/2 ounce bottle for not too much more than a considerably smaller bottle of the lesser quality stuff. The second rule is never use super glue without a bottle of Debonder close by. Below is a bottle of Debonder that is sold by Sig Manufacturing. You should be able to buy it or a similar product at any hobby shop that sells radio controlled aircraft supplies, the same place where you can buy CA glue. You will also find Debonder handy to have if you need to remove a pad that you have stuck in the wrong place or if you need to clean up some glue that has dried in a place where it doesn't belong.