W0PT Web Page

---
---
Ham Radio

I have been a Ham Radio operator for 18 years. My first call sign was KA0OXK, followed by AA0CP, now W0PT. 2 meter moon bounce or EME is my passion. I have worked 196 initials on 2 meter EME with 32 states, 36 countries and 146 grids confirmed. My most recent contacts have been with VE1ZJ, WB4JEM, WA2FGK,UA4API., N0KQY, PE1LWT, R1MVZ, N1BUG, J6MB, W7XU, IZ5EME, OH7PI, N1RWY and OE5EYM.
My 2 meter EME station consist of a Icom 820H all mode. Outboard audio filter consist of a Timewave DSP 59+, FFTDSP software de AF9Y, Skymoon and CWKEY5 software de W5UN. The antennas are 4 modified Cushcraft 3219 boomers. 4 X 4.05 wl as per VE7BQH design. Phasing lines are LMR-400 cable. Transmit feedline is 100 feet of Andrew 1 5/8. Receive feedline consist of 100 feet of 1/2 inch andrew. Preamp is a ARR with 23db gain and 0.52nf. Running an 8877 at 1.2kw.
This is the 43 element VE7BQH portable yagi used by N0KQY for our 2m EME QSO on October 27, 1999 at 0224utc.This was Garys first attempt to work EME with this antenna. The original design built by W0PT, was used for portable EME operation. This antenna works very well, is inexpensive, and makes EME operation possible for most any station with a few hundred watts.
---
I hope to be QRV on 432 Mhz EME very soon. (My 432mhz station will consist of 4X KLM 432 16lb antennas and approximately 450 watts)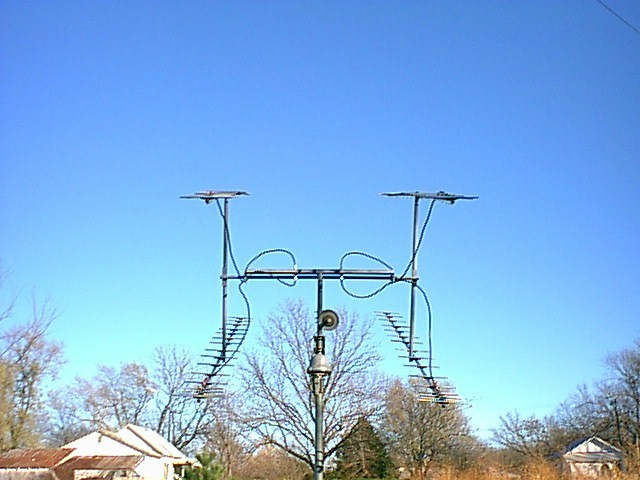 Need more information on EME? See the W5UN 2M EME Primer W7GJ 144 EME Tips VE7BQH 144mhz long yagi
---
SSTV
SSTV is another mode I enjoy. As often as possible we conduct a SSTV net on our 2m repeater in Mound City. Below are some recent pictures received from that net, and the 20 meter band.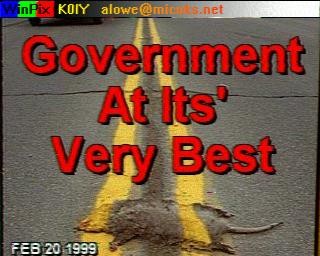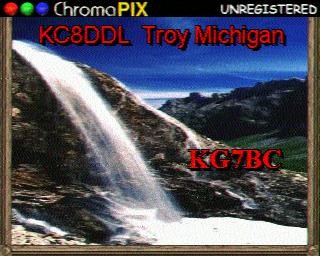 ---
Astronomy

I have always enjoyed watching the night skys and just last fall obtained my first telescope, an Orion 6" DOB..I have spent many hours this summer viewing the craters on the moon, planets, and countless other objects. Quite frequently, Andy Lowe, K0IY and I spend evenings watching for and counting satellites as they pass overhead after sunset. We share this information via Ham Radio.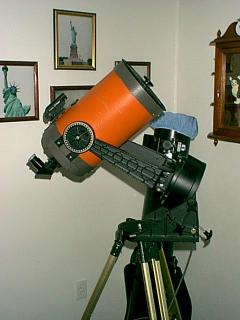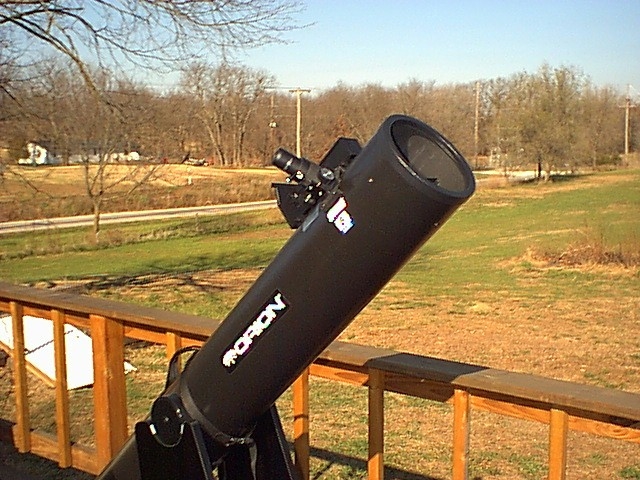 My telescopes, and Celestron C8 and a Orion 6 inch DOB
Astronomy Links
Astronomical Society Of Kansas City
ASKC Asteroid & Supernova Patrol
---
WAS 2M EME (The Worked All States award is just what it says: Work and confirm all 50 states) So far I have worked 31 US states via Earth Moon Earth.
VUCC 2M EME (The VHF/UHF Century Club is one of the League's newer awards, for working and confirming V/UHF contacts in 2° × 1° grid square locators on all V/U/SHF bands from 50 MHz to 300 GHz). So far I have 135 grids confirmed.
WAC (Sponsored by the International Amateur Radio Union (IARU), the Worked All Continents award is issued for working and confirming all six continents (North America, South America, Oceania, Asia, Europe and Africa) on a variety of different bands and modes.) I still need a station in South America to complete this award.
---
Fishing with NU0O and
A nice quiet boat ride on Hillsdale lake after dark.......right Mike?
---
E-Mail
[email protected]
---

Last revised: January 24, 2000.