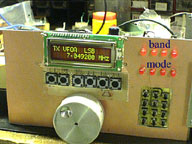 DDS VFO assembled by
I homebrewed a dds vfo using AD9851 and PIC16F628. Download the details from here.
Features:
---------
1. Using a low cost mechanical encoder instead of a costly optical one
2. Variable tuning rate
3. Keypad provided for easy frequency entry
4. Dual VFO
5. Step size can be changed from 1Hz to MHz range
6. Time out function for ignoring any wrong entry
7. LBS/USB/CW modes.
Another version of my DDS program. RIT, Split, Memory features added. Additional 6 press button switches added for easy operation.
Download the circuit and details from here ( in PDF format ). A new setup screen also added, here you can change all settings, like IF/SSB/CW offsets, Xtal module frequency etc.
Hex file can be download from HamRadioIndia Downloads
For PCB, Programmed Chips and other details write to