<![if !vml]>
<![endif]>
¡@
¡@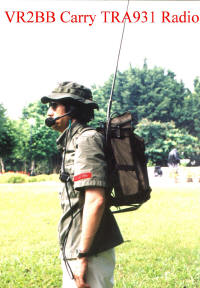 I operate the Racal TRA931 HF SSB Radio. The Date is on September, 2001. A very beautiful day in the autumn season. I purchased the radio from UK Army Radio Sales Company. It is a good radio especially the synthesizer output is clean. That means the birdies is kept in minimum level in the receiver. Antenna tuning is manual but is simple. You only rotate the antenna tuning knob and watch the meter moves to a maximum reading.The power output is 20 watt that is enough for field operation. Battery is 24 volts. I like the TRA931 and it is better than the PRC2000 in the receiving performance because the PRC2000 has a very high noises in receiver and can be found many birdies. My TRA931's final power transistors burnt out twice, I don't know why, the final protecting circuit is in normal working condition. May be the problem comes from my mistake to tune up the radio. I replaced the a pairs MRF401s, it works great at the moment and has a more power output than the original final transistors which is very hard to find. You can find more photograph in this page. I hope you enjoy with it.
¡@
¡@
¡@
¡@
General Description of Military Radio Equipment
¡@
British Larkspur C42 VHF FM Radio, 15W Output.
British TRA967 VHF FM Manpack Radio, 3 W Output.

¡@

British Clansman VRC353 VHF FM Radio 50 W Output.
British Clansman VRQ301 VHF FM Radio, Output 15 W.
US PRC25 VHF FM Radio, Final tube is 2DF4
¡@
From my collections of military radio, I would like to say US RT662 the best. Although the radio manufactured in 1960, the performance is still excellent. The working mode of this radio is USB, and CW only. On receiving mode it can zero beat to tune for a AM signal, also it can use the BFO to tune a LSB signal on USB mode. With the aim of the BFO control, it can be used as a IF Shift Control to eliminate interference signal. Signal to noise performance of this radio is excellent, you can tune up the weak signal from the high noise level back ground. The RT662 uses total 70 crystals in the synthesizer and the VCO frequency is reference to a highly stable oven control oscillator hence the stability of this radio is up to 1 part per million. BM radio in Japan can supply a set of new crystal filter to modify the radio operating on both USB and LSB in receiving and transmitting mode. Receiving sensitivity is satisfactory, is measured 0.3 micro volt in 10dB signal to noise. Although the radio mainly uses germanium transistors construction, no malfunction problems recorded since I have kept it for 10 years.
¡@
| | | | | |
| --- | --- | --- | --- | --- |
| | | | | |
| PRC2000 HF SSB Manpack Radio, Output is 15 W | Clansman VRC321 HF SSB Radio, Output 40 W | Military Radios............ | US RT662 HF SSB Radio | British TRA931 HF SSB Manpack Radio, Output power is 20 Watt. |
¡@
Before you leave, I sincere invite you to sign my guest book, Thank You
¡@
¡@

Home