Field Day 2001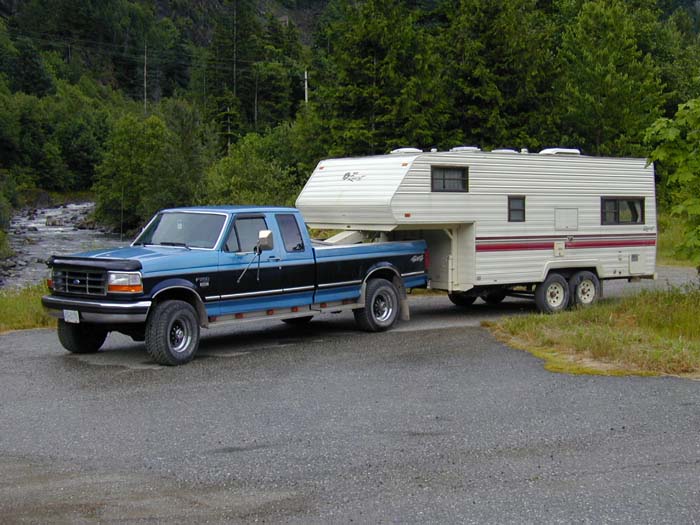 Here is our rig leaving our first campsite that we ended up staying at Friday night. This is the problem when you just "wing it" for a destination for Field Day. We ended up driving for over 6 hours through thick forests, around lakes and into campsites that involved jackknifing the trailer in order to get out of. Arg! Never again! Scout out the area first with just the truck before heading down a dead-end narrow trail hauling the 5th wheel. :-) Anyway, we found a very nice spot at midnight (above) where we spent the night before heading off to our final destination at the top of the Coquihalla Summit.

This is where we ended up staying and operating Field Day from. It is a beautiful (closed) Rest Area that someone had pulled the barriers from so we could sneak through and into this well secluded area, next to a creek with trails and a beautiful mountain view. We couldn't have asked for a better location. It was a parking area about 3 acres in size, with tall trees all around and a clear shot to the south east, which was ideal for operation into most of North America. We arrived about 9:30am Saturday and after leveling the trailer and making sure my wife was happy, I began the setup. I started by selecting the trees that would hold up the antenna. I had a number of antennas in mind, all wire based, but didn't make the decision until I was at the site. I have an 80M dipole up at home and thought that I should go with the old trustworthy design but my spirit of adventure got the better of me and I decided to try a full wave loop for 80M, since it could also be used on the other bands using 72 ohm coax as a direct feeder and no worse than 2:1 SWR. (according to theory :-)
Below is my own invention which has garnered me the moniker "nuttiest ham" by my wife. I came up with this many years back when I put up my first dipole. It is my trusty 10' steelhead rod with modern "Spider Wire" (heavy duty multistrand synthetic line) and a regular golf ball with a tiny hole drilled through the center to accept the line. I can then cast this easy to see, heavy little orb into the trees and let it fall to the ground so that I can then attach a support line to pull up the antenna. I only left one golf ball lodged permanently in the branches of the trees there, (good thing I brought extras) and had the 2 upper support lines installed in a half hour. Wanting to operate this event in the true spirit of Field Day , nothing was prepped in advance, I assembled everything on the spot, using only raw materials. This meant actually soldering several lengths of 14 GA wire together, strung out in the parking lot between two 50' markers I measured. I have a 1KW inverter installed so 120VAC from the batteries was easy. I ended up using 265' with 4 splices and placed the connection as close to the bottom corner near the trailer as possible. After futzing around for an hour and a half trying to get the antenna as high and with as much open loop area as possible, I was ready to go inside and start operating. I was very excited and it was approaching noon and I was a bit disappointed that it had taken so long to get going but I was even more disappointed to find that my SWR was 3:1 or more on all bands but 80M. Hmmmmm I pondered.. (actually used more explicatives than that) Time was out and I didn't have time to start changing or tuning now. I know my measurements were good and I knew I had to get the SWR down so that the IC-751A would be happy, so plan B went into effect. I brought my AH-2 auto tuner so out came the 1:1 coupling from the corner and in went the auto tuner with about 6' of open wire going from the 2 ends of the antenna down to the tuner's hot and ground leads. I went back inside, fired up the rig, tried it on all bands and much to my delight and relief, it worked perfectly!
| | | |
| --- | --- | --- |
| My favorite method of getting wire in the air. | | My final antenna setup was an 80M loop 60' up in the trees with makeshift supports and an ICOM AH-2 auto tuner. As you can see, 25L of Diesel seems to support the load of 265' of wire. :-) Note proximity to the creek for those in our family who enjoy fishing. |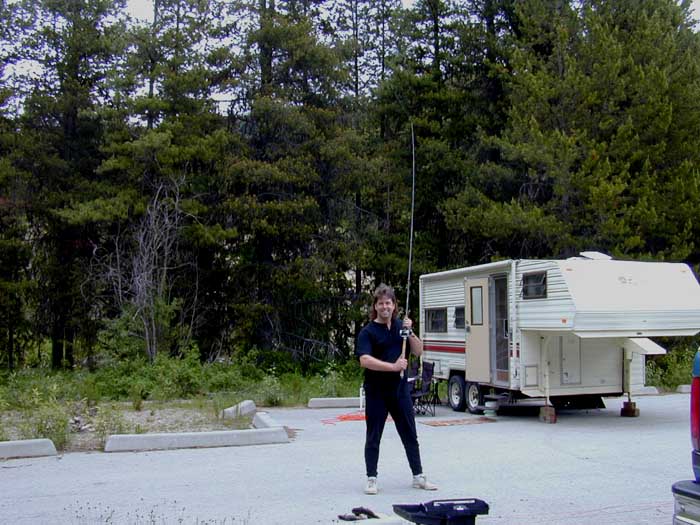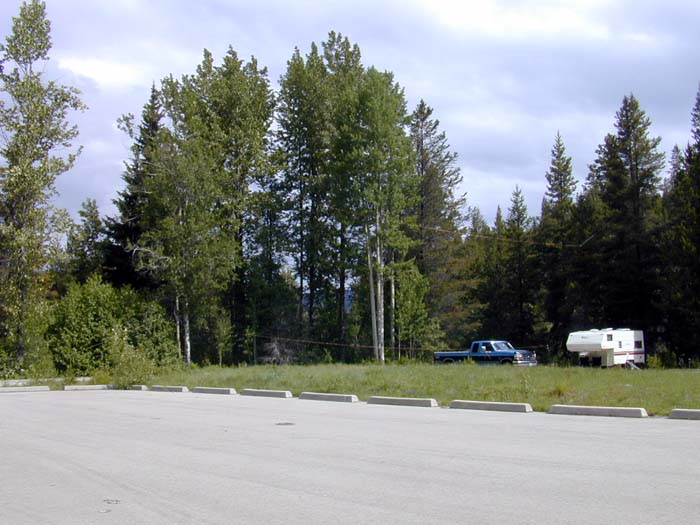 Here is the antenna, finally up at 60'. It goes into the tall tree to the left and into the trees above the trailer. Just visible.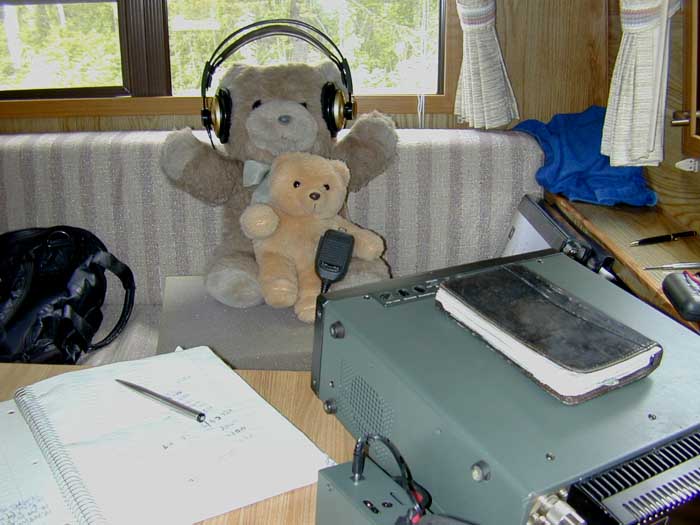 This is our operating position inside the trailer. I was operating 1B British Columbia, despite a "little" assistance.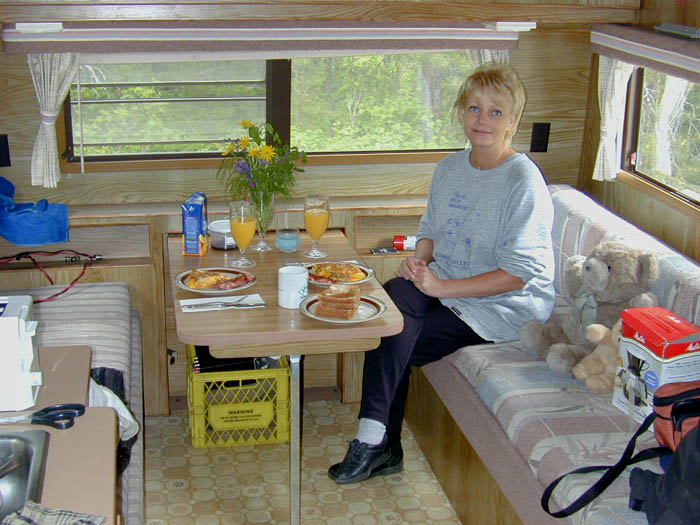 What a way to start Field Day! What more can I say other than I love my wife and her patience with me and the hobbies.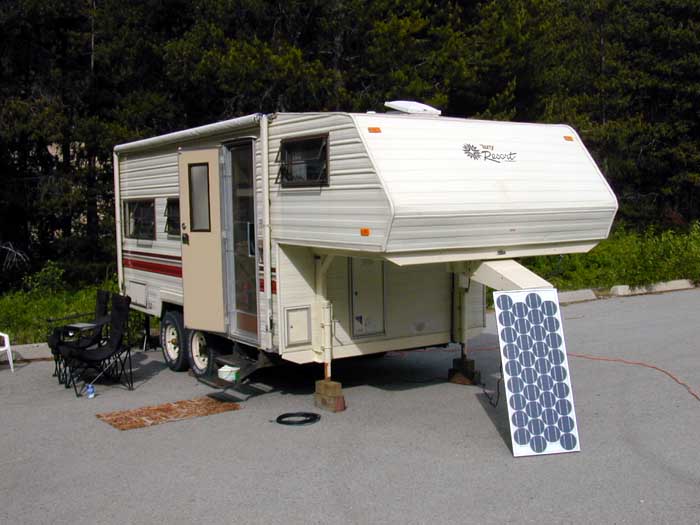 | | |
| --- | --- |
| | Our Terry 5th wheel on her (second) maiden voyage, with 350AH of batteries, 1KW inverter, 40A smart charger and 70W of solar power. Now THIS is the way to go camping! :-) |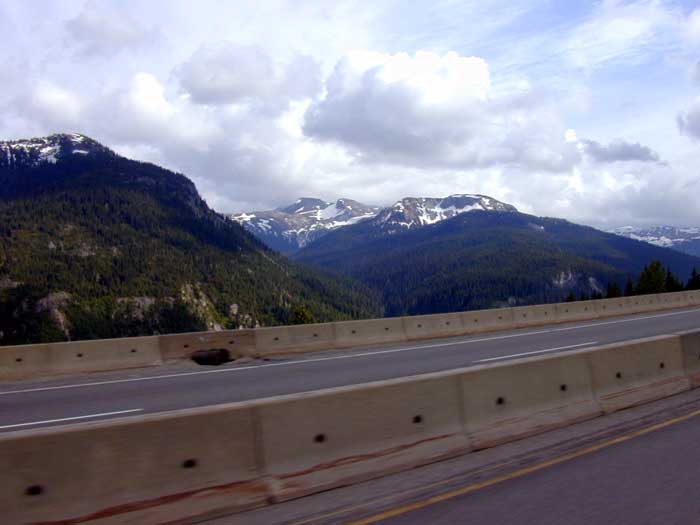 | | |
| --- | --- |
| | This is the view as we pulled away from our campsite Sunday and headed home. snif :-( We didn't want to leave. |