My bikes collection.
( click on the picture for higher detail )
My entry ticket to the world of motorcycles - Honda CB175.
I bought it from the second hand market, overall the engine and repainted it to blue from its original orange/black color. The rear cargo box housed the emergency kit and an ICOM IC-215 VHF transceiver. I kept this bike until I got out of learner stage. I finally went for a brand new 400cc model.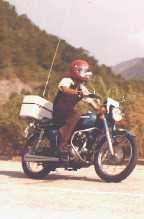 Be wild - Honda CB 400N.

This bike served me most of my wild stage - the most dangerous period of my biking. Freshly licensed and have no real fear on the road, this beast was always eager to explore the world with its master. I must admit that I broke the limit a couple of times and got out with luck. The ham radio is housed behind the front fairing. I used an ICOM IC-2AT as the main transceiver when I rode this bike. The R.F.power was low but sufficient to maintain communication with aid of VHF repeater. The radio was wired with the audio system inside my helmet. A home brew vox circuit controls the PTT activities. Due to placement of the wire being too close to the ignition coil, my transmission have a characteristic noise at the background. Back in 1980, this was a new and outstanding practice in motorcycle equipment.

The above photographs were taken by Mr.Ruwan Hui (VS6XMB) at 1981.

My latest horse - CB-750F

After four years of biking, I finally settled for a more stable style after married. I hoped to find a bike which have a gentle and stable appearance but with a tiger in its heart. I got it - a CB750F. This is a tamed version for the famous CB900F - smoother in pick up but can still provide astonishing acceleration when circumstances arises. The suspension is much softer compared to its former racing design but still very stable during high speed banking. This is important since the lady had complained a lot that the 400N is too hard on bumps… I kept this bike until I moved to Canada. I missed her a lot.