Wasaga Beach Equipment Installation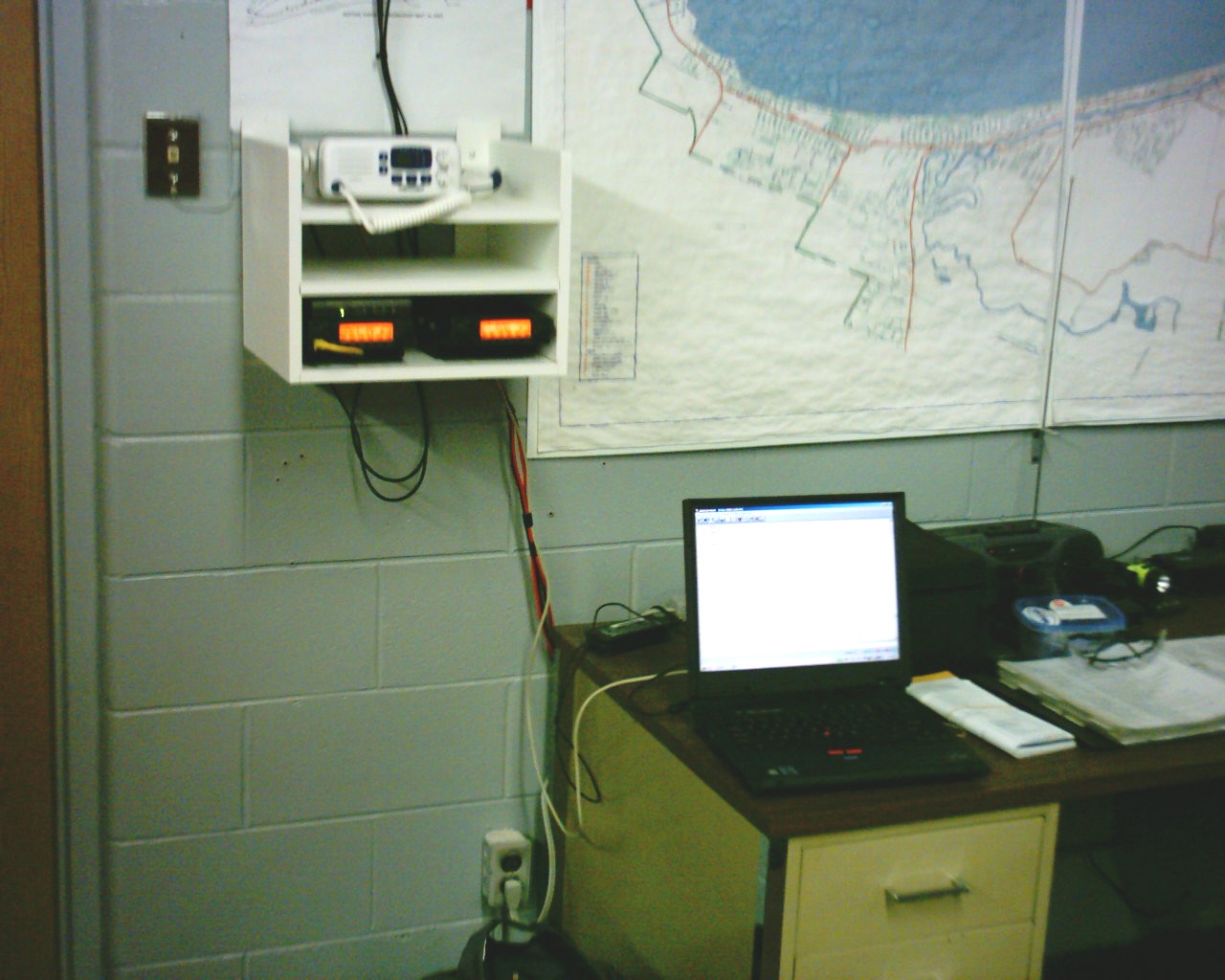 Click on the thumbnail for a larger picture.
In May of 2001 Mike VE3LKI, Eric VE3MDN, Bob VE3WW, Don VE3CBA and Darren VE3REK attended the Simcoe County Fire Chiefs Association meeting held in Wasaga Beach. During the meeting, Mike and the others did a presentation on the role of ARES and how we can assist municipalities during a peacetime emergency. The presentation lasted approximately 30 minutes and was received well by the Chiefs. After the meeting, the group accompanied the Chiefs to lunch during which there was much discussion on the different modes and abilities that ARES could offer to a municipality.
Approximately 1 week later, Wasaga Beach Fire Chief Don Warden contacted Mike VE3LKI who was the Emergency Coordinator for South Georgian Bay West Simcoe ARES. The Chief asked for a list of equipment that would be needed to establish permanent stations in Wasaga Beach. Mike and Darren put together a list of equipment and an approximate cost. Chief Warden indicated that he needed the information to apply for a J.E.P.P grant, which is a government funded grant for municipalities to support and build emergency response infrastructures.
In May of 2003 we received confirmation from Chief Warden that the town of Wasaga Beach had received the J.E.P.P grant. At that point an investigation of radio equipment that would best suit the need was investigated. In early July, a meeting was held with Chief Warden to determine exactly what the town required to provide the best coverage. It was determined that there would be required to have stations at the Emergency Operations Centre, Fire Hall 1, Fire Hall 2, Hydro Office and a fifth station whose location would be determined later.
It was deemed necessary to have HF, Packet, APRS and voice on vhf and uhf and 6 meters for linking Central Ontario District from the EOC. Voice on VHF and packet would be used at each of the other stations. While packet is being looked at as an older mode, it can be used during an emergency for passing sensitive information from one location to another. As Packet uses special interface equipment to convert data to digital formats, the general public would not be able to decipher sensitive pieces of information that are being passed from one site to the other.
For VHF equipment it was determined to use Icom IC-2100H mobile radios for both voice and packet. These are 55-watt radios that are military specification rated. An Icom IC-706mkIIG was chosen for it's compact size and features. This radio is all HF bands plus 6 meters, 2 meters and 70 centimeters. For UHF an Icom IC-207H dual-band radio was employed. Additionally, 4 Icom IC-V8 hand held radios were designated for direct portable communications support for municipal officials. While it seems like there was some favoritism in one brand of radio, it was actually a matter of interchangeability. By going with one type of radio, the radio functions are mostly the same, and if there is a problem with one of the radios, power, microphone and TNC connections are all the same allowing for easy change-out of the defective equipment.
In setting up the stations the following equipment was used. The apparent redundancy is intentional to endure little or no impact from unexpected failures.
1 – Icom IC-706mkIIG HF/6/2/70 mobile with separation cable
1 – Icom IC-207H mobile
11 – Icom IC-2100H mobile
4 – Icom IC-V8 hand helds
1 – Butternut HF9V 9 band HF vertical antenna with 6 meters
12 – Diamond X-50 dual band verticals
6 – Astron RS-35M 35 amp power supplies
1 – Bencher low pass filter
1 – Diawa Cross-needle SWR bridge
4 – Kantronics KPC-3+ TNCs
1 – Kantronics 9612+ TNC
5 – IBM Thinkpad A20m laptops
The equipment is broken down as follows:
EOC
1 – Icom IC-706mkIIG for HF, 6 meters and backup for 2 meters and 70 centimeters
3 – Icom IC-2100H 2 meter mobiles
1 – VHF Voice
1 – VHF Packet
1 – VHF APRS
1 – Icom IC-207H for UHF voice and VHF backup
4 – Icom IC-V8 hand helds for shadowing municipal officials
1 – Butternut HF-9V antenna for all HF bands and 6 meters
4 – Diamond X-50 dual band antennas for the 2100s and 207
2 – Astron RS-35M power supplies
1 – VHF/UHF equipment
1 – HF radio
1 – Bencher low pass filter
1 – Kantronics 9612+ tnc for packet connections
1 – Kantronics KPC3+ for APRS
1 – IBM Thinkpad A20m laptop for packet, APRS, and logging.
1 – Mini USB docking station for laptop
Fire Hall 1, Fire Hall 2, Hydro Office, and Floater Station
These stations are all identical
2 – Icom IC-2100H 2 meter mobiles
1 – VHF Voice
1 – VHF packet
2 – Diamond X-50 Dual band antennas
1 – Astron RS-35M 35 amp power supply
1 – Kantronics KPC3+ for packet
1 – IBM Thinkpad A20m laptop for packet
The radio equipment was ordered from Radioworld in Toronto. Field Services Manager for RAC (Radio Amateurs of Canada) Pierre Mainville VA3PM put together a price package that was given to Chief Warden for approval. Once the approval was given, the equipment was ordered and was received in late August. A note of thanks goes out to Optimum Furniture in Elmvale for providing the transportation to pick up all of the equipment.
For computer equipment 5 computers were ordered from EBS Notebooks in Barrie. We went with IBM A20m laptops. They provided the best processing capabilities and price for the functions that they were intended.
The callsigns for the stations were ordered from Industry Canada. For ease of use the following were selected. VE3WEC for the EOC, VE3WFA for Fire Hall 1, VE3WFB for Fire Hall 2, VE3WBH for Hydro Office, and VE3WEO for the floater station.
Once the equipment was received, it was time to program all of the equipment. For ease of use, it was determined that the equipment would all be programmed the same. This was for the voice, packet, APRS, HF and hand helds. By having the radios all programmed the same, it supports ease of use by not having the operator have to figure out which radio is being used to determine what memory a repeater is programmed in. As well, the equipment also supports alphanumeric display capabilities. Instead of having the frequency displayed for the memories, the call sign of the repeater is displayed for ease of use. See the table below for a list of the memories and what was used for the display.
Wasaga Beach EOC Station Frequencies / SGBWS ARES
| | | | | | |
| --- | --- | --- | --- | --- | --- |
| Channel | Frequency | Callsign | Location | Display Text | Notes |
| 1 | 145.370(-) | VA3ROG | Collingwood | ROG | Has Back-up Power |
| 2 | 146.790(-) | VE3BMR | Collingwood | BMR | Has Back-up Power |
| 3 | 146.760(-) | VE3SGB | Penetang | SGB | Has Back-up Power |
| 4 | 146.910(-) | VE3UGB | Midland | UGB | ULR Link System |
| 5 | 147.430 | Simplex | Local | SIMP-1 | SGBWS Primary Simplex |
| 6 | 147.535 | Simplex | Local | SIMP-2 | SGBWS Secondary Simplex |
| 7 | 146.520 | Simplex | Local | SIMP-3 | Two Meter Calling Frequency |
| 8 | 145.070 | Packet | Local/Provincial | PKT PV | Provincial Packet Frequency |
| 9 | 144.970 | Packet | Local | PKT LO | Local Packet Frequency |
| 10 | 144.390 | APRS | Local/Provincial | APRSPV | Provincial APRS Frequency |
| 11 | 144.970 | APRS | Local | APRSLO | Local APRS Frequency |
| 12 | 156.800 | Marine | Local | CH16-M | Channel 16 Marine |
| 13 | 157.125 | Marine | Local | CH82-M | Channel 82 Marine |
| 14 | 145.190(-) | VE3TTB | Barrie | TTB | ULR Link System |
| 15 | 147.000(+) | VE3RAG | Barrie | RAG | COB ARES Repeater |
| 16 | 146.850(-) | VE3LSR | Barrie | LSR-1 | Canwarn Backup Barrie |
| 17 | 147.315(-) | VE3LSR | Barrie | LSR-2 | IRLP Link |
| 18 | 147.150(-) | VE3KES | Barrie | KES | Satellite Downlink |
| 19 | 145.290(-) | VE3CAX | Berkeley | CAX | Gray County ARES Repeater |
| 20 | 146.940(-) | VE3OSR | Owen Sound | OSR | Gray County ARES Backup |
| 21 | 146.730(-) | VE3XTX | Owen Sound | XTX | Gray County ARES Backup |
| 22 | 146.685(-) | VE3ZAP | Shelburne | ZAP | Dufferin County ARES |
| 23 | 145.470(-) | VE3ULR | Aurora | ULR | ULR Link Hub |
| 24 | 145.490(-) | VE3RPL | Parry Sound | RPL | Parry Sound District ARES |
| 25 | 162.475 | Weather | Collingwood | WX-COL | Weather Broadcast |
| 26 | 162.400 | Weather | Orillia | WX-ORI | Weather Broadcast |
This process was completed by Greg VA3KUG and Darren VE3REK and took approximately 3 days. The other nice feature of the selected equipment is that it has a cloning feature. Once one of the radios are programmed, a simple stereo 1/8" patch cord can be used to make an exact copy of the memories from one radio to another in a matter of seconds.
To keep with the identical programming, all of the laptops were also programmed exactly the same. The computers were loaded with software which include the following:
KA1VGM's Net Manager software for logging and message handling.
Winpack for packet
FNPACK for broadcast packet messages
FNPSK for broadcast PSK messages
Hamscope for PSK and other DSP modes
MMSSTV for slow scan TV operations
UI-View for APRS operations
Once all of the radios were programmed, it was time to install the antennas at their locations. Point-to-Point Communications in Barrie was contracted out to install the antennas and feed line due to ensure compliance with both quality standards, and liability concerns. On October 27, Don VE3CBA and two riggers from Point to Point started to assemble and install the antennas at the EOC. The assembly process was hampered with taking up a lot of time to assemble the HF9V HF antenna. This is a very complex antenna to assemble and in hindsight should have probably been preassembled prior to the installation of the antennas. By the end of day 2, the antennas were mounted and the coax was run to the operating station. The coax that was used was RG-213 coaxial cable for it's low loss properties. Unfortunately Murphy struck again and coax ran short. Thanks to Point to Point for providing LMR400 coax at the same price as the RG-213 to finish the installation. After the EOC was completed rigging proceeded at the fire halls and the hydro office taking the rest of the week to complete.
Starting the next week, Don VE3CBA and Darren VE3REK began to assemble and test the radio equipment all of the stations. This process took approximately 3 days to complete. Greg VA3KUG made up the patch cables to interface between the radios and the TNC's. Being that the Icom radios use an RJ45 connector to attach to the microphone jack on the radios, 6 foot Category 5 network cables were purchased and cut in half providing two 3 foot long cables that were soldered to the DB9 connector for the TNC. This provided a very neat and professional cable.
The radio equipment assembly was completed in time for the annual Simulated Emergency Test. Don VE3CBA took net control and with the help of Doug VE3TVD, Darren VE3REK, Greg VA3KUG, Dave VA3DK and Richard VE3SQT the equipment was used and put through its paces performing flawlessly.
While some of the ergonomics have yet to be worked out (the fun part playing to find out what radio position works best), the project has been a complete success and will provide the municipality of Wasaga Beach with a backup radio system that is full of redundancy and functionality. A thanks goes out to Chief Warden, the town of Wasaga Beach, and all of the amateur operators who took part in the process to make this project a reality. With the lessons learned, a model has been created providing a wealth of information for other stations that may be required by other municipalities in the future.
If you have any questions or comments regarding the installation, please don't hesitate to contact myself by e-mail ve3rek@rac.ca or the Central Ontario District Emergency Coordinator Mike ve3lki@rac.ca and we would be more than happy to provide any further information.