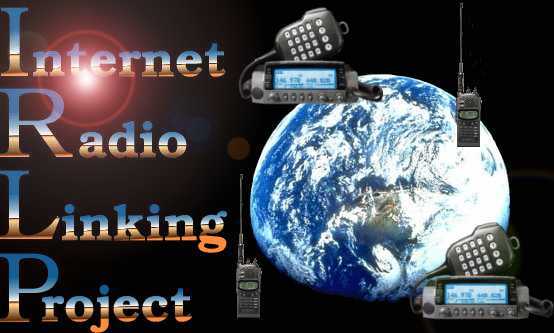 IRLP Is Now Linking Over 445 Repeaters Around the World
by Paul Cassel, VE3SY
Information contained in this article is accurate as of May 16, 2002 . Due to the dynamic growth of IRLP info can become dated.

Thanks to an innovative Canadian, we now have a new and powerful recruitment tool for the younger generation interested in technologies like the Internet, Linux and Ham Radio. By enabling our standard FM repeaters and simplex channels with this new IRLP technology, we can provide instant on-demand linking with one or more repeaters world-wide. And if you're concerned about cost, this entire project is definitely within a "Ham Approved" -cheap- budget of under US$125 including hardware and software.
IRLP is the brainchild of Dave Cameron, VE7LTD of Vancouver BC. IRLP is the abbreviation used for the Internet Radio Linking Project which Dave developed over the past several years. Back in 1998 Dave became frustrated with the unreliable operation of the Windows based Voice over IP software. All Windows based amateur linking software used VOX and were not secure from non-amateur access. The IRLP network uses a digital switching concept and produces an instant and secure link between licensed repeaters around the world.
Eight months after Dave started his design work in 1998, the IRLP network was born and is now on Version 2 of his hardware and software. As of this posting, IRLP is serving over 445 repeaters ( nodes) and growing in leaps and bounds. When I ordered our interface hardware here in Kitchener, Ontario, CANADA last February (2001) there were only 63 active nodes.
How It Works
Dave's custom IRLP software - takes the audio from the receiver which is then fed into the sound card - where it is converted into ADPCM digital data. The Linux PC then converts this digital information into digital packets each assigned with IP addresses for the destination node. These packets now flow through the internet to the destination Linux PC where the packets are decoded then sent to the sound card and out to the transmitter microphone of the link radio which then transmits the audio out over the local repeater. The transmitter is keyed as soon as these TCP/IP (Internet Protocol) packets start to arrive. As soon as the data stops the link radio automatically un-keys and process reverses.
Security From Hackers and Non-Amateur PC access
To assure security of the system, PGP keys are assigned to each node. When a connect request is made the connecting node exchanges keys which must be correct or the connection is refused.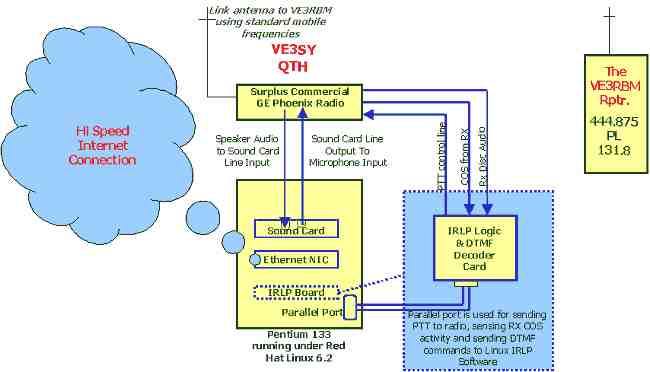 Unlike some systems that allow users access from a PC with minimal if any security, IRLP uses a 100% authentication system to assure the connecting nodes are authenticated and authorized to transmit on the amateur bands.
Here are some points on the IRLP connect request authentication
1. IRLP uses public/private key authentication (512 bit PGP keys)
2. The calling node has to authenticate against the node called
3. Once this is done, the called node has to prove to the calling node that he is who he claims to be.. So the authentication is bi-directional.. Ensures
machines can't masquerade as another
4. The PGP key is created ONLY by the IRLP Installer and uploaded to the master IRLP server.
This method of authentications assures licensing agencies that all audio being repeated on a node in another country has originated from a radio and not a PC.
Even though the IRLP uses the internet it does MAXIMISE the RF content . The philosophy behind IRLP is to have a radio as an entry and exit point in the system.

Under the Hood
The underlying audio processing technology in IRLP is a freeware application called "Speak Freely". Speak Freely produces Voice-Over-IP (VoIP) audio streaming and is very similar to other VoIP software packages such as Microsoft NetMeeting and the VocalTec iPhone with one major difference - It runs under Linux not Windows. Linux was Dave's operating system of choice for the IRLP system as it allows the best in reliability, programmability, efficiency, and functionality. Since our repeaters don't need anything even close to MP3 audio quality, IRLP is using a low-bitrate VoIP to communicate. Most nodes use an encoding system that requires only 32KB/s of bandwidth, however some nodes with extremely limited bandwidth, use a GSM encoding method which only requires 17KB/s albeit at thecost of some audio quality. A full time internet connection with DSL, Cable modem or ISDN is required.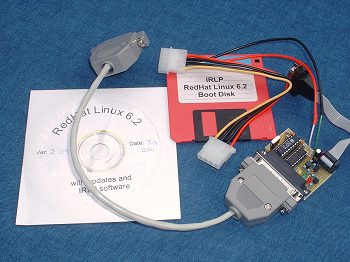 The control of the radio is performed using a small custom logic board which is connected to the computers parallel port. This board samples the received audio for DTMF audio, detects the link receiver COS for positive and instant remote keying, and generates the TX PTT line for the link radio. All of the command I/O between the PC and the IRLP board is handled by a connection to the PC's parallel port.
The whole system is DTMF (touch-tone) controllable. The control codes lie imbedded in a separate program that reads the DTMF tones from the decoder located on the interface controller board and activates various parts of the software. DTMF codes are used to enable/disable linking, open/close links and set identifiers. Every site has the ability to connect direct to any other site(s), either using direct connections or reflector sites.
Hosting an IRLP Node
To host an IRLP node you require; A) a full time high speed Internet connection - DSL or Cable works well - B) a dedicated Linux computer - a 486 DX100 or better is required, C) the IRLP custom software/hardware and D), a link radio or direct connection to the repeater controller. Each node on the IRLP network is assigned an ID code and a central server keeps track of the IP addresses in use by all nodes.
IRLP Reflectors
A reflector is a Linux server that allows unlimited multiple node (repeaters) to be linked together at the same time. As of posting time there were 9 reflectors located in Toronto Ontario, Saskatoon, Saskatchewan, Yellowknife, North-West-Territories (Canadian Arctic), Sydney Australia, Las Vegas NV, Raleigh NC, Fredericton, Pennsylvania, New Brunswick and Vancouver Canada. The most commonly used world-wide reflector is 921 in Raleigh NC. Most reflectors are hosted by public service minded companies who offer lots of bandwidth to support the requirements of a reflector.
The bandwidth requirement for a reflector is directly related to the number of simultaneously connected nodes. During one Sunday evening net with 33 nodes connected, the bandwidth being used on the Denver reflector was just over 1mb. This reflector usually has a number of US, Canadian, Australian and Caribbean repeaters connected so any conversation that occurs on one is heard on all connected stations.
For those outside of IRLP coverage repeaters, a streaming audio feed is available on the internet. Point your browser to Live 365 and click on the LISTEN link. At the moment there are 6 listeners tuned into this audio stream
CANWARN net controllers in Southern Ontario are linking themselves via IRLP using the new Ontario Reflector hosted by Group Telecom in their Toronto Central Office. This allows the CANWARN controllers to rapidly exchange severe weather information between themselves and the Environment Canada Toronto Severe Weather Desk without interfering with the local CANWARN nets.
Our First Kitchener Ontario IRLP Node
I had read about Dave's work on his web site and based on the low cost of entry - US$120 for hardware and the Linux O/S - I ordered the IRLP package which arrived within 10 days.
The first thing I had to do was sacrifice one of my retired Windows 98 based P133 machine in favour of Linux.
As I had no previous experience with Linux I was a bit hesitant of getting into the Linux operating system, however as you will see this fear was unfounded.
Following the very detailed installation instructions posted on the IRLP web site , the installation went very smooth however I did encounter a weird inbound Telnet problem that was quickly resolved thanks to the prompt assistance from Dave VE7LTD.
Now that I had the Linux box talking both ways to the internet I had to install the IRLP hardware and a Windows based Plug-n-Play SoundBlaster card. Since many hardware manufacturers do not yet "support" this most powerful operating system, this is where my fun began. The sound card wanted the same machine resources used by the Ethernet NIC card causing interesting issues such as trashing my BIOS settings and leaving the machine almost brain dead. After a day I was able to locate a DOS utility which I put on a DOS boot disk and booted the now Linux box in DOS and changed the conflicts. The machine then booted flawlessly under Linux and recognized the sound card immediately.
"AJ", VE3ABZ checked in and keyed in the code to bring up VE3SUE in London. Typical of many repeaters these days, no one was on the air so "AJ" then brought up the Denver reflector - Now connected to the reflector we were able to talk with amazing clarity to stations in California, Pennsylvania and Yellowknife in the Canadian Arctic. The audio was awesome and anyone listening would swear the Yellowknife station was in Kitchener not the North West Territories in minus 35F degree weather.
Using the IRLP Network
To connect to another repeater you simply dial a 4 digit on-code . Within a few seconds that node will ID in plain voice with it's callsign and location. If the node is currently connected to another or to a reflector, you will receive a recording telling you which connection the other repeater is currently engaged with. As of press time there were over 380 IRLP nodes QRV around the world with over 30 repeaters in Australia and New Zealand on-line full time.
Before placing a call you can always check the status of any node in real time by going to http://status.irlp.net and look at the node you wish to connect with. This page updates in real-time and refreshes every minute so it is always current.
Just as with any linking system, IRLP is subject to some minor audio delays which are mostly radio related. These delays are caused by the amount of time it takes for numerous radios to decode the Tone Squelch information so the first thing to remember is to slow down and be patient. (to dispel internet delay myths, the audio delay over the internet is the same as you experience when using a digital cell phone)
When completed with a QSO, announce your call and dial the OFF code at which time a voice ID indicating the link is dropping will play. Since many repeaters are not heavily used, there are always a number of nodes left connected to the Denver CO Reflector allowing you to place a CQ, or ORZ type call with an excellent chance of speaking with someone somewhere in the world.
Refer to the following list of nodes (repeaters) and find one close to your QTH. If one of the members brings up one of the reflectors you will be able to simply key your microphone and talk but we do advise to contact the node operator and determine if local membership is required.
Active nodes around the World
New repeaters and new countries continue to join the IRLP family. Current countries that are active around the world include Canada, USA, United Kingdom, Dominica, Trinidad, Australia, Tasmania, New Zealand, South Africa, Sweden, Ecuador, Scotland, Japan and the Netherlands plus the node on Scott Island in Antarctica. Nodes are also under construction in other countries around the world.
Click Here for complete node list and current status
As for DX stations you can look for McMurdo Station on Ross Island in Antarctica, SK6RAB in Sweden, Johannesburg South Africa, two nodes in The Commonwealth of Dominica (not the Dominican republic) where it's not unusual to hear Bernadine, the Mayor of the capital city Roseau on the air promoting the Island. As well you may hear J79 stations from neighbouring St. Lucia accessing the Roseau repeater across the Caribbean. As well, Trinidad have 2 nodes on the air. There is lots of activity from the half dozen or so UK nodes and the 30 + active nodes in the "land down under" which reminds you of the movie "Back To The Future" as most QSOs with VK land are taking place tomorrow.
Summary
This exciting new technology will be a tremendous catalyst to bring new young blood into our hobby. Where else can you witness an open world-wide VoIP wireless network using a free and open protocol like IRLP? As we all know there has been a real challenge for us to draw kids into our hobby as they could previously talk on their poor quality iPhone connections over the Internet. Now with a basic HT they can enjoy far superior audio and be talking with their friends across town and around the world.
Since we brought our node on here in Kitchener, Ontario our membership has taken a real boost and we have subsequently added two additional nodes. Many former members see the excitement back in the hobby and many new members are joining to be part of the IRLP system. The VE3RBM repeater has gone from possibly 2 QSOs per week to our busiest repeater and is now dedicated to IRLP use. It is highly recommended that an IRLP node not be added to a high traffic repeater unless the reflector feature is locked out which is easily done.
I would like to personally thank the IRLP designer Dave Cameron VE7LTD for his assistance in preparing this article and for his dedication to this wonderful project.
Are You Interested?
If this article has piqued your interest and you seek additional information please browse the official IRLP web site at www.irlp.net and feel free to contact the IRLP designer Dave, VE7LTD at dcameron@irlp.net or the author at paul@ve3sy.com .
References:
http://www.irlp.net Internet Radio Linking Project web site
http://www.kwarc.org/listen/ Streaming Audio feed of IRLP
http://www.kwarc.org/irlp/ IRLP user guidelines
The IRLP Designer and Project Leader
Dave Cameron VE7LTD
4708 Caufield Drive
West VANCOUVER, BC
V7W 1G2
e-mail: dcameron@irlp.net
Author of above article:
Paul Cassel VE3SY
Box 29 RR2
PETERSBURG, Ontario
N0B 2H0
Canada
e-mail: paul@ve3sy.com
Phone: (519) 634-5139
Our thanks to the author, Paul Cassel VE3SY for allowing posting of this info on our web site.
Check out this page for information on IRLP operating protocols. http://www.kwarc.org/irlp/index.htm