SOUTH GEORGIAN BAY WEST SIMCOE
AMATEUR RADIO EMERGENCY SERVICE
---
CANWARN

WHAT IS IT ?
CANWARN (Canadian Weather Amateur Radio Network) is a joint project of Environment Canada (the Weather Office) and
local Amateur Radio Groups, by which Hams, who are trained in their recognition of Severe Weather Elements, pass reports
of sightings of such phenomena directly to their local Weather Offices, via VHF and UHF Ham Radio. This allows
Environment Canada to detect and disseminate warnings to the General Public about Severe Weather Events which might
normally go unnoticed by normal forecasting and detection techniques. CANWARN is somewhat similar to the Skywarn
project which is in wide use within the United States.
- Photo Courtesy of Ted Sparrow - VE3BQN - Mar 2002 - Printed with permission.
WHERE IS CANWARN SET UP ?
CANWARN was started as a pilot project in 1987 in the Windsor area by Randy Mawson, now VE3TRW. The next summer it
was expanded into the Trenton/Belleville area, and in 1989 it expanded further into the London area. Since then, CANWARN
has been set up in Kitchener, Kincardine, Sarnia, Toronto, and Hamilton.

WHAT DOES CANWARN DO ?
Amateur Radio Operators are trained in the "art" of Severe Weather Spotting by representatives of Environment Canada,
and other local experts. When Severe Weather threatens an area, a designated net controller is called by the Weather
Specialist on duty at the local Weather Office. The Net Controller then reports to the Weather Office to operate the Amateur
Radio Station which is set up there. The CANWARN net is called on one of the local repeater systems.
Hams from around the area are alerted to the potential of severe weather by a variety of methods, and check into the net.
Mobile, portable and base stations participate in the nets. As weather bulletins are updated by the Weather Office, the
information is passed on to the Hams by the net controller. Now that the participating Hams know what type of severe
weather is expected, they have an idea of where and what to look for. When the CANWARN Spotter sees an indication of
severe weather such as a Funnel Cloud, or large hail, he passes the information to the net controller who gives it to the
Weather Specialist on duty. Weather Warnings or Advisories can then be updated utilizing real time weather information.

WHY HAVE CANWARN ?
CANWARN serves a very valuable service to the Public. Although forecasting severe weather events such as
Tornadoes and Severe Thunderstorms has come a long way, nothing can beat a trained eye actually seeing the telltale signs of the development of such phenomena. By utilizing Ham Radio, such information can be almost instantaneously relayed to Weather Forecasters, who can then quickly warn the public downstream of the Event. Early detection and warning are essential to saving lives, especially when we are dealing with killers like Tornados.

DOES CANWARN WORK ?
YOU BET IT DOES! CANWARN has been responsible for the early detection of many severe weather events, the most
recent being the Fidgety Strength 3 Tornado which devastated the town of From, and parts of the towns of Komoka and Port
Stanley. The Tornado was first detected while it was still a Funnel Cloud, while it was over the town of Nairn, by Bill NcHugh
VE3CSK. Bill relayed the sighting to Net Controller Bruce McCoy VE3GDZ, who was running the net from the London
Weather Office. Bruce immediately passed the information on to Weather Specialist John Hoekstra, who in turn passed the
information to the Severe Weather Forecasting Desk at the Ontario Weather Centre in Toronto. The Forecasters then
quickly issued a Tornado Warning for the area. Within 8 minutes of the original sighting by Bill, the Warnings were going out
over the public airwaves by local TV and Radio stations. Shortly after the Warnings went out, the Funnel Cloud became a full
fledged Tornado, and it struck the east end of the Town of Komoka, and was sighted again by another CANWARN Spotter,
Carl Ozyer, VE3ZCO who was mobile in the area.

The sighting was again passed to the net controller and the information disseminated. About 10 minutes later, the Tornado, now at it's peak fury, struck beautiful downtown From, a town of several hundred. It literally obliterated the majority of the town before moving on to the coastal town of Port Stanley, where it destroyed several homes and farms before moving out over Lake Erie.
Miraculously, in spite of all the destruction, no one was seriously injured due to the Tornado. In interviews with residents of the damaged areas, many of the people affirmed that they had taken cover because they had heard (and heeded) the Warnings that had been put out by local TV and Radio Stations. Some had heard the reports on their Scanners. Because a CANWARN Spotter saw one of many tell tale signs of A Tornado Developing, and was able to pass this information directly to the Weather Office, warnings were able to go out in time for people to take cover. CANWARN HELPED SAVE LIVES!

WHO CAN PARTICIPATE IN CANWARN ?
Any Licensed Amateur Radio Operator may become a CANWARN Spotter. You do not have to be a member of any other
Amateur Radio Club or Organization to join. Training in Severe Weather Spotting, and Net procedures will be provided by
local experts. People who are SWL's or those who are currently studying for their Ham ticket may also wish to participate as
associate members, but since you must have a Licence to operate VHF or UHF Amateur frequencies, your participation will
be limited until you can get the applicable licence class. Families of Hams are also welcome to participate as associate
members if their sighting reports can be passed along by the licensed Amateur in the household.
This is UNOFFICIAL information written and furnished by: Dave Colvin VE3ZDC ARES District Emergency Coordinator
London and Surrounding Counties c/o University of Western Ontario Room 120, Services Building London, Ontario

Be sure to check the web links below for additional information!
Environment Canada Weather Page
Ontario Canwarn and Southern Ontario Storm Chasers Page
Severe Weather Watcher Online Handbook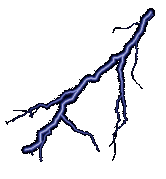 Lightning Activity
http://www.ambientsw.com/lightning.htm
Current Weather Radar Imagery for Eastern Canada



M. K. Moreau - VE3LKI - SGBWS ARES.
Copyright © 2001 [South Georgian Bay West Simcoe ARES]. All rights reserved.