! This is a work document based on the book "Visual" HTML Publishing by maranGraphics www.idgbooks.com>
FD2001-2002 - Sailing, Sailing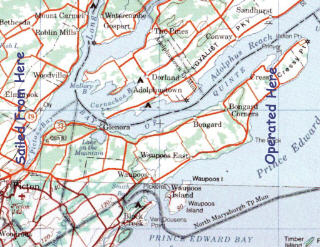 2001
We set sail from Picton, Ontario bound for Prinyer's Cove. That leg of the voyage took about two hours under the power of the "iron jenny" since there was little wind. The return leg was under sail for the most part since the wind was in the right direction and no tacks were required (a very rare occurance us land lubbers were told!). The return was also about two hours in duration and it was so peaceful that the author was caught snoring on a couple of occasions.
2002
Very similar to last year. Light winds again required the iron jenny for the outbound trip. The wind co-operated for the inbound.
---
If you click on the picture, you'll get a bigger version.