! This is a work document based on the book "Visual" HTML Publishing by maranGraphics www.idgbooks.com>
FD2001 - Twenty Meter Antenna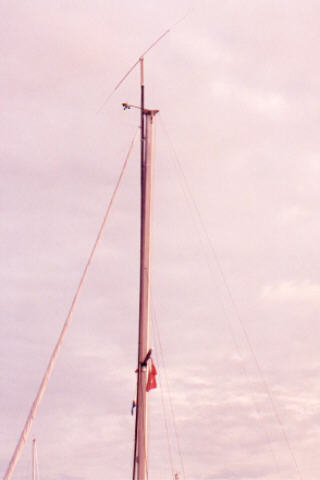 Twenty Meter Antenna mounted serveral feet above the sailboat's main mast. The challange was to get the antenna above the current marine antenna and the windspeed and direction detection devices at the top of the mast (and not clean them off when putting up and taking down the antenna). A separate mast made from a shovel handle and thirty six feet of 1.5 inch drain PVC pipe held the antenna aloft and provided rotational stability. This mast was hoisted up into position using a halyard on the main sailboat mast.
---
Note: John Chapman, VE3LM took the picture.
If you click on the picture, you'll get a bigger version.