November 11, 2003, Remembrance Day
Annual Wireless Set No. 19 Activities
By Reed Park, VE1NU
This is the 9th annual Wireless Set Number 19 event for VE1NU.

Started off real early in the morning this year. Couple of days before the special ops were to start the propagation looked good enough for an across the pond event.
So, G4MSF and I decided that at 0500 Zulu time (all times from now on will be expressed as Zulu) we would give it a go. We decided to try 7.040 MHz and that I would call and listen for the first 5 minutes, then I would listen only, for the next 5 minutes. I did this exercise faithfully for 1 hour. Got an e-mail from G4MSF later saying he did his thing by listening for the first 5 minutes and calling and listening for the next 5 etc.
After 30 minutes of this, he changed over to his 200 watt rig, from the wireless set number 22. Chuck (W1HIS) later informed us that he had monitored our activities, and reported that he was unable to hear either of us.
He also said that he checked his propagation program and that the band had dropped out to a MUF of less than 7 MHz. No much wonder nobody heard anybody.

After a few hours of shut eye, I resumed operation a couple of minutes before the published start time of 1300 Z. The following is a list in order of the time worked for each of the 15 stations.

1243 Z - 1257 Z - VE9WX, Dale, Riverview NB also using a 19 set
1314 Z - 1332 Z - KM4LT, Ed, Richmond VA
1337 Z - 1343 Z - VE1AIR, Jack, Riverview NB
1344 Z - - heard VE3BBN calling but lost him
1402 Z - 1411 Z - VE1AWJ, Laurie, Moncton NB using an HW-8
1412 Z - 1422 Z - VE3BBN, Dave, St. David's ON also using 19 set
1423 Z - 1429 Z - W1GDZ, Joe, Fairfield CT (said he would tell Vic)
1431 Z - 1450 Z - K3LHO, Bob, Nanticoke PA
1458 Z - 1522 Z - W1HIS, Chuck, Belmont MA also using a 19 set
1523 Z - 1526 Z - VE1XW, Bob, Moncton NB

Had to QRX for a while to gather up my second operator and then had lunch.

1658 Z - 1708 Z - VE1AMA, Bert, Auburn NS
1708 Z - 1714 Z - VE1XP, George, Truro NS
1716 Z - 1720 Z - VE1LV, Hal, Truro NS
1729 Z - 1741 Z - VA3ORP, Dave, Inverary, ON also using a 19 set
1744 Z - 1749 Z - VE9NB, John, Riverview NB
1806 Z - 1822 Z - WA2SDS, Mike, Warwick NY

2300 Z - 2325 Z - Calling and listening for VE3CBK but no joy.

Sorry Chris, it didn't happen this year. To all those that I was able to work, a big thank you for slowing down to my speed with the CW. To all those that called me and I didn't hear for what ever reason, very
sorry that we didn't get the chance to work you. There is always next year. It will be the 10th year of operations.

Cards are all filled out, and the certificates have been printed and also filled out. Hang on guys, they just have to be put into envelopes and mailed. I promise they will be there before Christmas.

7 3 to all
Reed - VE1NU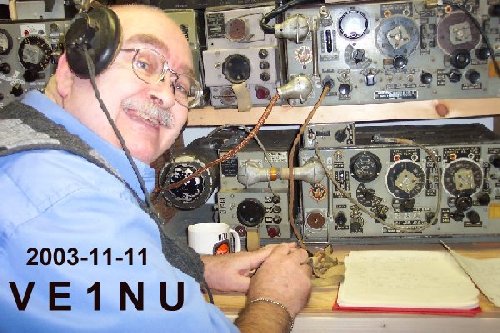 ---
---
Return to The Wireless Set No. 19 Home Page

Copyright © R. D. (Bob) Cooke, VE3BDB (Orillia, Ontario, CANADA). All Rights Reserved. Nothing on this page may be copied or distributed without written permission. Thanks for honouring this request.