VA3YHD Repeater
147.150+ & 53.150-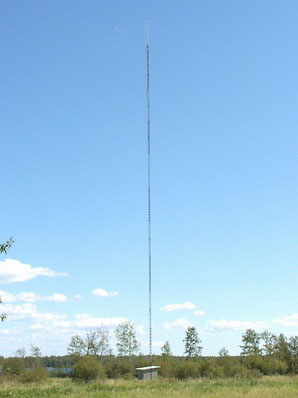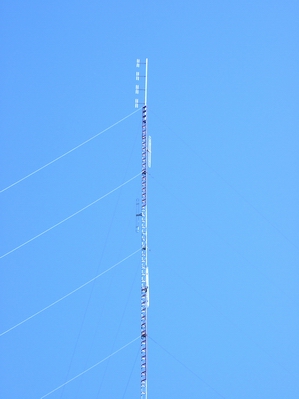 This is my 200' Beatty tower for the 2m and 6m repeaters. The 2 meter is VA3YHD, 147.150(TX), 147.750(RX) with a commercial Sinclair 210-C4 antenna at the top fed by Times Microwave LMR-600. The 6 meter repeater is 53.150(TX) and 52.150(RX) with 3-phased Decibel Products dipoles side mounted at 190' fed by Andrew's 7/8" Heliax.
The 2 meter radio is a commercial GE Mastr II repeater, a 60 watt continuous duty transmitter with Sinclair Q-201G, 6 can pass, reject cavities. It is all run by a Link Communications, RLC-Club Deluxe controller and digital voice recorder. It has two full duplex ports to run both repeaters and can link the two together with the controller. The receiver pre-amp is an Advanced Receiver Research (SP144VDG).
"Under Construction", not shown, is a 6 meter repeater. It consists of a 6m GE Mastr II 52.150(RX) and 53.150 TX 100 watt radio, with a set of modified Sinclair R101G reject (8 cavities) & 2 Sinclair pass cavities, 1 TX & 1 RX.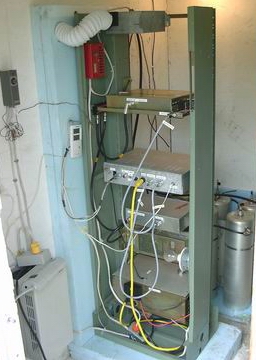 Check this Adobe .PDF document for duplexer tuning- by VE3MOR & VA3EXT 18.5K.
Visit "Up Tower" for pictures from the top of the 200' tower.