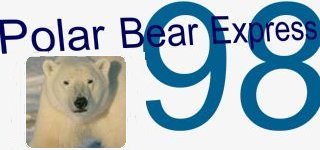 To obtain your QSL from VE8C - Please carefully read the following:
1. If you want DIRECT QSLs, you will need to send IRCs, greenstamps or both to cover the cost of the postage to your country.If you have worked us on all bands/ modes, (and some will!) and you want a separate card for each QSO, please supply enough greenstamps or IRCs to cover the postage for all the cards to your country. Send US Dollars. We cannot accept any currency from any other country. Cards will be returned by buro if any other currency is enclosed.

2. All cards sent by BURO will be QSLed via the BURO. No changes from any other Dxpedition. We will process direct QSLs first and then when the bulk of DIRECT cards are finished we will begin to process the BURO cards

3. All cards sent with sufficient postage and a Self Address Envelope will be returned direct, as quickly as the QSL Manager can process them. If you do not supply an envelope we will return the card via the Buro.

4. Please don't overload us by sending individual questions about the logs or QSLing to the operators . Look up your QSO at our log server - http://www.qsl.net/va3ag and be a little patient. The QSL Manager will do everything possible to avoid sending back a "NOT IN LOG" card. We will check, cross check and look for anything that matches. But we will NOT QSL for a QSO that is not in our logs.

5. DONATIONS. If it was a perfect world, we would not have to worry about money. It is not a perfect world and the cost of the ve8c Dxpedition is substantial. It has been funded by "up front" personal payments by each member of the team, plus contributions from commercial sponsors, Clubs . We are extremely grateful for the support to date, however, further donations would be very welcome.

c) Very important - we repeat that you MUST send your direct QSLs to the address given below. Cards sent by mistake to the individual Operators will be forwarded via the BURO only, so they will be very, very slow. Here is the address:
George Burns , VE3INB
1326 Lakefield Crt.
Oshawa, Ontario
L1J 3Y6
Canada
Thank you to Durham Radio, Alinco , Ontario Northland Railways for their support