| e-mail |
---

Welcome to SV9CVY's Home Page formerly SV1CVY . Here you will find cool links to: HAM RADIO, GREEK GENERAL INTEREST, ISLAND CRETE, and of course the wonderful city of RETHYMNO - Crete.
Pass on your comments, suggestions, links or just say hi. All input is welcome.


Check out my web site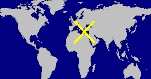 ---

SV9CVY
&
daughter ISABELLE



The back of my QSL-card showing a view of the old Harbour of my home town, Rethymno, and the position of my QTH in the background. And of course, that's me in the smaller photo, spinning the wheel.
---
Designed in Rethymno by Webmaster Steve