---
R-2 VHF Repeater

The heart of local VHF-FM network is the SV5A 2 meters band repeater.
It's located at mountain Attaviros 1216m above sea level and the
configuration of the repeater is:

TX/RX: YAESU VXR-7000 2m FM repeater 25 watts maximum output power
ANTENNA: Cushcraft 4 collinear dipoles in phase each for every 90 degrees
DOUBLEXERS: 4 WACOM dublexers
AUXILIARY SYSTEMS: Echolink node SV5DDR-L (No 167989)
and a simplex bidirectional VHF-UHF link at 430.650 (SUB 77.0) that covers on UHF easy the Rhodes town.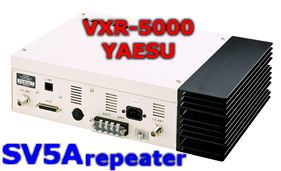 Operation Frequency: 145.650 ( -600 ) with subtone 77.0 Hz
---
R-6B VHF Repeater

The R-6B repeater is installed to mountain Profitis Ilias somewhere in the midlle of the island. The height is 780 m ASL.
This repeater works as backup of the R-2 repeater and the future project is the installation of it to Astypalea island aplace where can cover the half of Aegean sea.
Output frequency: 145.762,5
Input Frequency: 145.162,5
SubTone: 77.0 Hz


---
RU1 UHF repeater
The RU1 UHF-FM repeater is the newest installation in the area. It works without doublexers
and full power (aprox. 20 watts) with the RX and TX antenna installed in vertcal difference
between them 4,5 meters. Crossing our fingers we see no any desense untill now! ....hi hi.
D.R.A.A. plans to use RU4 as metropolitan repeater for the varius VHF - UHF trasponder links are planned to be installed in the area.
This repeater is donation of a good friend of DRAA and honor member Elio Cereda IZ2AEQ
Operation frequency: 434.625 (-1.600) no any subtone
---
SV5 to SV9 R-5 bidirectional V-U link
Simultaneously with the R2 repeater on Mt. Profitis Ilias DRAA has install a UHF - VHF
link (transponder).
There is two yagi antennas one for each band used. A 5 elements for 2m looking East to Rhodes
town and also a 5 elements for 70cm looking Southwest to SV9 land. 35 watts both bands are used
for best linking. The availability of this system is aprox. 75% per year. This link is very importand
for both Ham radio Amateur Communities (SV5 - SV9) becuse they help us to communicate, exchange ideas,
and to work on common projects sometimes.
Operation frequency: 430.600 simplex with subtone 88.5 Hz
---