GAVDOS ISLAND
IOTA EU-187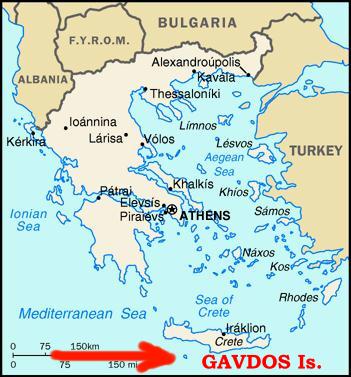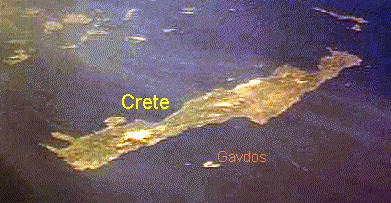 I was QRV from Gavdos Is. in August 2002 as SV9/SV1QN
wkd 5940 QSOs and 107 DXCC Countries.
Gavdos Is. is a small island south of Crete Is. and is the
southernmost point of Europe.
Gavdos is known since the ancient times with the name Ogygia by
the text of Odyssey. The waves brought Odysseus in Ogygia, the
island of goddes - nymph Calypso wich kept him for many years.
During August 2002 I had the pleasure to activate Gavdos Is. (in the Cretian
coastal islands) Iota EU-187. By the way this island is the only inhabited Is. of
this group. The residens are 45 people spreaded in many places on the island.
According to the official Iota Directory the number EU-187 this time has the third
place in the most wanted Iota groups in Europe.
There is no public electricity in this island exept for two small settlement suplyed
from a public solar farm. All other houses have their own generators or solar panels.
The receiption for this reason was perfect with the noise level always to zero.
In the summertime there is everyday a small boat to cary people from Crete to
Gavdos but only once a week to cary cars.
My working conditions was an old Icom IC-730 and a home made elevated vertical
antenna 11,5 m long (5/8L for 20 meters band) with 24 radials 15 meters each.
The last 9 meters of the antenna was a fishing rod. In the base of the vertical
element was an automatic antenna tuner (Made in Greece by SV1NL) capable to
withstant almost a KW. I was running barefoot with abt 110 watts.
I stayed in a rental room and the owner of the rooms (Mr Bikogiannakis) has his
own generator (it must be 3 or 4 KVA) running most of the day and until mindnight.
For the rest time I had a deep cycle 110 Ah batery.
Tnx the hams all over the world for working me and I hope to work you again
next year maby from another island.

---

---
My QSL Card for this operation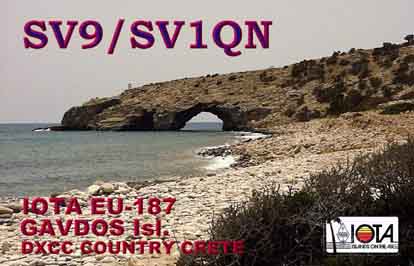 ---
The room and the antenna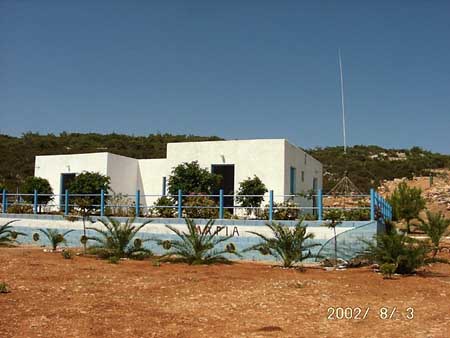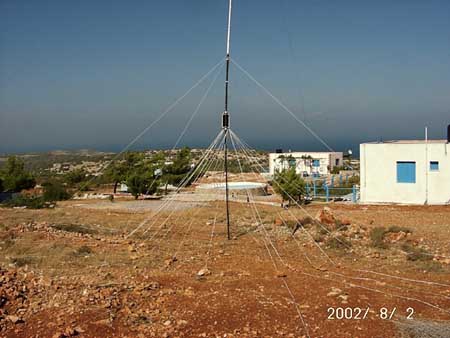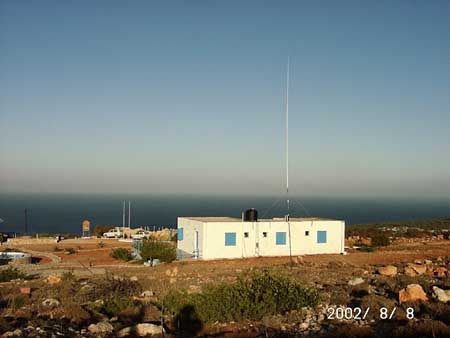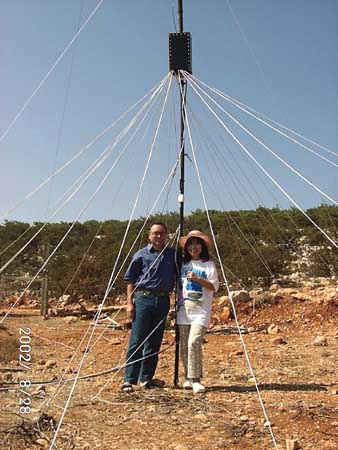 ---
The shack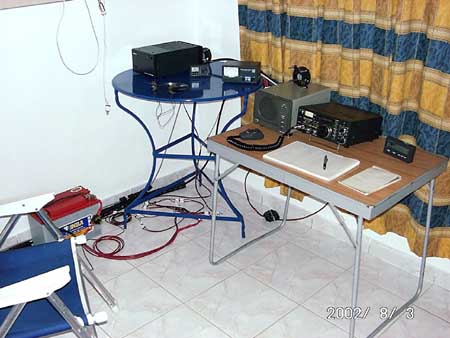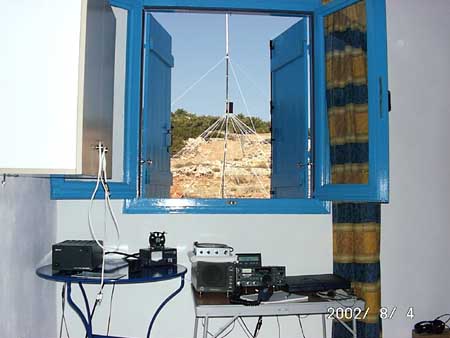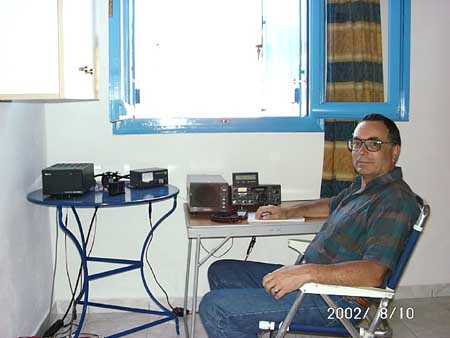 My XYL as a second operator
(working JA s)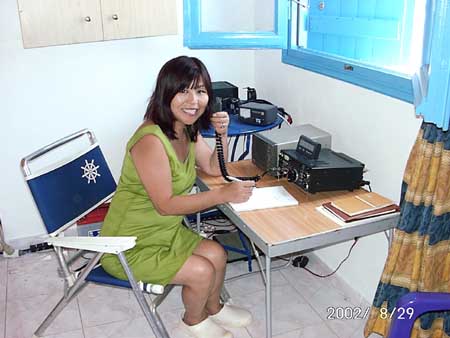 ---
The cape "TRIPITI" in the south end of the island
and the southernmost point of Europe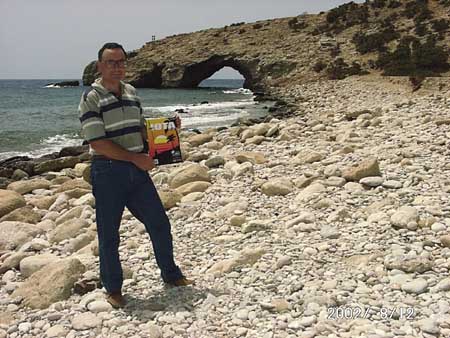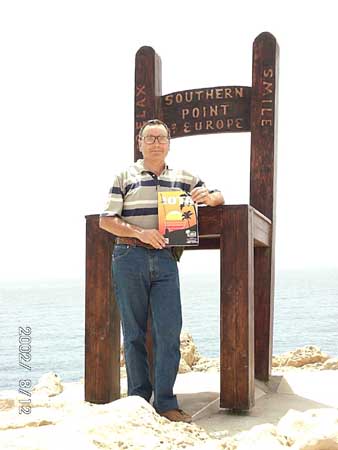 ---
The old Lighthouse in the south part of the island.
It was the second one in visibility after that of the Tierra
del Fuego. It was bombed and destroyed by the Germans
in the WWII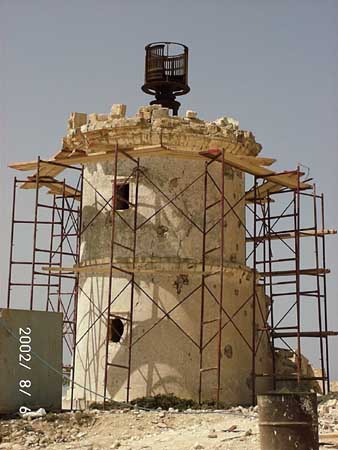 ---
The public solar farm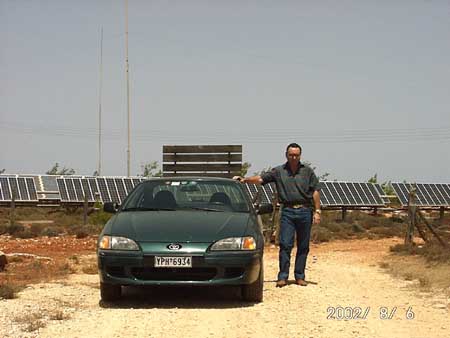 ---
The end of the story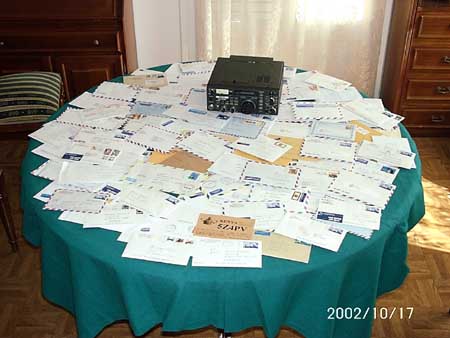 ---
I was again QRV from Gavdos Isl. in July - August 2005
I ran the IOTA Contest 2005 from there gaining the third place
in category DX-Pedition, one operator, 24 hours, low power

Some pictures from the 2005 DX-Pedition