SU60WW DX-Pedition
The First DX-Pedition From The Egyptian Western Desert
From July 6 to July 13, 2002
QTH: El-Alamein, Egypt
Equipment: Kenwood TS-570S, putting 100W into R7 Vertical Antenna, and a homebrew 6m dipole.
Bands of Operation: 6m, 10m, 12, 15m, 17m, 20m, 30m, and 40m.
Modes of Operation: SSB, and CW.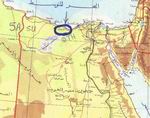 QTH: El-Alamein
Grid Locator: KM30XX
Latitude: 31 degrees North Longitude: 28 degrees East
Duration: July 6 to July 13, 2002
Operator: Said Kamel, SU1SK
QSL information for SU60WW:
Via SU1SK,
P.O. Box 190,
New Ramsis Center,
Cairo11794,
Egypt.
email: su1sk@amsat.org