So, how does a typical SOC member really operate?

Here are some pictures of Todd
N9NE, SOC #305
operating the SOC Marathon Sprint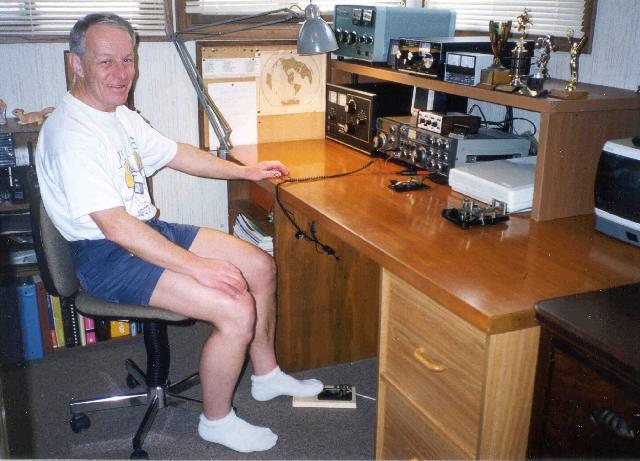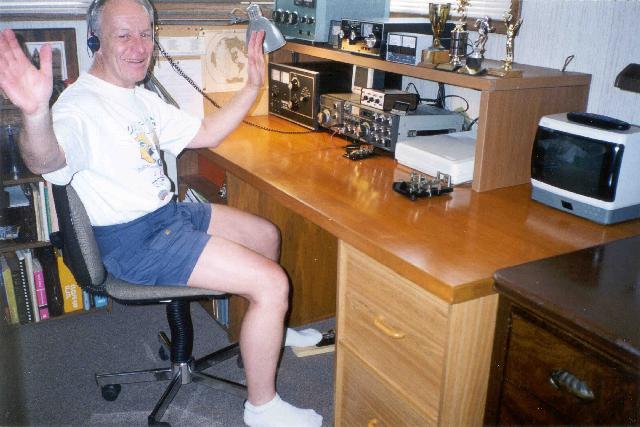 A few comments on operating with the left foot for 6 hours: When I saw the 10X multiplier for QLF (and Bob's taunting comment that the final score would be zero since no one could read such a 'fist'), I knew that I had to try it. The mandatory 'soc' (sic) was no impediment, as I soon found out that the correct style of sending with a hand key would be impossible anyway .. I don't have an opposable toe! I ended up sending with the ball of the foot at about 7 to 12 wpm, using the heel as a pivot. The 'dits' were pure h--- (try it!), especially late in the event. My back and neck became sore, as I had to get the whole body into the act of pumping the foot. Humming the dits and dahs aloud was a mental exercise that helped keep the keying reasonably coherent. I would normally apologize to anyone who had to copy such ragged cw (and dig my quarter watt out of the mud as well), but it seems as if most folks got the information correctly. Besides, who would apologize to SOCcers?!?

----------------------------------------------------------------------------------------------

					SUMMARY SHEET
			SECOND CLASS OPERATOR'S CLUB MARATHON SPRINT
					MARCH 11, 2000
					     N9NE

1. QSO POINTS:

	2 point Qs:	6 (x2) =    12
	5 point Qs:   39 (x5) =    195
	TOTAL POINTS =             207

2. SPC MULTIPLIERS:

	10 CW:	 4  (CA, FL, AZ, OR)
	15 CW:	 6  (FL, CA, CO, LA, TX, AZ)
	20 CW:  15  (FL, GA, VA, NY, NH, AL,TN, MD, CA, TX, OK, AZ, AR, ND, NM)
	40 CW:	 6  (PA, NH, MI, VA, NY, MN)
	80 CW:   1  (OH)
	TOTAL =	32

3. POWER MULTIPLIER = X15 (250 MILLIWATTS)

4. SENDING WITH LEFT FOOT WHILE WEARING SOCs (yes!) = X10

5. SCORE: 207 POINTS X 32 SPCs X 15 POWER MULTIPLIER X 10 QLF = 993,600 POINTS.

6. OTHER INFORMATION:

	HOURS OF OPERATION = 6

	EQUIPMENT DESCRIPTION: TS-530s Transceiver, power reduced to 250 mw as monitored
		through Autek WM-1 Computing Meter. Key: J-47 handkey mounted on small pine
 		board and set on floor underneath operating table just in front of left foot.
	        Foot: male, 1943 classic model, size 8 1/2 D covered with white cotton 'soc'
		(sic) per regulation. Speed and 'fist' decidedly and appropriately second class!!
                MFJ Versa-Tuner V. Antennas: triband beam at 60 feet, and G5RV wire antenna at 55
                feet.

	LOG: Handwritten and scanned as jpeg. Two pages attached.

	TODD A. FONSTAD, N9NE (SOC #305)

Back to SOC Web site