Welcome to our 2-meter repeater information page
K3HKI
---
The St. Mary's County Amateur Radio Association built a 2-meter amateur radio FM repeater that has been continuously operating for over thirty years. Complete information about this repeater system is included below. If you have an interest in assisting our technical team with maintaining and upgrading this capability, please give Pete (WA3UMY) a call at 301-862-2214 or click [ HERE ] to send him a message and volunteer!
Repeater technical data:
Frequency output = 146.640 MHz
Frequency input = 146.040 MHz
Tone access (146.2 Hz continuous sub-audible tone required to access the repeater)
Location: Hermanville, Maryland (2.5 miles south of Lexington Park, Maryland)
Antenna: Celwave StationMaster 5.2 dBd gain vertical fed with Andrews 7/8" Heliax
Antenna height: 140' AGL (265' AMSL)
Repeater: General Electric MASTR II
Controller: CAT-250
Duplexer: Multiple band pass/band reject cavities
WARNING: The repeater system is located on a United States Government Military installation. Trespassing is
STRICTLY PROHIBITED with severe penalties for unauthorized access
View of the concrete equipment shelter at the repeater site
View looking up the 150' tower from the front gate
Side view of the tower showing the side-mounted repeater antenna at the 150' level
(tall vertical antenna mounted on outrigger pipes on right side of tower)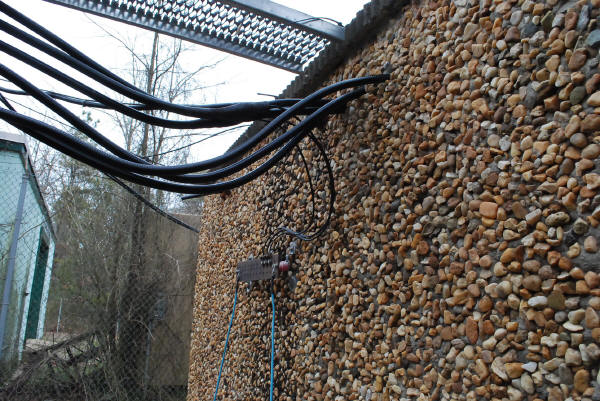 Outside view of antenna cables entering the equipment shelter
Closer view of repeater showing detail of antenna feed lines and grounding bar
General view of shelter equipment racks
K3HKI repeater equipment rack (foreground) and duplexer/filters (rear)
(Note: pictures were taken on Friday, 20 January 2012 during maintenance checks on the system)
---
Copyright © 2003-2012 St. Mary's County Amateur Radio Association
All rights reserved.