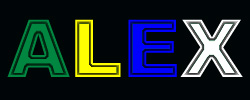 ALEXandre Dalmasso
Rua Joaquim Távora, 122 Bl. 1 Apt. 704, Icaraí
Niterói-RJ 24.230-540
BRAZIL
Fone: 55 21 611 7477
Celular: 55 21 9994 9673
py1was@qsl.net

PY1WAS has required his license to be a class B ham radio in 1988. In 1989, he had already got his upgrade to class A, being a CW enthusiast, but without abandoning the other modes.
Due to home transference, family, children and job, PY1WAS was not present in radio between 1993 and 1996, only returning in 1997, when he improved his equipment in order to be competitive in DX pile-ups and contests., in general.
Nowadays, PY1WAS is a member of CWJF (Juiz de Fora CW Group) and LABRE/RJ. In this way, he sends his QSLs via buro.
To send a message to PY1WAS, click on the below image: