Banaba is west of the Gilbert Group and just south of the equator.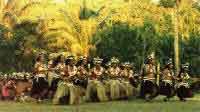 The island has been almost entirely destroyed by phosphate mining, which has left a weird landscape of stark coral pinnacles protruding from burning white rock, littered with rusted mining equipment.
There is no regular passenger service to the island.
more