---
D.R.Computer Products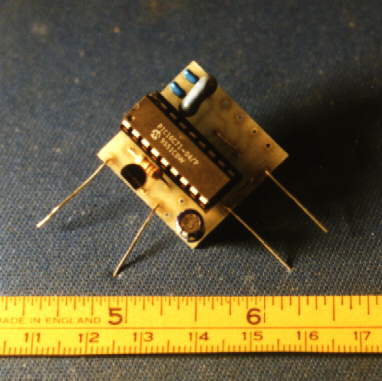 The Micro-DFKeyer
---
The Micro-DFKeyer is aimed at those of you who enjoy the radio sport of DF hunts. To the uninitiated, DF Hunts are Direction Finding hunts which take place all over the countryside. The basic aim is to find the hidden transmitters before the time runs out.

The transmitters are usually low-power and send a message at fixed times and for a fixed period only (about 2 to 5 mins).

The Micro-DFKeyer can send in Morse code using the CW key port on the radio or if the transmissions are on AM or FM or the radio doesn't have CW (SSB only) then the Micro-DFKeyer also can be coupled to the Microphone and it will send the CW as audio.

You have to take bearings using a DF-reciever (a very directional radio) and locate the hidden station.

It is a great way to spend a sunday afternoon - chasing through the forest/swamp/rose bushes etc...

There is a need for the operator of the transmitter (a fox???) to send the same message over and over during the transmit time. The Micro-DFKeyer does this sending for him. Simple - really... it is just connected to the CW key on the radio ( or the mike socket) and sends the message ad infinitum (or until the battery runs out - which will be a VERY long time) - it only uses 2mA of current at 4.5V!
---