These pics shows the PA0JED shack and antenna situation. As per May 2001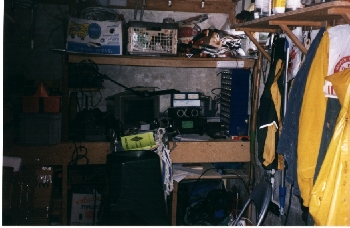 click here for a bigger picture
As you can see not a fancy well cleaned shack, (more like a rat shack).even the antenna is a relative simple one.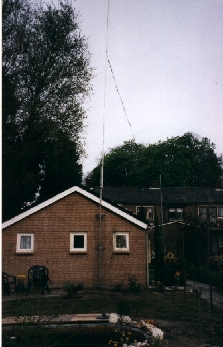 Click here for a bigger pic
The antenna is made by the german company Titanex, vy expensive, but until now working vy fine, and did hold
during some vy strong winds. ( The antenna is amighty pile-up buster)

click here for the big one.
Fed by 25 mtrs open 450 Ohm wire through a MFJ 4:1 Balun.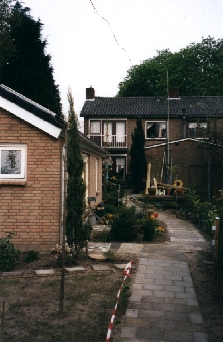 Click here for a bigger one
As you can see from this picture, I'm living in a small house with only 3 bedrooms, and a small attic (1,5m /5 ft at the middle), so
not much room either.
Consequence, have my little shack in a corner in the shed (4 x 3 mtrs), near to the house. Have to share this place with 5 bicyles a lawn mowner,
garden tools, garden clothes, wood chopper (the thing you can see in the left corner), lots of tools, nuts & bolts etc, water pump (we have a big garden).
And a zillion other things which can be usefull in the future.
Over my head much antenna equipment (Not seen in the picutre), 3 ele full size home made yagi for 28 Mc/s peaked on 28.035 kc/s (yes I only do CW), several 28 Mc/s verticals, a 3 band rotary Fritzel dipole, wire dipoles, 3 VHF yagi's, abt 200 mtrs RG-213 coax etc) all waiting for some kind of tower in a mysty distant future.
So that's where my sigs are comming from.
Oh yes, the rig is a ICOM 746 , manual tuner from Annecke ( a no longer existing german manufacturer, hr. Annecke died and with him the beautiful tuners), the Watt meter is home made according to a recipe from Sep, PA0LB. This meter is more accurate than the famous Bird meter.