THE LAST DAY OF RADIO KOOTWIJK (31 December 1998)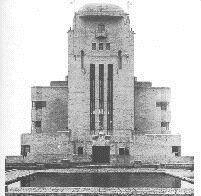 The (radio) history of Radio Kootwijk started in 1918
and ended at 31 December 1998.
(For more reading on the history use link at end of page)






The main transmitter building was designed by mr. J.M. Luthmann and completed in 1921. It was the first building made in concrete in the Netherlands.
This is PCH20, one of six older transmitters. It puts out 10 kW CW on 4250 kHz. During the "Farewell party" of PCH on December 20 1998, many radio amateurs made a last and for most a first cross frequency contact through this transmitter.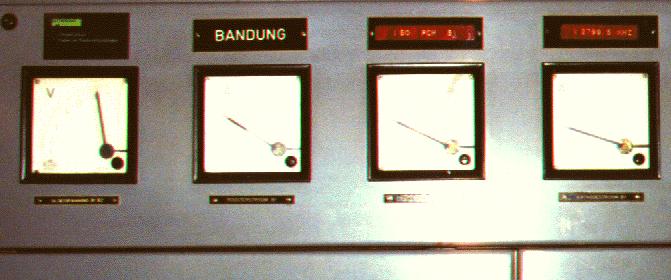 Build in de early sixties by the Dutch PTT, these transmitters were primarily used for ssb telephone and telex transmissions all over the world and of course the long distance PCH communications. (8 MHz and above) In the sixties the floor was crowded with transmitters, there was hardly any space left. On a site map from the sixties I counted 25 Rhombic and many other antenna's Since the eighties most transmitters disappeared from the floor On the photo you see the meters of the PCH20 transmitter with the nameplate BANDUNG Probably this transmitter was once used for telephone service to Bandung Indonesia. Just after taking this pictures PCH20 was powered off for the last time... After removal from the building it will be smashed with big hammers. It's remains will be sold as scrap metal.
End of an era
click this to see a 1965 antenna map of the site (145kb)
These spark gaps are located on top of each transmitter. Note the neon bulbs to indicate transmitter output. They are connected to the 600 Ohm transmission line. With 10kW output there is about 2500Vac over the line. The transmitter can accept a full lightning hit on the antenna or transmission line without any interruption of the service.
In case of continuous transmission during a hit, the high RF voltage will maintain the spark. In this case a simple sensing circuit just below the sparkgap will give a signal to the transmitter which will interrupt the carrier for a small part of a second just to let the spark die. The fixed tuned older transmitters mostly used single frequency vertical antennas and 600 ohm transmission lines.
Listen here to the last signals
THE NEW GENERATION
Six 10 kW Marconi transmitters are available, each connected to a wide band cone antenna. The transmitters can be tuned to any frequency in the short-wave bands within a couple of seconds. They can be remotely controlled from IJmuiden, the operations center of Scheveningen Radio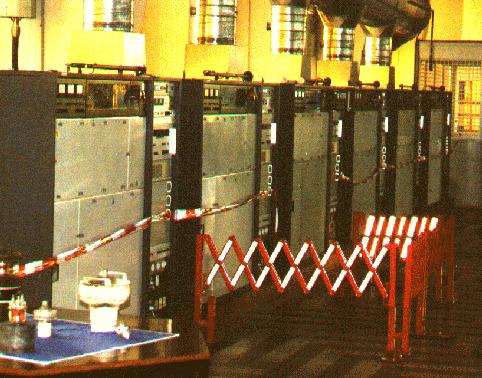 Click here to read a short story (with pictures) of Kootwijk Radio.
All prepared for the official close-down. On the foreground the driver and final tubes of the transmitters. On the background the cage of Faraday' where the control and audio-lines are coming in. The cage keeps RF out.
Email to on4caf@qsl.net click here to return to index