Amateur Radio demonstration day
On Friday, April 22, 2005, we finished our 10-week Technician course for 7 home-schooled students, aged 10 to 14. The class was offered through MArCH (McKinney Area Christian Homeschoolers), and started in January 2005. For the first 9 weeks, we went through the ARRL Technician video course, but on the last week, we had some fun (pictures are below).
Each student was able to get on the air at least once, and several of them were brave enough to talk several times. First, we got on the local MARC 2m repeater, and all 7 of them met one of the local guys, Neil, KE5BUS, as he was mobile in the area. This helped lower their mic fright a little, so next we moved to the N5GI IRLP repeater on UHF. It was connected to the Western Reflector, so we called CQ and got Tom K4TCH in Tennessee. After chatting with him a bit, we disconnected from the Reflector and dialed one of the nodes in South Africa (8467, which Tom had recommended). Sure enough, Jane ZR6JEB was there, and several of the students enjoyed meeting her and learning just a bit about South Africa. She was very encouraging to them, and they thought it was pretty neat that we could talk to someone so far away so easily. Hopefully it will inspire some of them to get their ticket and get on the air!
We had so much fun on IRLP that we ran out of time and didn't get to make a QSO on HF, but we did listen to some 20m SSB for a minute or two.
Of the 7 students, I expect that a few of them will take and pass their Technician exam.
Many thanks to the 3 stations who were helpful and patient with the students: KE5BUS, K4TCH, and ZR6JEB. None of them were scheduled contacts, but they all worked out very nicely. Also thanks to Rick N5GI for his help to me in understanding and using IRLP on his repeater, and of course to the local club (MARC) for the use of their ARRL class materials and their 2m machine. Lastly, thanks to the class assistant teacher, the lovely and talented Susanna KC5POV (also my xYL), who helped with a number of details for the class.
- Dave NØRQ
(trustee for NT5HS, the North Texas HomeSchoolers ARC, an ARRL-affiliated club)
---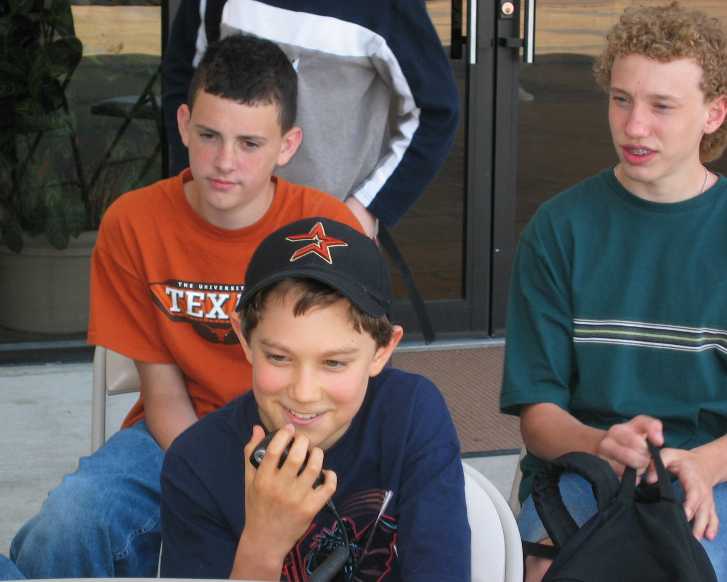 ---