Welcome to the Ohio River Expedition page!
These daring island raids were done and are brought to you by :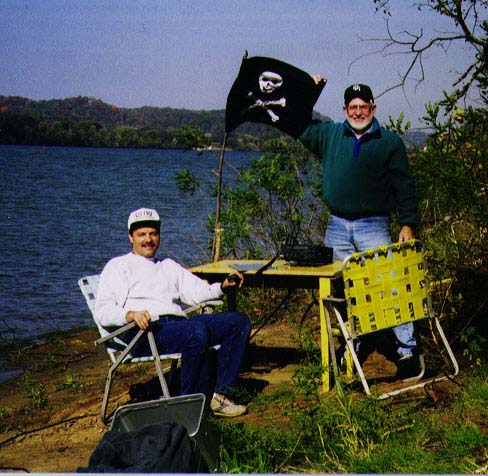 NS8O, Greg Weinfurtner and NC8V, John Cornwell
on Eightmile Island WV011R
(WT8E, Walt Jones, AWOL on this adventure!)
Official Ohio River Pirates
("Official" because WE say so! Hey, we're pirates ...whadya expect?)
We were inspired by the United States Island Program to put on Ohio River Islands. Our QTH's are in Athens, Ohio, therefore most of our launches are within an hour or two drive from here. Other islands are also vulnerable to our island raids and are so listed!
---
NEW! NEW!
NEW!
Ohio River Island Map
(250K) Very big map, you'll need to scroll you browser screen to see it all.
Ohio River Island Map
maps cut into 50 kb segments
---
Note: USI numbers with "~" are islands that have been newly activated for the USI by the Ohio River Pirates
*Click on Island Name for logbook
| Island Name | USI # | County/State | Date | Call Used |
| --- | --- | --- | --- | --- |
| Buell | OH009R ~ | Washington/OH | June 12, 1996 | NC8V |
| Newberry | WV002R ~ | Wood/WV | June 25, 1996 | WT8E |
| Mustapha | WV003R ~ | Wood/WV | June 25, 1996 | NS8O |
| Muskingum | WV004R ~ | Wood/WV | July 27, 1996 | NC8V |
| Halfway | WV005R ~ | Wood/WV | July 27, 1996 | NC8V |
| Neal | WV006R ~ | Wood/WV | July 27, 1996 | NC8V |
| Blennerhassett | WV007R ~ | Wood/WV | July 27, 1996 | NC8V |
| Little Manchester | KY004R ~ | Lewis/KY | August 3, 1996 | NS8O |
| Big Manchester | KY005R ~ | Lewis/KY | August 3, 1996 | NS8O |
| Middle | WV008R ~ | Wood/WV | August 3, 1996 | NC8V |
| | WV009R ~ | Mason/WV | Mar 24, 1997 | NS8O |
| Rhodes * | OH014L ~ | Jackson/OH | May 21, 1997 | NS8O |
| | WV 005R, 6R, 7R | Wood/WV | June 10, 1997 | NS8O |
| | WV010R ~ | Jackson/WV | October 8, 1997 | NS8O |
| Lake Alma Island | OH022L ~ | Vinton/OH-Lake Alma | July 25, 1997 | NC8V |
| Orchard | OH-024L ~ | Logan/OH-Indian Lake | August 25, 1997 | NC8V |
| Wolf | OH-025L ~ | Logan/OH-Indian Lake | August 25, 1997 | NC8V |
| Dredgers | OH-026L ~ | Logan/OH-Indian Lake | August 25, 1997 | NC8V |
| Lake Ridge | OH-027L ~ | Logan/OH-Indian Lake | August 25, 1997 | NC8V |
| Shawnee | OH-028L ~ | Logan/OH-Indian Lake | August 25, 1997 | NC8V |
| Minnewauken | OH-029L ~ | Logan/OH-Indian Lake | August 26, 1997 | NC8V |
| Tecumseh | OH-030L ~ | Logan/OH-Indian Lake | August 26, 1997 | NC8V |
| Crane Town | OH-031L ~ | Logan/OH-Indian Lake | August 26, 1997 | NC8V |
| Seminole | OH-032L ~ | Logan/OH-Indian Lake | August 26, 1997 | NC8V |
| Miami | OH-033L ~ | Logan/OH-Indian Lake | August 26, 1997 | NC8V |
| Little Cayman Island | NA-016 | Cayman Islands | March 20-26, 1996 | ZF2JC/ZF8 (NC8V) |
| Big Collington | NC-019S ~ | Dare/NC | August 30, 1996 | NC8V |
| Cedar | NC-016S ~ | Dare/NC | August 31, 1996 | NC8V |
| Knott's/Mackay | NC-017S ~ | Currituck/NC | September 2, 1996 | NC8V |
| Bell's | NC-018S ~ | Currituck/NC | September 2, 1996 | NC8V |
| Middle | WV-008R | Pleasants/WV | February 19, 1997 | NC8V |
| Buell | OH-009R | Washington/OH | February 19, 1997 | NC8V |
| | KY006L ~ | Russell/KY | June 30, 1997 | NS8O |
| | KY007L ~ | Russell/KY | July 1, 1997 | NS8O |
| | KY008L ~ | Russell/KY | July 1, 1997 | NS8O |
| | KY009L ~ | Russell/KY | July 1, 1997 | NS8O |
| Eight Mile | WV011R ~ | Mason/WV | October 29, 1997 | NC8V |
| Letart | WV012R ~ | Mason/WV | October 29,1997 | NC8V |
| Roanoke | NC013S | NC | August 31, 1996 | NC8V |
---

Pictures of the River Pirates in action

Official US Islands Program Homepage
---