6 Meter Transverter
How to cut solder pads using a drill press.
Here is the 6 meter to 10 meter transverter that I have been working on ever since Dayton Hamvention of 1998 where I bought a 11 mhz crystal to start it with. I was looking for a 22 mhz xtal, but couldn't find one. I just built a frequency doubler for the 11 mhz and it seems to work just fine. You can see the mixers (Silver boxes, SLB-1's) , there is one each for the receive and xmit stages; two T/R relays and lotsa little toroids everywhere! The little 1/8" jack is for the T/R function and that ground-during-transmit signal comes from my President HR-2600 10 meter all mode. I've tried this outfit in FM/AM/CW and SSB and have had good signal reports.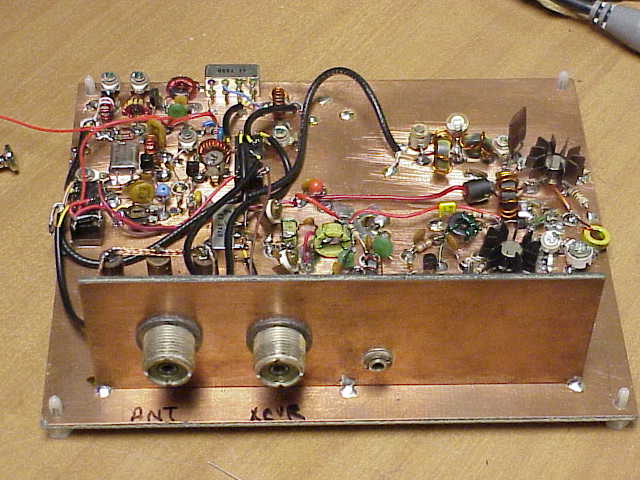 ---
Is it ugly? You bet it is! Does it work? Of course!
Top View showing entire circuit.
---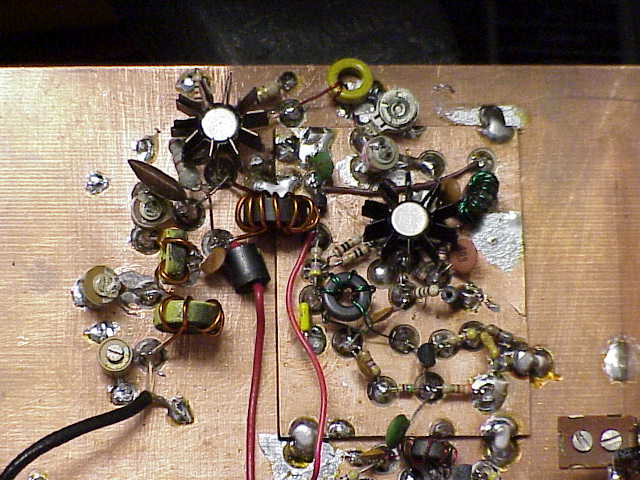 Here is the power amp circuit MMPS UH10 preamp transistors to a 2N3725 predriver to a 2N4427 amplifer transistor. Produces about 2.8 watts rms (34 vp-p at 50 ohms)
---
How to cut the solder pads using a drill press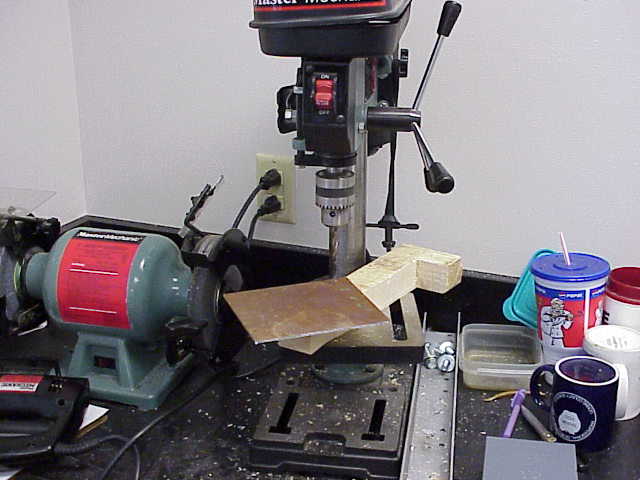 Inexpensive Drill Press set-up
---
Note the "Vee" notch cut into the drill bit using a small grinding wheel and a triangluar file. The leading edge of the 1/4" drill bit is sharpened to a point while the trailing edge is beveled back so that it doesn't touch the circuit board during cutting of the solder pads. When using the pad cutter, make sure that you have a firm grip on the circuit board! Otherwise it will try to move and really mess up the board. Practice on a piece of scrap pcb first.
---
Ta da! Successfully cut solder pad. Now just use some sandpaper to clean up the edges and it will work just fine. Make sure that the copper is cut completely away from the pad.
Hints:
1. Use a cheap drill bit. Some of the better ones are hard to grind and sharpen.
2. Run your drill press at a higher RPM setting. That keeps the bit from wanting to "walk" across the pcb, rendering massive destruction to your little board!
3. Hold on very tight to the pcb.
4. Bring the bit slowly onto the board, don't use a lot of pressure.
5. Just cut enough to remove the copper.
6. Need bigger pads? Use a bigger drill bit; 1/4" bit makes 3/16" dia pads; 3/8 works nice for about .25" pad. Bigger bits than these require a firm hand on the pcb!
73 de NS8O