NEWS & EVENTS
---
New printed circuit board effort to create ARES project for Arduino-based SWR meter & antenna analyzer
Based on some qst and other articles that showed just how easy this is with the new Si5351 chip that can make ANY frequency up to 160 MHz -- feed into swr bridge & measure antenna SWR at any desired frequency
WILDFIRE FULL SCALE EXERCISE PLANNING GROWS
Vann Chesney & John Truope met with Mike Sherrill of Forestry and gained new grasp of ways to improve their Exercise. Generated a written synopsis! Related: Jeff Capehart is working to fold in the MARC group into our Feb 24th Symposium Mini Full Scale Exercise. THANKS GUYS!!!!
---
Georgia ARES training was excellently done! > 200 participants in Forsyth, GA -- including Rosemary and Gordon!
---
EMERGENCY SYMPOSIUM GOES PAST 30 PARTICIPANTS FROM TWO STATES
FEB 24 2018
Program and RSVP (signup) Information (required)
---
CHIEFLAND REPEATER IS NOW READY FOR INSTALLATION
W4DAK-7
(After solving power supply difficulties)
---
Prototype EMP Raduino Protection Circuit Constructed for EOC Vacuum Tube Rig
TESTED -- Good VFO Signal!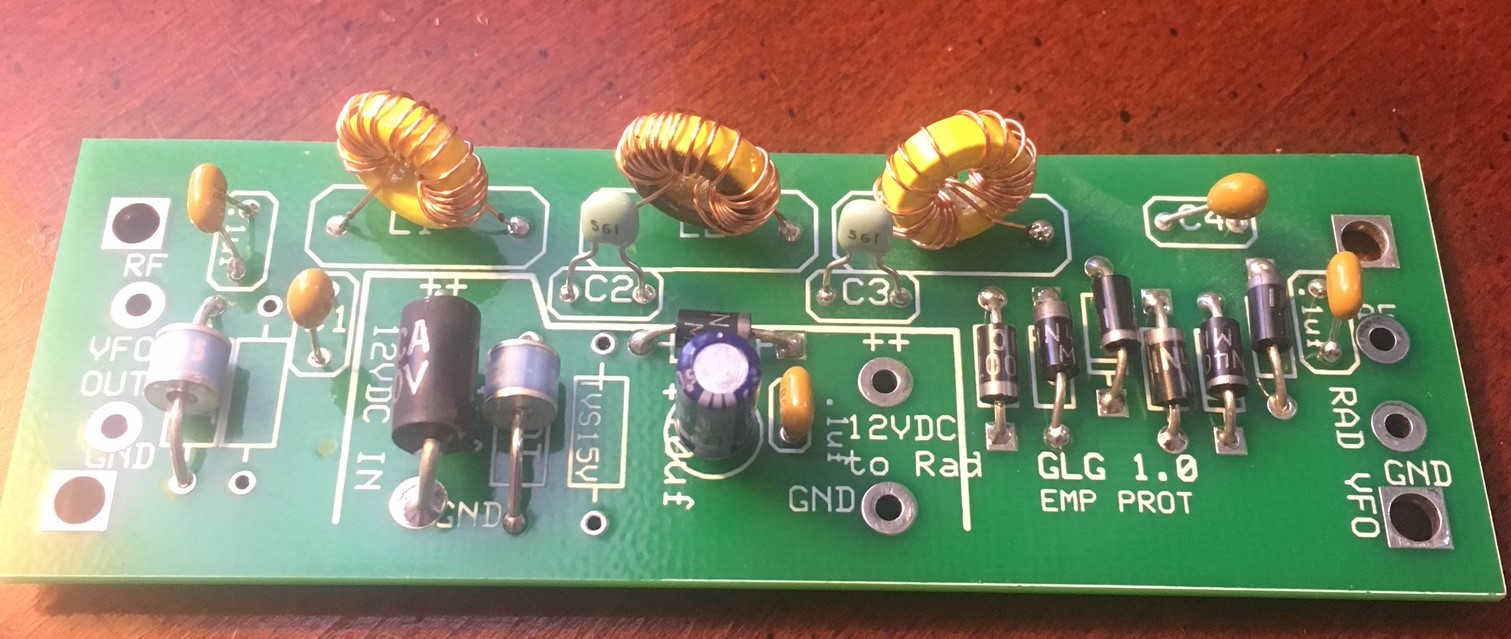 ---
Shands repeater is ready for installation.

Since the photo: top screwed down, handles added, dielectric grease on important connections. Installation expected mid January.

BALUNS --- Part One
BALUNS--Part Two
Practical How-To Baluns
TWO REPEATERS NEARING COMPLETION

Gene Culbreath, Vann Chesney and Rosemary worked tirelessly on Wednesday -- and we have two digital repeaters nearing completion. Rosemary soldered power harnesses, Gene helped everyone and also prepped harnesses; Vann worked steadfastly at soldering together another $25TNC; I built another micro SD chip. Main holdup was I couldn't find any 8-pin mic connectors to build the final audio connectors. Using a Baofeng, however, we tested NF4RC-9 --- WORKS!!!!! That will go to SHANDS & hopefully with a MICROWAVE link attached. GREAT WORK, GANG!!!!

---
TUESDAY ENORMOUS PROGRESS

1. Rosemary and I built FOUR wood go-box shells.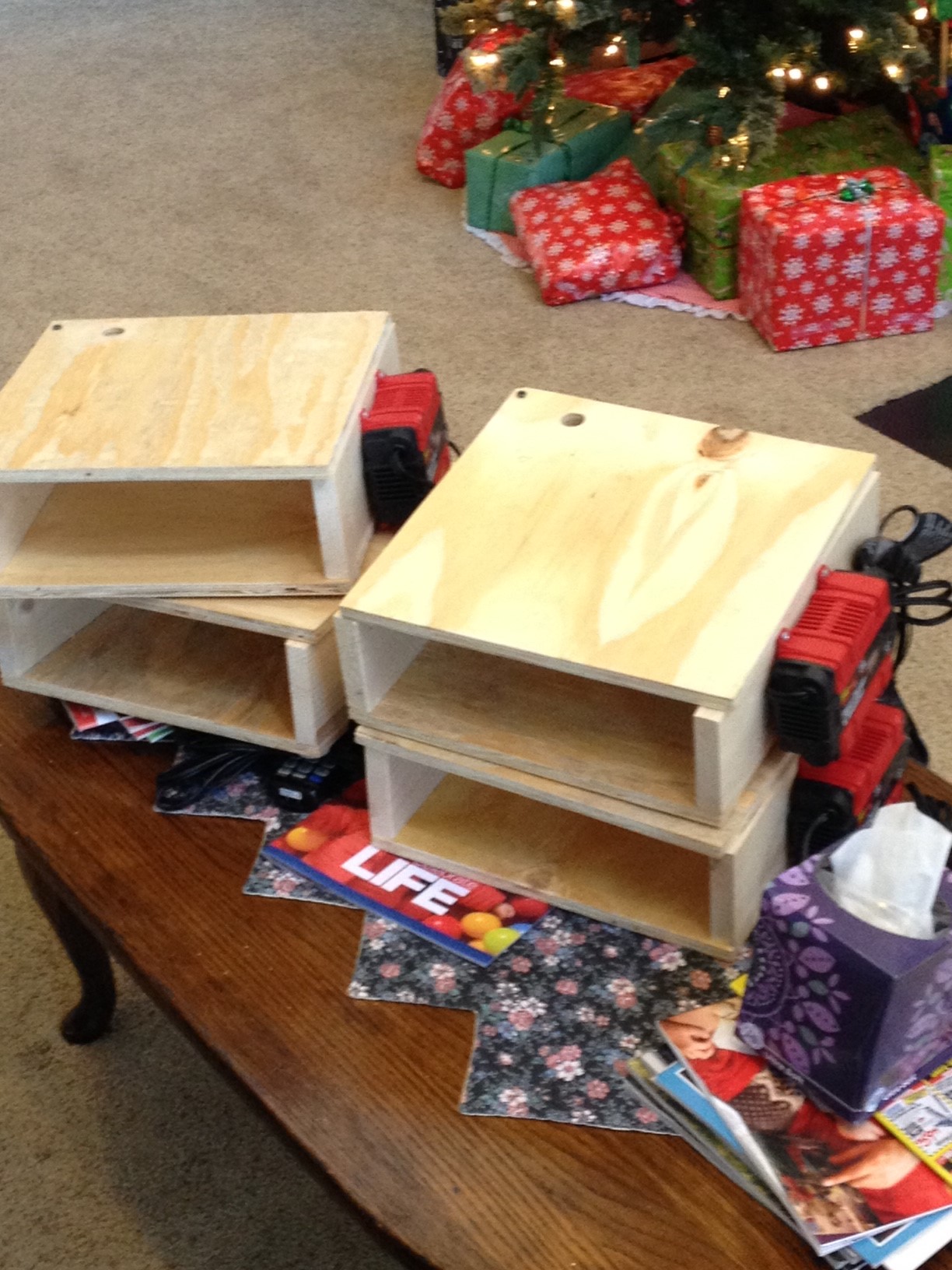 2. Rosemary, I and Vann sawed, cut / cracked and separated TWELVE small mic preamp boards/receiver turnoffs, from larger circuit boards (my own design) for others to use.
3. We put 4 Raspberries together (in the plastic case with heatsinks):
4. And TESTED four rigs, finding two good ones
5. And then MOUNTED all that stuff so far: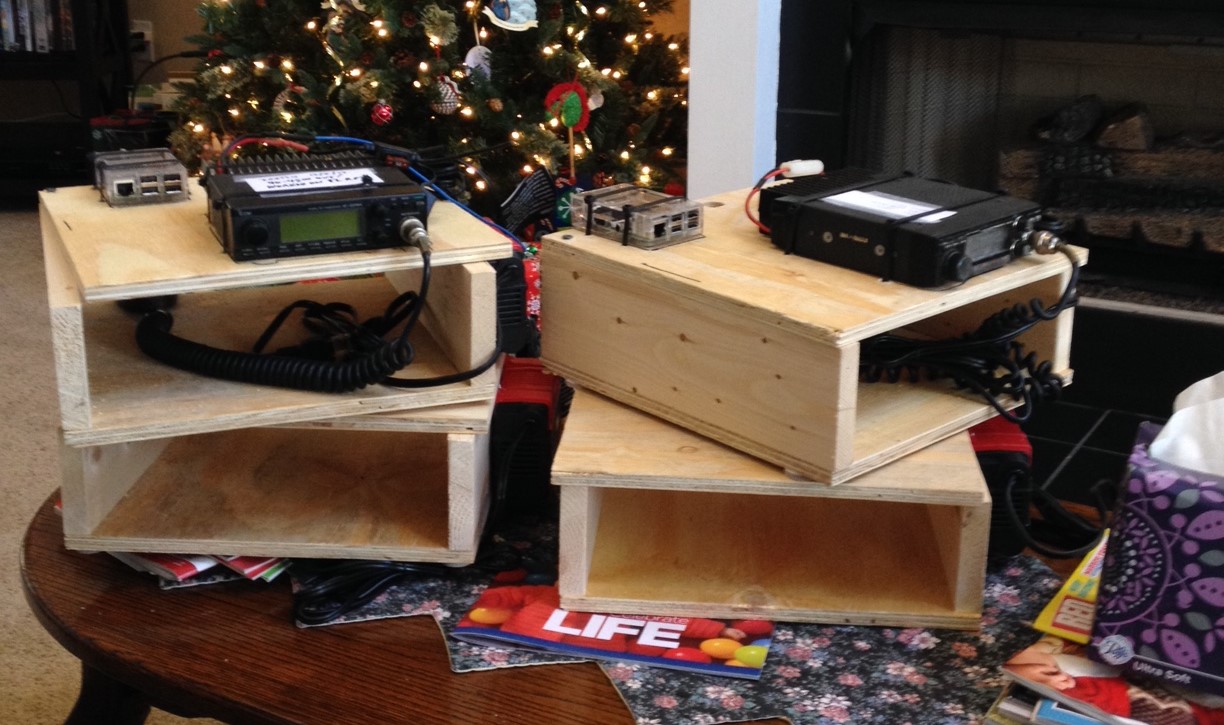 6. Then we CALIBRATED Two Raduinos
7. Then we PROVED that a Raduino can fully Drive an EMP Proof SB-100 Heahtkit 100-watt HF rig -- giving it full digital frequency accuracy -- and we measured several cyrstal frequencies of the EOC Heathkit.
And then we quit for the day!!! Start up again tomorrow at 9 AM.
---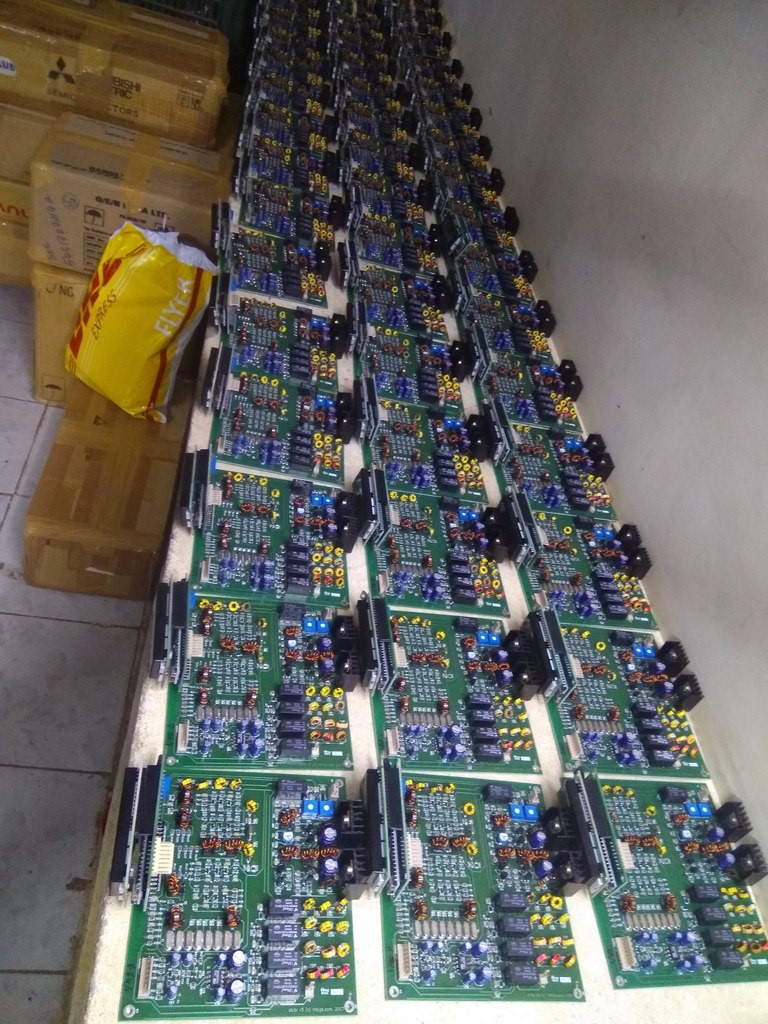 Rows and rows of push-pull output, multi-band bitx-type SSB transceivers moving into calibration and testing in India. Size of the main board if 6" x 5.5". There is a digital Raduino which produces most of the VFO and other required frequencies. Appears to run on at least 4 bands, likely with double the power of existing bitx40's. Intermediate frequency is in the 40 MHz range --- so far easier image rejection. With controllable BFO (Raduino-developed) much easier to switch upper/lower sideband. All those crystals you see --- are the IF filter. Price is not yet determined and not yet available but this could be a GREAT starter rig for hams or EMCOMM.
---
EOC EMP-IMPERVIOUS RADIO
POWER CABLE & MIC FINISHED
SB-100 now has power supply & cable finished, mic connector changed to standard CB 4-pin; works with standard powered CB mic. A working rig ready for DIGITAL! and like a try at using a Digital DDS Raduino VFO.


---
---
Video on building bitx40 on plastic organizer and using it
Alachua County volunteers score well in 2nd week of Ray Cook's Florida WINLINK net....
An explanation of how antennas become unbalanced and cause us problems.
---

Alachua ARES' 3rd After Action Report published, available on Amazon. (local copies available at cost, $2.50)
---
---
EOC ANTENNA PROJECT
Antenna meeting went well and now Moorhouse is wanting DEADLINES for antenna project goals.....good sign.
---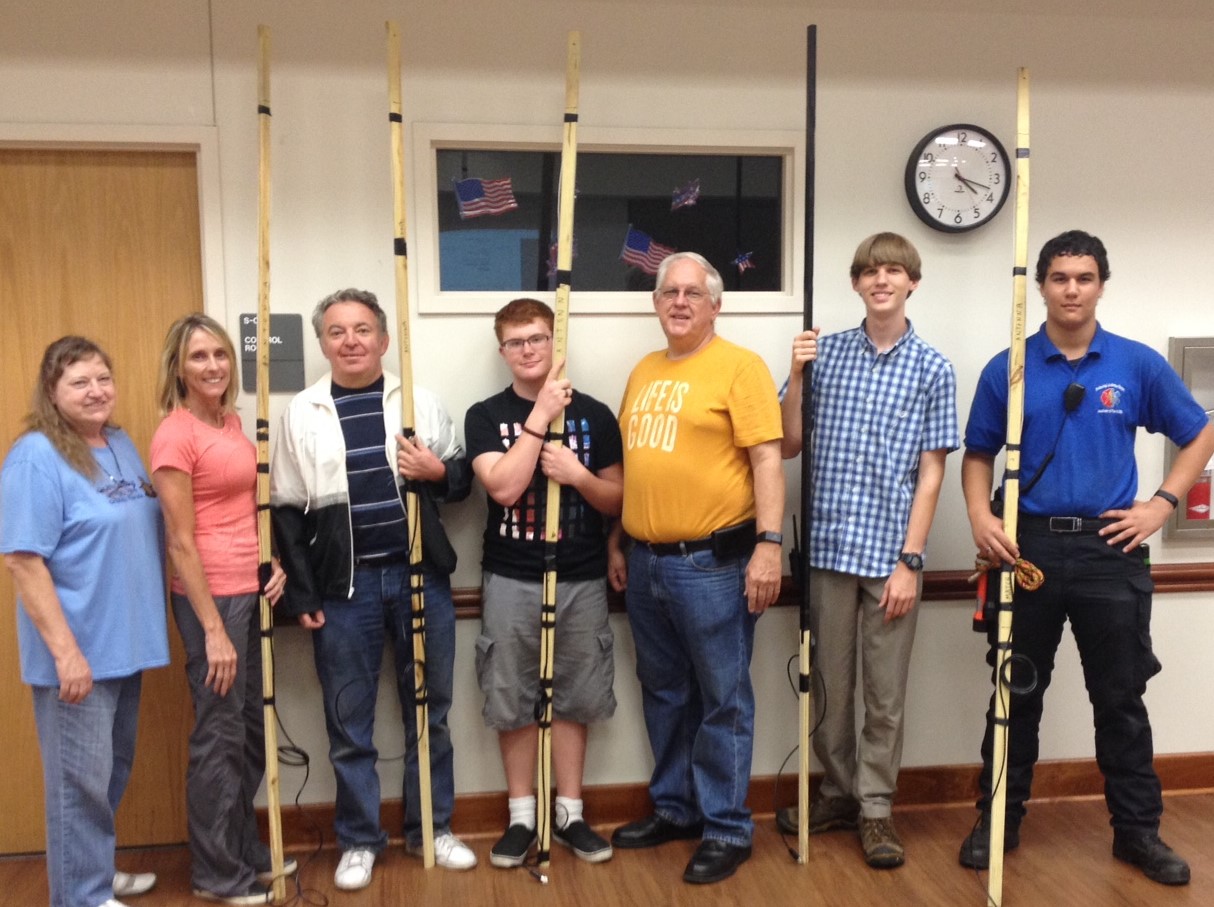 Five student-built antennas with Cindy & Art teaching soldering techniques --- best Technician Course I think we've ever run. Santa Fe College fantastic room with antenna in trees behind building... we filled their heads with RADIO KNOWLEDGE!!


---
Textbook On Our Steinhatchee Exercise
---
Draft North Florida Hospital Proposal
They got it and they thought it was less expensive than expected....
---
BITx40 SUCCESS!!

Just keep rolling on!!! Now have the little transceiver prelim. working on 80 Meters as well as 40! Upper & Lower Sideband, voice, digital (CW easy).

Local ARES members training on WINLINK for possible Puerto Rico Humanitarian Service
Red Cross plans to send "health and welfare" spreadsheet lines from hundreds of thousands of families (according to reports) via WINLINK to be auto-uploaded into their web-accessible Safe & Well Database. Anxious relatives will be able to find their loved ones and their situation in the largest amateur radio data transfer ever contemplated. Organized by ARRL / WINLINK / Red Cross
UNRESOLVED ISSUES IDENTIFIED IN MAY 2017 HURRICANE FULL SCALE EXERCISE
| | |
| --- | --- |
| #6 | EOC inadequate antennas, both HF and VHF -- and UHF also!! |
| #7 | Simplex repeater needs more sensitive receiver |
| #9 | New transceivers for EOC to allow more frequencies to be monitored -- not installed, no extra antennas available |
| #11 | No satisfactory HF amateur or SHARES antennas at EOC -- ARES practiced slingshot temporary antennas in trees south of the building as replacement |
| #12 | Partial: unclear if the ARES member has better HF antenna tuning assets/capabilities at this point. |
| #15 | Easton Newberry antennas not installed; worse, there is no transmission cable passthrough out of building. There are no antennas at the Senior Center. |
| #26 | Winlink Peer to Peer Training -- not yet accomplished! |
Note that hard work has actually RESOLVED 23 issues!!! The ones in the table above are the identified issues from May 2017 that remain. #11 was documented in July of 2016.
Building Waterproof Shelter Go-Box VHF Radios
How-To & News Article about Alachua GOBOX Construction
(Three go-boxes put together RAPIDLY by ARES Volunteers)
---
SHANDS HOSPITAL DIGITAL STATION PLANNING

Scott Coker, a local ham and part of the ShandsCair flight team, gave me a tour of where we may be able to emplace a digital station to assist Shands in emergency comms.....but let me say that they already have an IMPRESSIVE amount of 800-MHz, etc comms all over the state -- our value-added is modest but longer-range. Our ability to both control & communicate with our systems DIGITALLY (exactly as he does) is key to this endeavor.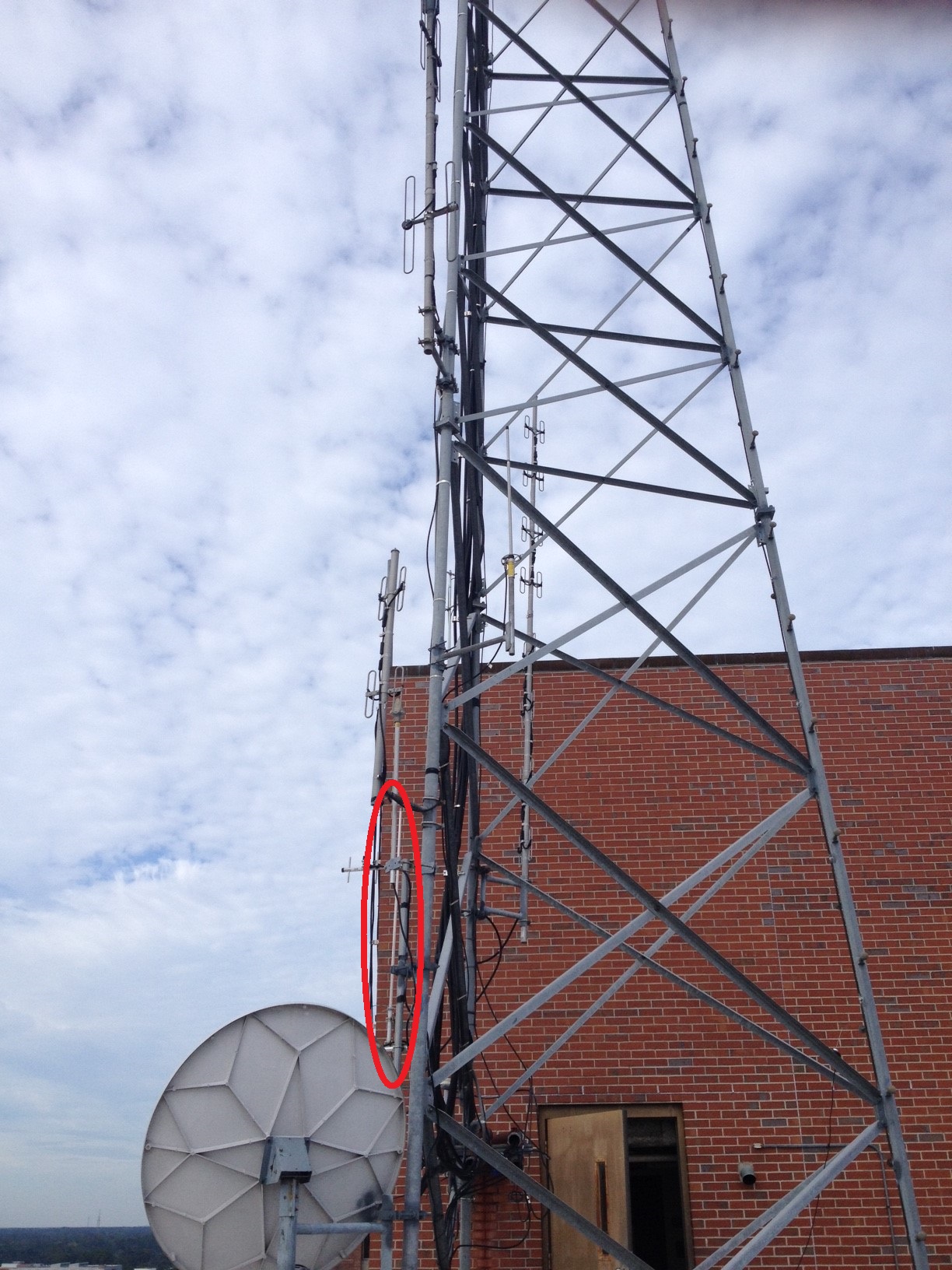 One of TWO vhf ham antennas is encircled. They aren't high, but I did successfully connect to Ocala KG4NXO-10 and NEWB with near full scale or better. TOWER WORK is planned -- and I discussed putting in a microwave system for us (of course!!)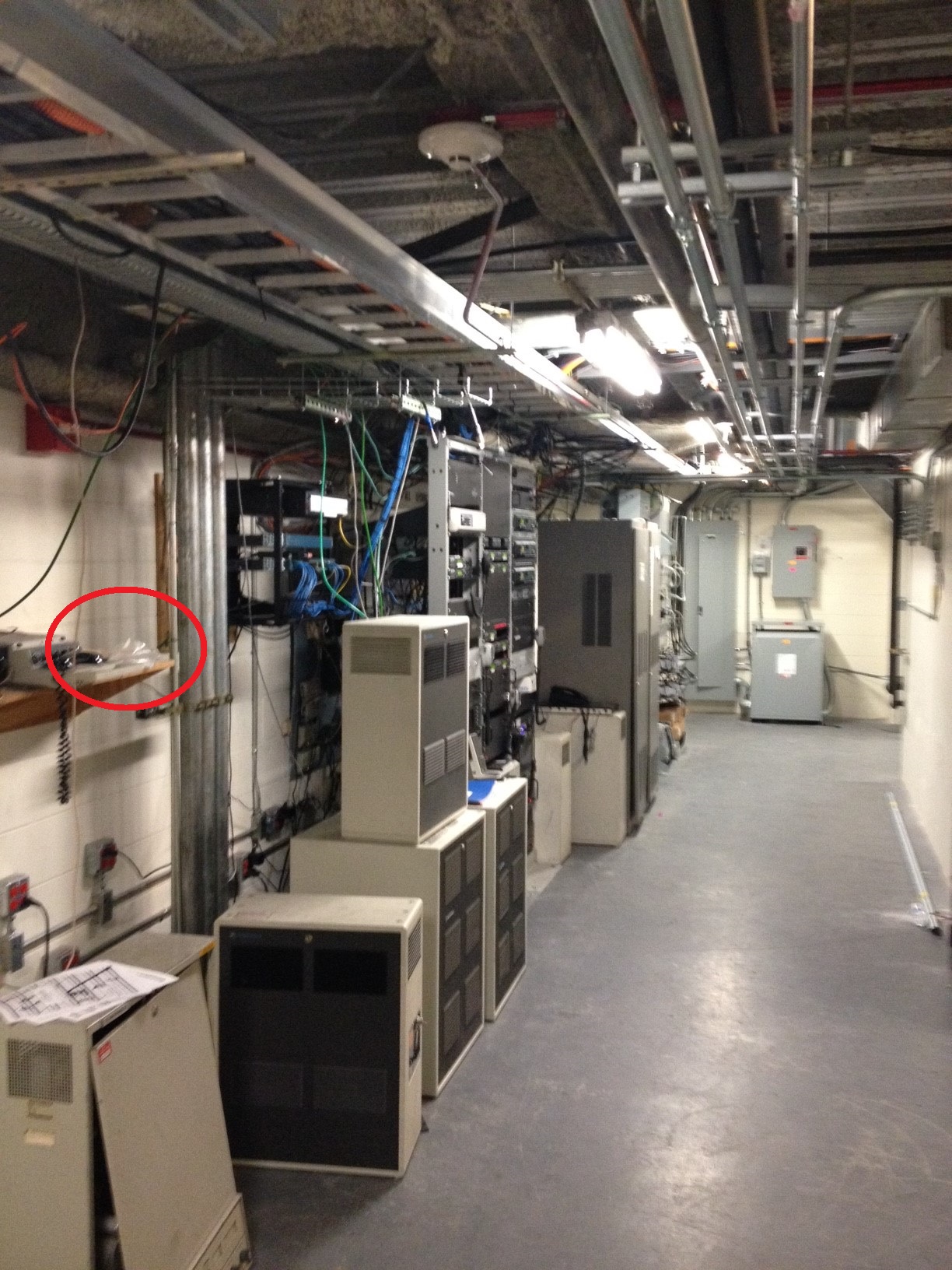 An incredible amoutn of digitally controlled repeater systems and 800-MHz etc access systems. The shelf where we can start is encircled --- but a new rack may be next for us.
---
PRE HURRICANE LEARNING OPPORTUNITY!
---
AR 20meter End fed antenna -- now manufactured & sold by LNRPresicion.
SATURDAY 8/19: Jay Garlitz, Susan Halbert, Ed Gray and Gordon Gibby met at the Dental Tower and soon Jay has us ON THE ROOF again examining where we can put microwave and vhf antennas to turn W4DFU into a powerhouse Emergency Comms resource for the University & County.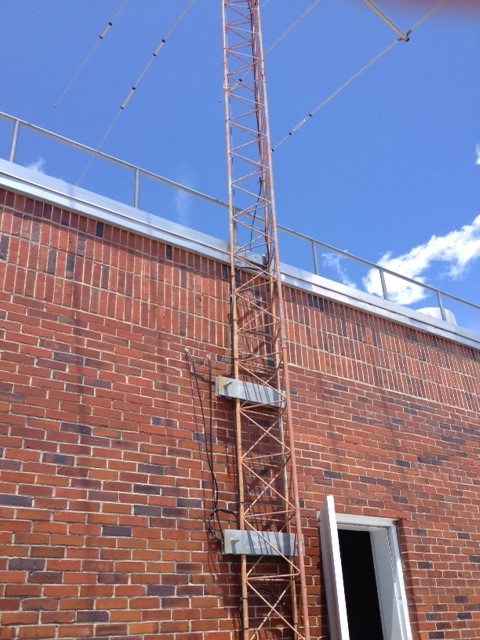 South tower on Dental roof, HF beam. Possible site for 24dBi parabolic aiming atTom's Antenna/ St.Francis/ Clay Electric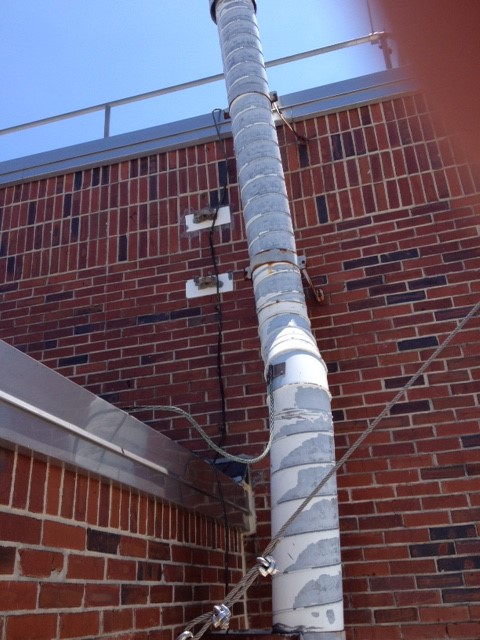 Spare brackets (on white blocks) could take a metal pole mast & hold parabolic.
VHF tower at the North end of the Dental building -- possible site for MESH onidirectional antenna to serve the University and beyond.
From the roof, you can easily see direct line of sight to the Seagle Building South Windows.....and I have a colleague who lives on the next to highest floor.....
inexpensively from a commerciallly available product -- cut off their connector and you find a RED (+) and BLACK(-) wire -- Put 20-24 vdc on these wires and the big black female connector has POE! Allows you to build a Microwave Go-Box that can run from 12V (battery or vehicle) and still power NanoStation or Bullet.
$7 POE Injector (you actually get TWO)
---
BALUNS & HOW TO MAKE THEM
HOW-TO document for making baluns
---
---
GAINESVILLE STATIONS HAVE NOW MOVED TO 145.070

---
---
Three bridging stations now connect our
145.070 network of stations to other groups: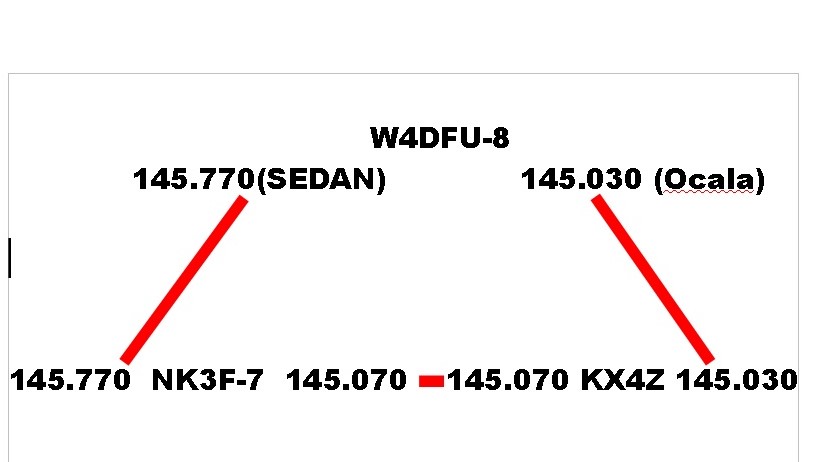 ALL PORTS WILL USE COMMON SCHEME:
Port 6 - 145.030
Port 7 = 145.070
Port 8= 145.770
---
UPCOMING MEETINGS REMINDERS
Monthly ARES Meetings: 2nd Wednesday 7 PM
Monthly GARS Meetings: 3rd Tuesday 6:30