NEWS & EVENTS
---
What we're working on is classed as Level 2 protection
.
---
Starting to keep track of our skills & assets
Email comments to [email protected] --- this is just a Draft currently!
---
Presentations from Huge March Meeting
---
WILDFIRE EXERCISE
---
DRAFT Proposal for NFARC Winlink Proficiency Certification
---
---
---
Read the Alachua County Hurricane Irma After Action Report

EOCX-012.1 -- Develop volunteer plan for EOC to include Amateur Radio (Human Resources, 9/1/2018)
SHLT-006.2 -- Recruit additional amateur radio operators to staff more shelters (ACEM / CSS , 6/1/2018)
SHLT-006.3 -- Encourage shelter managers getting license (ACEM / CSS 6/1/2019) --

we could provide classes!!


SHLT-006.5 -- ANTENNA PASSTHRUS (ACEM / ACPS 6/1/2018)

SHLT-007 Shelters were in a situational awareness silo, limiting the information known to the shelter staff and the shelterees -- (ITS ACEM CSS DOH-Alachua -- 6/1/2018) ---

We may have a help for that!



SHLT-007.3 -- Increase information shared with amateur radio (ACEM / CSS 6/1/2018) --

We now have a great outlet for increased information!!





Load the document, do a search for "radio" (44 instances) and you'll find a treasure trove of information.
---
---
WILDFIRE FULL SCALE EXERCISE PLANNING GROWS
Vann Chesney & John Truope met with Mike Sherrill of Forestry and gained new grasp of ways to improve their Exercise. Generated a written synopsis! Related: Jeff Capehart is working to fold in the MARC group into our Feb 24th Symposium Mini Full Scale Exercise. THANKS GUYS!!!!
---
---
CHIEFLAND REPEATER IS NOW READY FOR INSTALLATION
W4DAK-7
(After solving power supply difficulties)
---
Prototype EMP Raduino Protection Circuit Constructed for EOC Vacuum Tube Rig
TESTED -- Good VFO Signal!
---
Shands repeater is ready for installation.

Since the photo: top screwed down, handles added, dielectric grease on important connections. Installation expected mid January.

---
---
---
EOC ANTENNA PROJECT
Antenna meeting went well and now Moorhouse is wanting DEADLINES for antenna project goals.....good sign.
---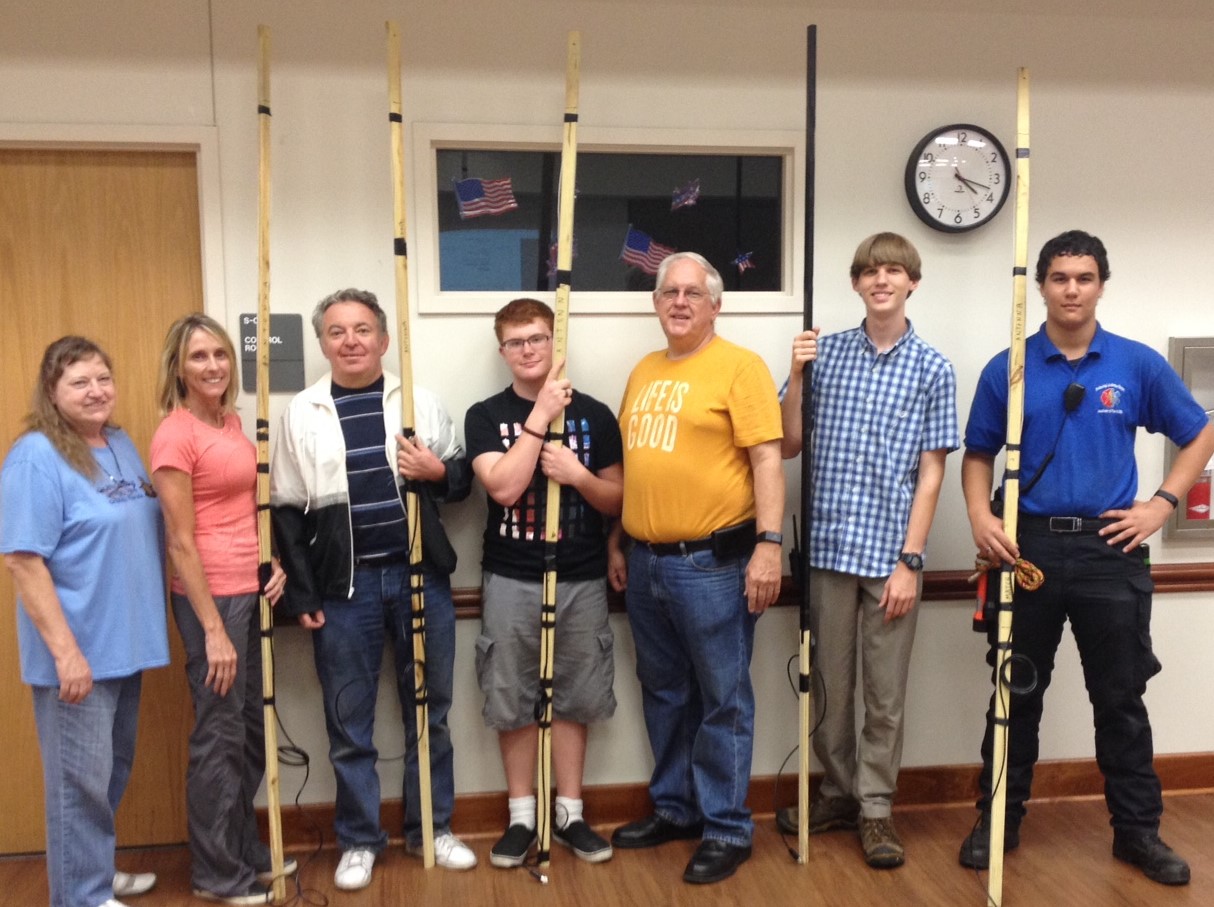 ---
Draft North Florida Hospital Proposal
---

UNRESOLVED ISSUES IDENTIFIED IN MAY 2017 HURRICANE FULL SCALE EXERCISE
| | |
| --- | --- |
| #6 | EOC inadequate antennas, both HF and VHF -- and UHF also!! |
| #7 | Simplex repeater needs more sensitive receiver |
| #9 | New transceivers for EOC to allow more frequencies to be monitored -- not installed, no extra antennas available |
| #11 | No satisfactory HF amateur or SHARES antennas at EOC -- ARES practiced slingshot temporary antennas in trees south of the building as replacement |
| #12 | Partial: unclear if the ARES member has better HF antenna tuning assets/capabilities at this point. |
| #15 | Easton Newberry antennas not installed; worse, there is no transmission cable passthrough out of building. There are no antennas at the Senior Center. |
| #26 | Winlink Peer to Peer Training -- not yet accomplished! |
Note that hard work has actually RESOLVED 23 issues!!! The ones in the table above are the identified issues from May 2017 that remain. #11 was documented in July of 2016.
---
SHANDS HOSPITAL DIGITAL STATION PLANNING

Scott Coker, a local ham and part of the ShandsCair flight team, gave me a tour of where we may be able to emplace a digital station to assist Shands in emergency comms.....but let me say that they already have an IMPRESSIVE amount of 800-MHz, etc comms all over the state -- our value-added is modest but longer-range. Our ability to both control & communicate with our systems DIGITALLY (exactly as he does) is key to this endeavor.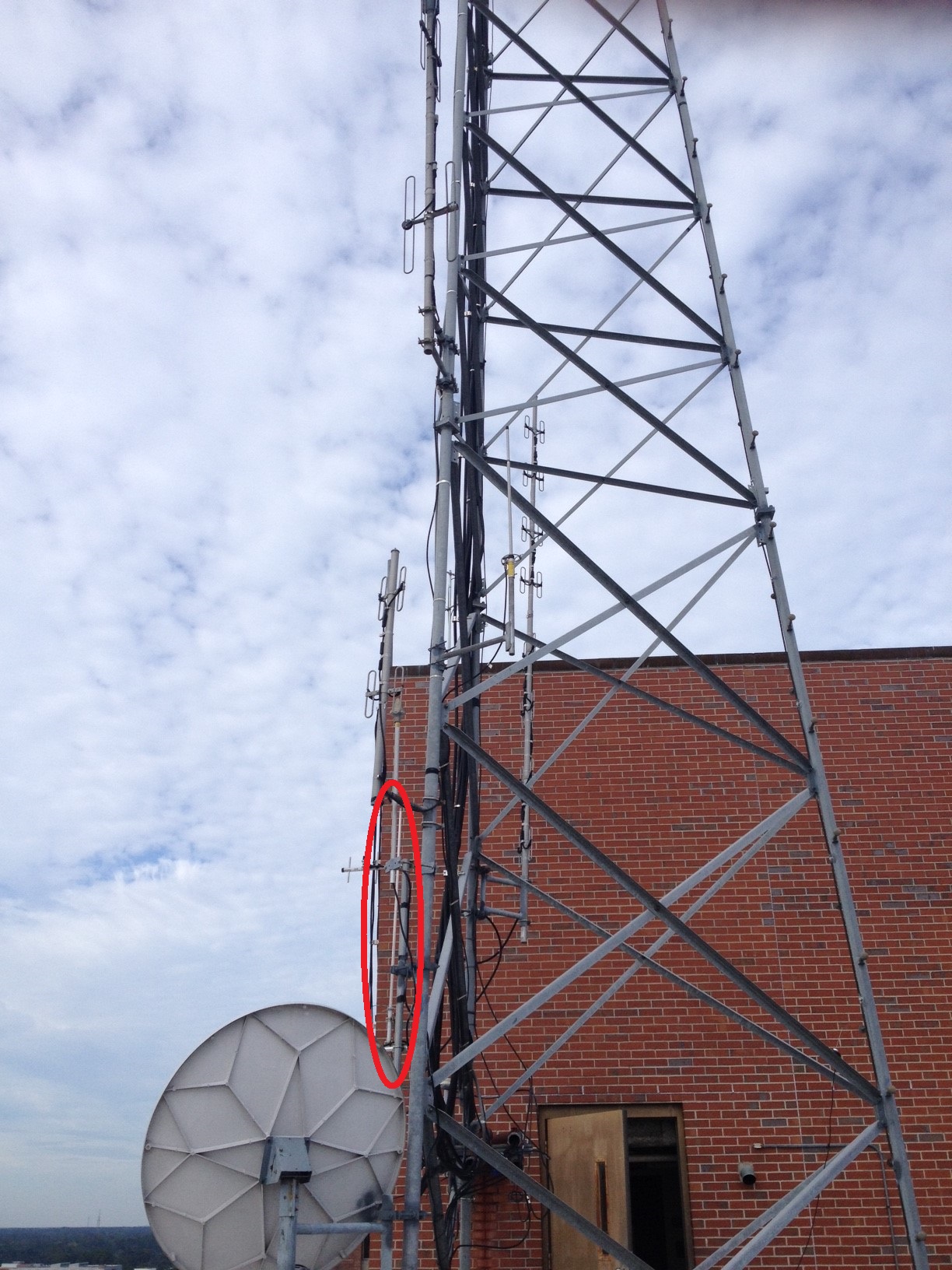 One of TWO vhf ham antennas is encircled. They aren't high, but I did successfully connect to Ocala KG4NXO-10 and NEWB with near full scale or better. TOWER WORK is planned -- and I discussed putting in a microwave system for us (of course!!)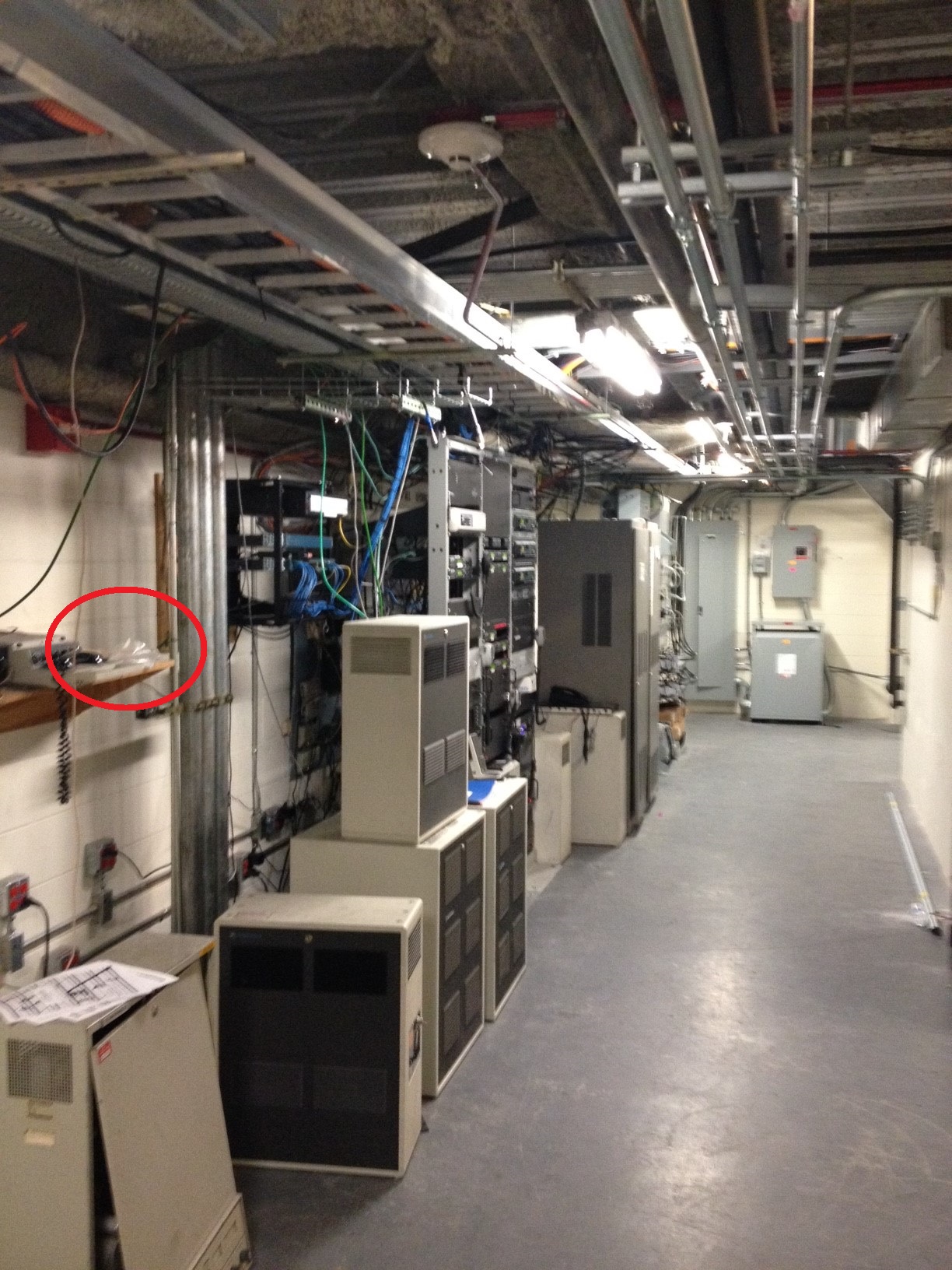 An incredible amoutn of digitally controlled repeater systems and 800-MHz etc access systems. The shelf where we can start is encircled --- but a new rack may be next for us.
---
SATURDAY 8/19: Jay Garlitz, Susan Halbert, Ed Gray and Gordon Gibby met at the Dental Tower and soon Jay has us ON THE ROOF again examining where we can put microwave and vhf antennas to turn W4DFU into a powerhouse Emergency Comms resource for the University & County.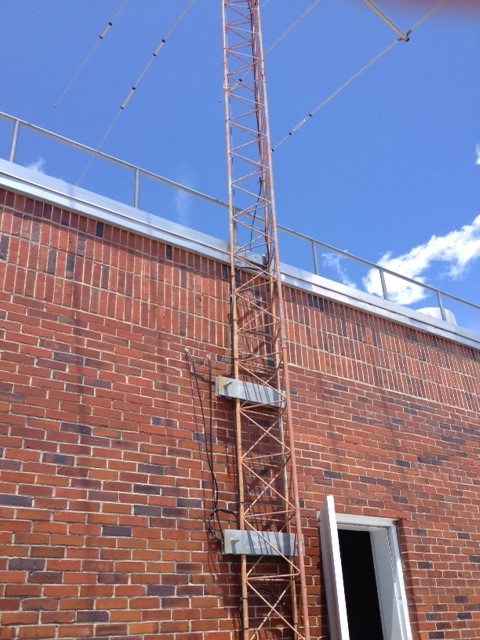 South tower on Dental roof, HF beam. Possible site for 24dBi parabolic aiming atTom's Antenna/ St.Francis/ Clay Electric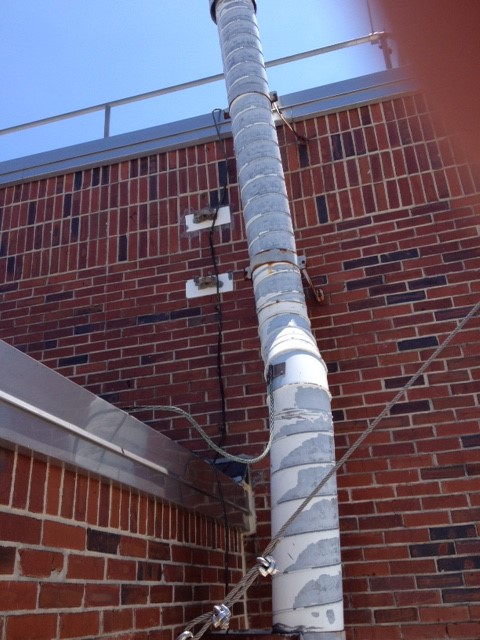 Spare brackets (on white blocks) could take a metal pole mast & hold parabolic.
VHF tower at the North end of the Dental building -- possible site for MESH onidirectional antenna to serve the University and beyond.
From the roof, you can easily see direct line of sight to the Seagle Building South Windows.....and I have a colleague who lives on the next to highest floor.....
i
---
Three bridging stations now connect our
145.070 network of stations to other groups: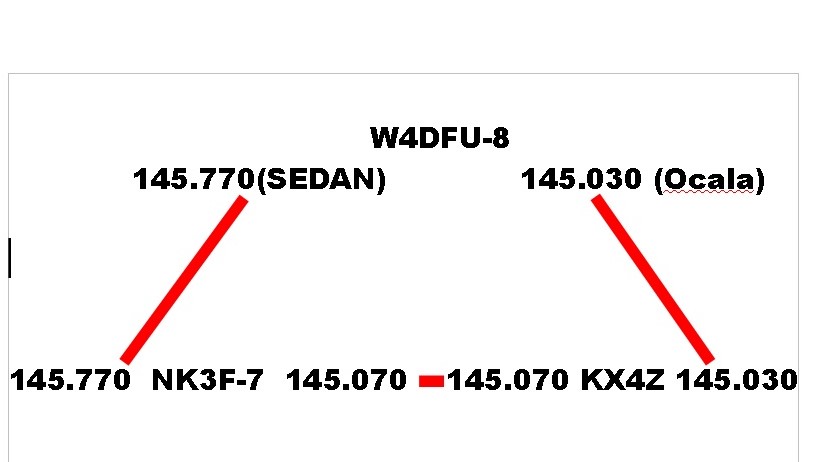 ALL PORTS WILL USE COMMON SCHEME:
Port 6 - 145.030
Port 7 = 145.070
Port 8= 145.770
---
UPCOMING MEETINGS REMINDERS
Monthly ARES Meetings: 2nd Wednesday 7 PM
Monthly GARS Meetings: 3rd Tuesday 6:30