Welcome to
"The I/O PORT"
Web Site of N9IO
and the rest of the "I/O" family
N9IO, N9IOQ, W9IOU, K9IOC

Bonfield, Illinois
Kankakee County - USA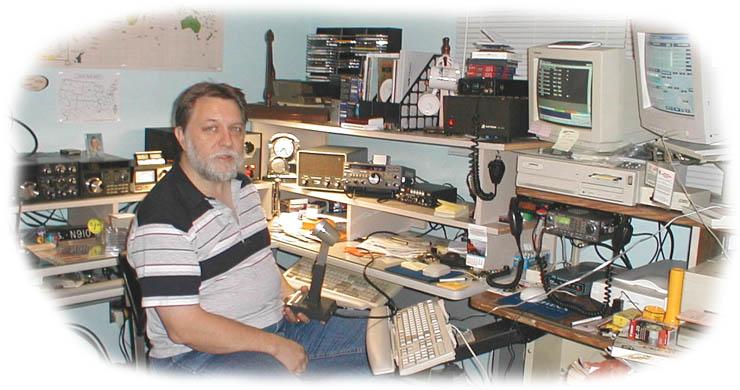 Photo above: Clay N9IO
November Sweepstakes 2000
Ex: KO9U, WD9AIJ, WN9MGD
First licensed 1973
Photo above: Crystal W9IOU
November Sweepstakes 1999
We made the 99 sweepstakes "soapbox", July 2000 QST.
Ex: KB9SPZ
First licensed 1998 at age 12
General Class
Crystal will be a guest speaker at Dayton HamVention 2001
in the "Youth in Amateur Radio Forum"





Photo left: Crystal W9IOU (Marching Band)
Crystal is a devoted member of her HS Marching Band.
They took 1st in State competition down at ISU.






Photo right: Chip K9IOC and xyl Mickey
Photo taken at a KARS Fox Hunt
Chip is Chairman of the 2000 and 2001 KARS Hamfest
Ex: N9HIE, KA9UCI
First licensed 1985
General Class
Photo left: Chip K9IOC in 1984
Chip (shown here at the mike working a little
third party) was first licensed at age 10.






Back in those days I ran a Kenwood TS-520
and Gonset GSB-101 amplifier with 4 - 811A's.

Photo right: Chip K9IOC
(Toys For Tots Motorcycle Parade 2000)
Photo taken in Chicago at the annual "Toys For Tots" motorcycle run.
December 3rd, 2000
Chip is a very civic minded individual.
Actually, any excuse will do if it gets him out on the open road.
Photo above: Clay N9IO and xyl Cindy N9IOQ
Photo taken at a KARS Fox Hunt
Ex: N9HIC, KA9PHV
Cindy took her element 3 test at the very first VE exam
at Dayton HamVention 1984 and was among the 33
to pass of the 300+ taking the brand new exam that weekend.
First licensed 1983
General Class

I was very impressed with the fine job the DARA
(Dayton Amateur Radio Association) was doing
at that first exam session to say the least.
I vowed to get involved myself as soon as FCC
opened the door to volunteer examining.
I have been an accredited VE since the start in late
1984 and have given hundreds of exams since then.

Current equipment:
Yaesu FT-920
with INRAD filters.
BTW: INRAD are the only
filters to ever put in your rig!

Drake L4B (2) 3-500Z

Yaesu FT-100d

TA-33 at 40 feet (Popgun)
Double Bazooka 40 meter
Double Bazooka 80 meter

Heil Microphone Elements
MFJ-434 Voice Keyer
tnc running ClusterMaster

Our Ham Radio Interests:
Fox Hunting, Field Day,
November Sweepstakes,
Dayton HamVention
and club activities like the
KARS Hamfest in Peotone, IL.
See you at "KARSFEST 2002"
Sunday July 7th 2002

I am also web master for the
Kankakee Area Radio Society
Please visit the KARS web site at
www.w9az.com
73
Please bookmark this web site
and thanks for visiting
"The I/O Port"
---

Proud member of these great organizations
Links below are personal web
pages of Kankakee area hams
AI9L
Home Page

Kankakee County
is a great place to live!

About 5 miles from our home
is the Rock Run River.
This photo was taken from the foot
bridge at Route 102 about 1/2 mile
before the Rock Run ends at the
Kankakee River in the beautiful
Kankakee River State Park.
These pages created by Clay Melhorn N9IO
Bonfield, Illinois
Best viewed in 800 X 600
You are visitor #


Since 11-26-2000
Last Revised 3-28-2002