Amateur Radio Station N7WLC
Amateur radio allows you to contact people across the globe. Ham radio also provides emergency communications during natural disasters, search and rescue operations, as well as providing communications support for civic events, like bike rides and walk-a-thons.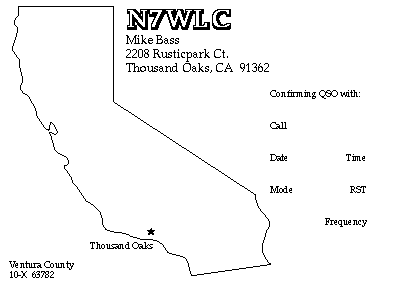 I've been active on:
70cm - The Amgen repeater (W6AMG, 449.440-)
2m - The Thousand Oaks repeater (146.850-)
2m Space - I've worked the Space Shuttle and the Russian space station Mir
10m - A fun HF band, 10-10 number 63782
20m - I like working DX stations ("DX" are those stations not in the US)
2400 MHz - An interesting band to experiment with
APRS - If I'm commuting, you can find my car. Or if it is Saturday, you might find me on my bicycle.
Here are some other links:
American Radio Relay League
Ventura County Amateur Radio Society
Conejo Valley Amateur Radio Club
Bicycle Mobile Hams of America
My Dad's home page on the web

Publications:
Bass, M. B. "You, too, Can Contact Space. QRP to the Satellites" The AMSAT Journal, 16 (3), pg. 27-28 (1993).