More "Guy Things"
The Boy Scouts versus the Big Boulder on the Hill!
By John L. Bartholomew, N7JY
Ok, here is something that will perhaps (PERHAPS) help you to understand the concept of "Guy Things" and how they relate to the masculine half of society.

Here is the story. I was there and it really happened this way.

I was a Boy Scout, and it was the time of the Fall Camporee. Back in those days the San Fernando Valley area had a LOT of scouts, several hundred, which was enough for us to get together and put on a camporee. It was a lot of fun, and we enjoyed it. One of the favored locations for these was up along Sespe Creek north of Santa Paula California, at a place called Steckel Park. At the far north end of the place was a grove of oak trees, with tables and fire pits, and it was, naturally, the only place like it in the entire park. So we would have a couple of older scouts who had drivers licenses go up there a day early and stake it out for us. We did this EVERY year, and it was something of a tradition.

Right beside the campsite was a rather steep hill. On Saturday after lunch we should have gone back to the events, but hadn't because A) they were sort of boring, B) it was hot out and we would rather stay in the shade of the oaks and C) we could come up with our own fun goofing off in camp. There was a rock, a boulder, sticking out of the dirt about half way up the steep hill, and we commenced to dig away at it with camp shovels and such, and then pried at it with a 2x4 that we had found, and got it loose.

Now what I expected was that it would come loose, flop over once and stay there on the side of this hill.

It didn't.

The boulder came loose, and began rolling down the hill, headed right for the middle of camp. One guy was in a tent that was right in its path, and we yelled for him to literally run for his life, which he did, but the boulder hit another rock and headed for one of the picnic tables. Visions of a shattered table came to mind, but the boulder sort of glanced off the table, doing only minor damage to the end, before rolling around in a circle and coming to rest -- right in the middle of the campsite.

The boulder had left a lovely trail behind it in the ground and it was obvious where it had just been.

All of us tried to move this thing and roll it, at least off to the side of the camp, but we couldn't budge it. So, we did our best to hide the trail, smoothing it out, covering it with leaves and stuff, but without much success. We also tried to smooth out the hole where it had been, halfway up the side of the hill. We got water from the creek and washed off the boulder to remove the dirt and at least TRY to make it look like it had been there for awhile.

You can guess just how much success we had.

During all this time, the scoutmaster was not in camp, but when he returned, he immediately noticed the "addition" to campsite. I remember how he looked at the boulder, then followed the trail it had left, and his eyes traced it right up to the position on the hill where it had come from.

To his credit, he didn't say a word about it.

Years later, as an adult leader, I was back up that way for another camporee, this time in the spring. I walked up to the north end of the camp, and took a look. The hill is still there, but not as steep as I had remembered it. The boulder is still there, right in the middle of camp, looking as though it has been there for a hundred years or more. But I remember one day when a bunch of scouts were screwing around trying to see if they could move this big rock. And, we did!

Just a "guy thing" I suppose.
---
Return to N7JY main page
Looks best using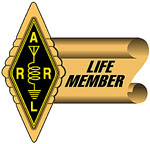 Disclaimer:
The contents of this page do not necessarily reflect the opinions of my Internet provider, my page host (QSL.net), my employer, nor anyone else.


Copyright © 1998 N7JY.


You're looking at the web page for John Bartholomew, N7JY (n7jy@qsl.net) which was started on August 28, 1997.