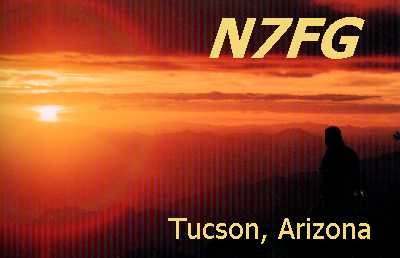 Welcome to N7FG
Tucson, Arizona

---
Ex: AB0G, WB0SYC, WA2UUB, WA3AYW
---
N7FG's RADIO LINKS
(please pardon the cobwebs and busted links -- "The Plan" is to update them one of these days)
Mega-Sites

---

General Sites

---
Arizona Sites


---
Digital Modes
---
Organizations and Bulletins
ARRL-- The American Radio Relay League
AMSAT -- The Radio Amateur Satellite Corporation
SAREX-- The Shuttle Amateur Radio Experiment

SAREX Home Pages:
Space Shuttle Home Page (NASA)
The SAREX program is being replaced by ARISS, Amateur Radio on the International Space Station.
---
Commercial Sites
---
Related Sites
---
Radio Newsgroups

73 de Frank, N7FG

E-mail N7FG via QSL.net

---
Web space on QSL.net is provided by Al Waller, K3TKJ. Thanks, Al.
---