Welcome to the N7EPD VHF/ UHF website!
GOD BLESS OUR TROOPS !!
Never forget September 11, 2001!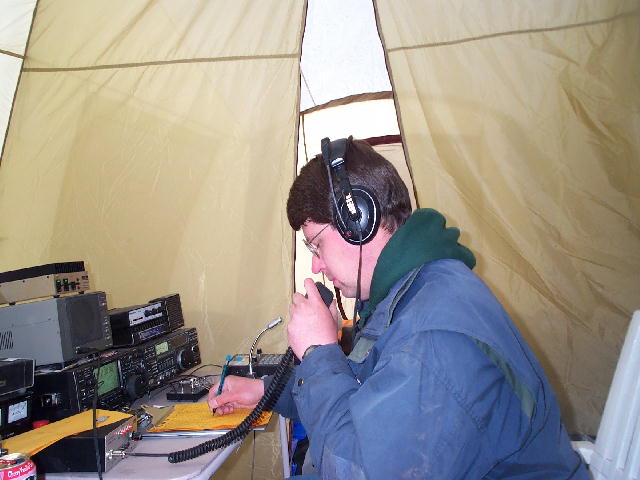 The picture above is me operating 2 meters on Pine Mountain CN93 in Oregon for the K7CW Unlimited multiop in June 2002
---
The next contest is the ARRL VHF Sweepstakes January 22-24, 2005
The complete rules, times and log submission address are on the ARRL contest page.
---
-ABOUT ME-
My name is Eric and I live in Tacoma, WA grid square CN87rf. I am 38 years old, hold an Amateur Extra class license, and have been a ham since Sepember 1978. I currently operate VHF, UHF, and microwave frequencies. I had been fascinated by 6 meter propagation by observing other stations use the band for over 10 years before I finally got into VHF weak signal operation myself in 1995 when I bought and built a TenTec 6 meter transverter kit. I then added a DEM 2 meter transverter after missing out on a 2 meter sporadic E opening. 432 MHz, 222MHz and microwave bands have been added since. I worked the world on HF CW with 100 watts and a triband beam on the roof but VHF operation has been so much more enjoyable because it is so exciting to hear distant signals that "should not make it past line of sight". I have contacted over 300 grid squares from all over the world on 6 meters and 71 grids in 13 western states, British Columbia, and Alberta Canada on 2 meters. I have even worked 7 states and B.C. Canada on 222 MHz. However I can and do still get on HF (160 to 10 meters) as well. I really enjoy VHF contesting and "mountain topping". I have operated from Mt. Crag (CN87) with K7VHF multiop and by myself, West Rock (CN87), Rock Candy Mtn. (CN87) with K7VHF multiop, Table Mtn. (CN97) with K7CW multiop , Mt. Emily (DN05) with K7CW multiop, Pine Mtn. (CN93) K7CW again, and Mt. Brenton (CN88) in B.C. Canada as VA7ISL with Gabor VE7DXG , Neil VA7DX, and Dale VE7DDK. I operated from Minot Peak in CN86 for the 2003 144, 222, 432 MHz and 2004 6 meter Spring Sprints. I have also operated as a "rover" a few times. The first was in June 1999 and I activated 3 grids. I set up and tore down the station each time off of the back of my truck. Man what a work out that was! But it was fun! I also roved in the Spring and Fall 2002 6 meter sprints and the 2003 Spring 6m sprint.
---
-METEOR SCATTER-
I made my first WSJT FSK441 mode meteor scatter contact with W1IPL in DN62 on Dec 14, 2002 for a new grid and state on 2 meters!! I built my own computer/ radio interface with transformer isolation on TX and resistor attenuation on RX. I use an opto isolator for PTT control. I tested the interface with PSK31 on HF as there are plenty signals to copy to get the levels set and make sure it worked. PSK31 was interesting but my main goal was to get on the WSJT modes: FSK441 and JT44. I worked a couple locals on FSK441 and then ran a sked with W1IPL and completed!!! I later made a contact with KF6BXH in CM87 on my CQ! My best distance so far is WB2FKO in DM65rc New Mexico at 1177 miles on 2 meters. We completed on Jan 3, 2004 at 0736 UTC after running for just under an hour. I have made some local JT44 contacts but have yet to work someone over a long distance. However I have not tried much.
I have completed many SSB meteor scatter contacts and even one CW QSO at about 30 wpm in the last few years. I sort of missed the HSCW craze so I am trying WSJT (FSK441 mode) whick I think I will enjoy a lot. I had a problem overcoming the concept of my computer decoding the message for me but I still have to look at the decoded text to determine if it is good and switch to the next message to complete to contact. By using FSK441 one can exchange complete calls off of a meteor "ping" that you would be lucky to copy a syllable using SSB. The same weekend I made my first FSK441 QSO I was using TRlog in the ARRL 10 meter contest which was aiding me with the exchanges from the TRMaster database I created and helping weed out duplicate contacts while typing in a call sign so FSK441 is not much different as far as computer assistance with radio fun goes.
---
The following is a rundown of my station:
6 meters 100 watts or now 1 KW when needed- 5 el yagi
2 meters 170 watts or now 1 KW when needed- 13 el yagi
222 MHz 100 watts- 15 el 5wl yagi
432 MHz 150 watts or 500 watts when needed- 28 el 9wl yagi
903 MHz 10 watts- 33 el loop yagi
1.296 GHz 18 watts- 45 el loop yagi
2.304 GHz 10 watts- 52 el loop yagi
3.456 GHz 20 watts- 76 el loop yagi
5.760 GHz 2 watts- 2 ft dish- usually when mountaintop portable
10.368 GHz 15mW- 2 ft dish- usually when mountaintop portable
---
I just finished the 5.7 GHz kit from DEM for the 2004 ARRL UHF contest.
---

I am charter member number 21 of the Pacific Northwest VHF Society which serves the Northwest corner of the USA and Canada. We are up to 282 members!
---
PICTURES FROM PLACES I HAVE RECENTLY OPERATED
For September 2004 I went to Pock Peak in the West side of CN96. Lynn N7CFO also operated up there along side of me. I ran out of the back of my truck for the first time and it was a little cramped but not bad. I also used minimal antennas to keep the setup simple. The pictures will be posted soon- check back!.
June 2004 took myself, K7CW, KE7V, VE7DXG, K7ND, W7YOZ, and K7WIA back to Table Mountain for the ARRL VHF QSO Party for a unlimited multiop effort that broke the Northwest Division multiop record with 205,716 points!
In June 2003 I went to 6300 ft Lion Rock on Table Mt. in CN97 with Paul K7CW and Mike K7MDL for the ARRL VHF QSO Party. I opearted 2 meters for our Multi Unlimited effort and I dare say this was the best location I have been to as far as RF propagation is concerned in Washington! These are some pictures of the operation courtesy of Mike K7MDL.
I operated from CN88 on Mt. Brenton, B.C. Canada for the September 2002 contest. My host was Gabor VE7DXG and we operated from the Cowichan Valley ARC repeater site at 4000 feet using tha call VA7ISL. Neil VA7DX and Dale VE7DDK aslo joined us for the multiop effort. We had some interference from the repeater but we dealt with it. I had a ton of fun and look foreward to going back someday! These are the the pictures from Mt. Brenton.
Here are some pictures from the June, 2002 K7CW Pine Mountain, OR operation in CN93 with Eric KB7DQH, Paul K7CW, and myself. Many thanks to Alan KC7NAA at the Pine Mountain Observatory for helping us get a good spot at the top of the mountain!
---
Links to recources I like to use:
Need free computer contest logging software? Allen Huber, WG3E has written VHFTest and allows you to download it for free! It works great for both rover and stationary stations.
Another great logging program is TRlog written by Tree, N6TR. It is $60.00 for the full version but it is the best out there for non rover VHF as well as HF contest logging as far as I am concerned.
Where is that guy located? This site has Grid Square maps or use their instructions to calculate what the grid is based on Latitude and Longitude. For the whole world see this site and click on the field you want to zoom in to.
50 MHz propagation announcement logger. Good place to see if the band is open. Links to other band prop loggers are at the top of this one.
DX Summit has VHF (click on "50 VHF" when there) and HF propagation posts from around the world and links to a DX path map so you can see where folks are communicating!
For aurora radio propagation conditions I like Paul Kelley's Aurora Sentry and the Kiruna Magnetogram. When the black X line on the Kiruna site graph runs below -400 good radio aurora conditions can exist. Spaceweather is another useful site to see what the sun is doing and if aurora conditions are imminent.
In addition to the WSJT link above OH5IY, DK3XT, MS Rocks live and Ping Jockey are good meteor scatter information and QSO scheduling pages. Another neat site is the Radio Meteor Observatory's site that logs meteor pings each hour of each day at 3 locations around the world.
KB6KQ halo antennas.
Directive Systems Makers of microwave band loop yagis and K1FO yagis.
M squared antennas. Some of the best around!
Down East Microwave. Both kit and assembled VHF through 10 GHz transverters!
Want to build an antenna? AC6V has compiled quite a listing of antenna plans for the VHF bands as well as HF.
Or how about beam antennas for not a lot of money? WA5VJB has plans for easy to build yagis that don't cost an arm and a leg.
---
Well thanks for looking at my attempt to learn HTML!! New things will be added as I learn more and think of what to add.
73 de Eric N7EPD
©2002- 2005 Eric Olson N7EPD