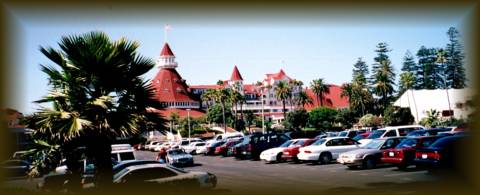 Hotel Del Coronado, Across the Bay in "America's Finest City" San Diego
Some Very Special Ham Friends From Around The World
Since 1992 I have been very active in Packet Radio. This mode of communication allows a amateur radio operator, better known in the hobby as a "ham", to communicate keyboard to keyboard live with other radio operators around the world. During these past years I have met and worked hundreds of amateur radio stations in many, many countries of the world, and I cherish each of their friendships. Germany, China, Japan, Indonesia, Turkey, Yugoslavia, Russia, Ukraine, Poland, Romania, South Africa, Hungary, Belgium, Netherlands, Switzerland, Israel are only a few of the contacts that I work now on a pretty regular basis. English has become a very learned language in most countries of the world. Communication with them no longer has that "language barrier" stigma that for centuries has divided the nations because we could not easily communicate with each other on a one to one basis. What a satisfying experience it has been.
Please check this "Special Friends" page often as it is always under construction. We plan to post additional pictures as they are made available to us from our friends. We have posted these in alphabetical order by their international amateur callsigns.
---
SOME VERY SPECIAL FRIENDS FROM AROUND THE WORLD PHOTO ALBUM
You may click on any thumbnail to get a full size version.
| | |
| --- | --- |
| The ENGLISCHs, Lothar (DH7DF) and Elisabeth (Lissy DL6YL) live in Siegen, Germany. Picture taken on a holiday (vacation) trip to Vina de Mar, Chile. Lissy checks into the wwconference almost every day. | |
| Brian PEARSEY (G6RBP) lives in Newbury, Berkshire area of the United Kingdom. Like me he is a Professional Loafer and as you see he has taken time out to relax between meals. | |
| Gino DALLA PIAZZA (HB9SIN) lives in Pery, Switzerland. He performed the first packet radio test in HB9 country in 1986. You can enjoy his real sense of humor on the amateur radio world wide conference just about everyday. I cherish his friendship. Check out his WEB PAGE. | |
| Pietro LA ROSA (IT9OPR), Peter lives in the Mediterranean Sea coast town of Gela on the Italian Island of Sicily. He is one of the nicest fellow hams I have ever made contact with. Please say hello to him at plarosa@tiscalinet.it | |
| Captain "Cappy" CAPPELLA (KC6MVG), Merchant Marine Captain now retired and lives in Chula Vista, California. He loves e-mail so drop him a hello from his WEB SITE | |
| Karl "Charly" LICHTENECKER (OE3KLU) lives in SW/Vienna, Austria. His Russia call is RA3XKL. He loves to work all bands (160MHz to 10GHz). His friends call him a "radio freak". Click for his WEB SITE. | |
| Flemming (OZ6RA) and Ulla Rasmussen live in Ballerup, Denmark, which is about 15 km northwest of Copenhagen... Denmark is a very difficult country to work using packet keyboard. Flemming is shown here holding present he received on his 70th birthday. You can say hello to him at flr@12move.dk | |
| Pim and Peter (PD1AJJ) de Groot on top of the Archemerberg in the Netherlands. Home is in Zwijndrecht near Rotterdam. Please connect to hisWEB SITE. | |
| Tadeusz ADAMOWICZ (SP6ASD), his wife Marianna and their dog Rambo live in Wroclaw, Poland. Tadek is very active in packet radio and has been a "ham" almost 40 years. I work him keyboard to keyboard every few days. Check out hisWEB SITE. | |
| The SKRYPNIKs, Vladimir (UY5DJ) and Lidia live in Kharkiv, Ukraine. Picture was taken in the Crimea Mountains on the Peninsula of Crimea which is a part of the Ukraine that extends out into the Black Sea. Check out the January, June and September 1999 issues of 73 Amateur Radio Today magazine for articles written by Vlad. | |
| The PETROVICs, Ljubisa (YZ1PWK) and Silvana live in Yugoslavia and have two sons, Stefan (7) and Aleksandar (3). They have become very special friends. Please check their very well edited WEB SITE. | |
| The SWANEPOELs, Errol (ZS1ACI) and Shirley live in Brackenfell, South Africa which is 30 km east of Cape Town. They too have two young sons. South Africa is difficult to work by packet radio, however it can be done. Learn more about the Swanepoels at their WEB SITE. | |
---
Return to HOME PAGE

---
Last modified: July 30, 2002
URL:

http://www.qsl.net/n6wuq/index.html
© 1999-2002 James B. Rogers The music on this page "Walk On By" was SEQUENCED by Dick Anderson. Dick has been playing guitar for 43+ years and is one of my favorite artist. You can enjoy more of his work at: http://www.c-com.net/~enigma/midi.html